Apple filing reveals multi-sided iPod with touch screen interface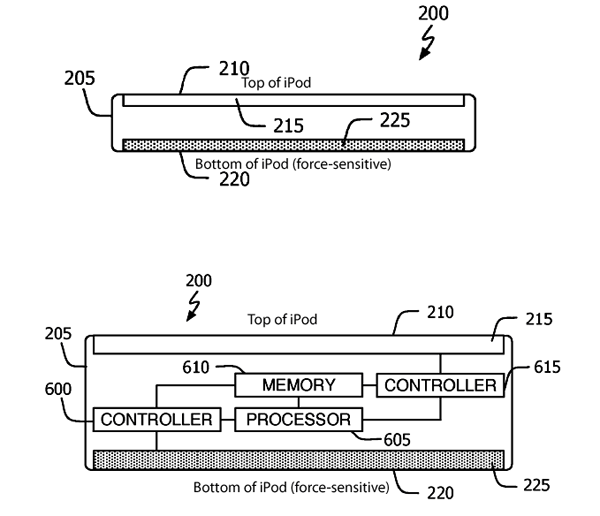 Apple Inc. is looking to patent a design for a handheld device (or iPod) that displays its output on a small front-side display screen but receives input through a larger touch- and force-sensitive back-side interface, AppleInsider has discovered.
In a January 5th, 2007 filing with the United States Patent and Trademark Office, the iPod maker notes that increasingly popular hand-held electronics devices like the iPod are typically equipped with a liquid crystal display ("LCD"), which is often too small to make effective use of finger based touch input.
"Although a touch-screen interface could be embedded in or overlaid on the display, the use of even a single finger for input may occlude a significant portion of the display or cover more than a single operational control element," Apple wrote in the filing. "While this problem could be mitigated by limiting the touch area to a portion of the display screen (e.g., the display edges where horizontal or vertical motion could emulate slider controls), a single finger could still cover a substantial amount of the useful display area."
In addition, the iPod maker notes that display smudging is a problem as with all finger sensitive touch-screen interfaces. While stylus based touch-screens may be used to partially reduce the occluding problem and eliminate smudging, they require two hands for use suffer a large disadvantage compared to finger based touch-screen systems in that they require the storage and removal of a stylus, the company added.
Apple's proposed design calls for the uses separate device surfaces for input and output. "More specifically, a force-sensitive touch-surface is provided on a first or back-side surface of the device through which a user provides input (e.g., cursor manipulation and control element selection/activation)," the company wrote. "On a second or front-side surface, a display element is used to present one or more control elements and a cursor that is controlled through manipulation of the back-side touch-surface.
According to the filing, when the device is activated or placed into an operational state where it is appropriate, control elements (e.g., soft keys and menus) are displayed on the display element. The soft keys may be opaque or transparent (so as not to occlude prior displayed information such as a video presentation, a picture, a graphic or textual information). The displayed cursor would identify where on the back-side touch-surface the user has their finger.
"When the cursor is positioned over the desired control element/soft key (i.e., spatially overlapping on the display element), the user selects or activates the control element by applying pressure to the force-sensitive touch-surface with their finger," Apple explained. "Accordingly, the invention provides a means to operate a hand-held electronic device with one hand, wherein cursor movement and control element selection/activation may be accomplished without lifting one's finger. "
In one embodiment of the invention, Apple said it could incorporate the functionality of click-wheel on the device's force-sensitive touch-surface via an etched or raised outline. When the user activates the rear-side click-wheel, a navigation menu and click-wheel will be shown on the front side.
"Also displayed is a cursor which shows the position of the user's finger against the back-side touch-surface relative to click-wheel," Apple explained. "In the illustrated embodiment, the navigation menu and click-wheel are rendered transparently (denoted by dashed lines) so that the user may continue to view whatever information was being displayed at the time they activated the back-side control."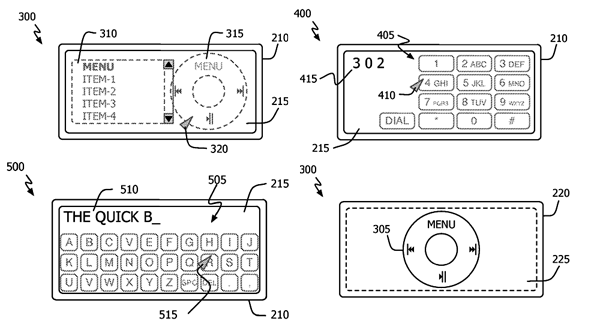 In yet another embodiment of the iPod maker's invention, a multi-media hand-held device may provide more than a single control element. In embodiments of this type, each control element (e.g., button, key, slider or click-wheel) may have an etched counterpart on back-side touch-surface 225, with each being displayed as desired (one at a time depending upon where the user's finger is detected, or all at once). In yet another embodiment, control element outlines are not etched or otherwise denoted on back-side touch-surface 225, the company said.
According to Apple's filing, the techniques for touch- and force-sensitive input may be applied to palm or hand-held personal computers, tablet computer systems, mobile telephones, personal digital assistants, portable video players and portable audio players.
The filing, titled "Back-Side Interface for Hand-Held Devices," is credited to company engineer John Elias.