News Flash: Apple iPhone receives FCC approval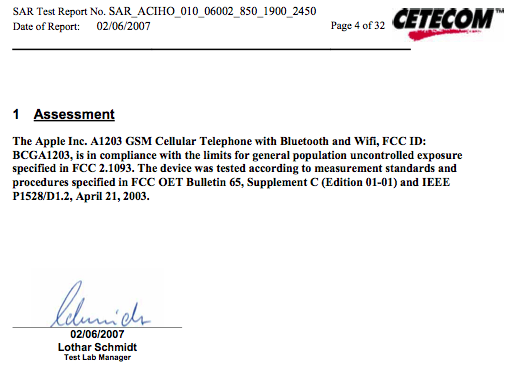 Apple Inc. on Thursday received the official go-ahead on its first ever mobile handset, as regulators for the Federal Communications Commission gave the iPod maker the green light to commence sales of the device in the United States.
According to FCC documents obtained by AppleInsider, the "GSM Cellular Telephone with Bluetooth and Wi-Fi" carries model number A1203 and FCC ID: BCGA1203.
In an SAR Test Report conducted on February 6th, 2007, FCC Test Lab Manager Lothar Schmidt wrote the following:
"The Apple Inc. A1203 GSM Cellular Telephone with Bluetooth and Wifi, FCC ID: BCGA1203, is in compliance with the limits for general population uncontrolled exposure specified in FCC 2.1093. The device was tested according to the measurement standards and procedures specified in FCC OET Bulletin 65, Supplement C (Edition 01-01) and IEEE p1528/D1.2, April 21, 2003."
Per Apple's request, the test report omitted the following for "short term" confidentiality reasons: Test Setup Photos, External Photographs, Internal Photographs, and the iPhone User Manual.
Permanent confidentiality omissions included the iPhone's Block Diagram, Operational Description, Radio Schematic, Radio Bill of Material, Radio Tune-up Procedure, and Exhibit notes.
Apple has maintained that it is on track to begin shipping iPhone in late June.
Shares of Apple rose nearly 2 percent on the news to close up $2.10 to $109.44.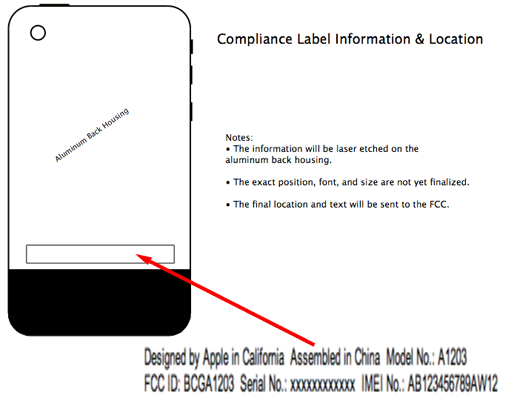 For those interested, you can view Apple's requests for confidentiality and some of the test results on the following page. You can also download — via our mirror — the 4-part iPhone SAR Test Report (part1, part2, part3, part4).