Apple's iPhone margins estimated in excess of 50 percent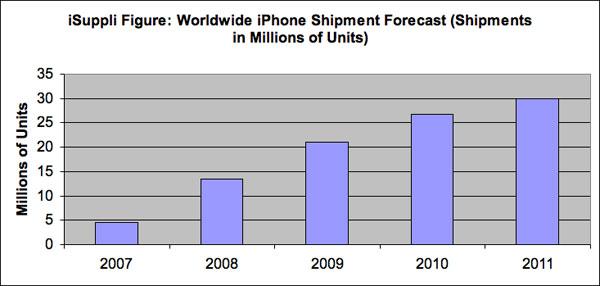 AppleInsider may earn an affiliate commission on purchases made through links on our site.
Before royalties and logistics expenses are factored in, Apple Inc. stands to generate gross margin in excess of 50 percent on each 8GB iPhone sold at $599, according to one market intelligence service.
El Segundo, Calif.-based iSuppli recently conducted a teardown of the high-end Apple handset, revealing several "surprise" component suppliers, such as Infineon Technologies AG, National Semiconductor Corp. and Balda — in addition to established component makers like Samsung Electronics Co. Ltd.
"iSuppli's teardown, conducted this weekend, determined that the 8Gbyte version of the iPhone has a total hardware Bill-of-Materials (BoM) and manufacturing cost of $265.83, generating a margin in excess of 55 percent on each 8Gbyte iPhone sold at the $599.00 retail price" said Andrew Rassweiler, principal analyst for iSuppli.
Of the new suppliers to the iPod/iPhone family, Infineon is among the biggest winners in terms of semiconductor content, the firm said. The German-based parts maker is believed to be supplying the iPhone's digital baseband, radio-frequency transceiver and power-management devices, providing much of the core communications capability of the handset. Altogether, iSuppli estimates that Infineon's silicon content accounts for $15.25 worth of the iPhone's BoM, representing 6.1 percent of the 8Gbyte model's total cost.
For its part, National's contribution to the iPhone BoM is relatively small with its lone chip in the product costing $1.50, representing less than 1 percent of total product cost. However, iSuppli said the part — a serial display interface — is an important design win for National, which has never held a seat in an Apple iPod product. The chip, which connects the display to the graphics controller, uses National's Mobile Pixel Link standard, which the company has been attempting to promote for use in mobile devices.
"This is a significant win for National in a high-profile platform that is expected to ship in large volume," Rassweiler said.
Meanwhile, the display module in the iPhone model torn down by iSuppli was provided by Balda of Germany in association with its partner TPK Holding of China. The module costs an estimated $27, according to the firm, representing 10.8 percent of the 8Gbyte model's cost. On the other hand, the iPhone's touch-screen display itself is reportedly supplied by multiple sources: Epson, Sharp and Toshiba Matsushita Display Technology Co. Ltd. The cost of the unusually thin screen is estimated at $24.50, representing 9.8 percent of the 8Gbyte version's costs.
Perhaps the biggest winner among all the iPhone's component suppliers, according to iSuppli, is Samsung. The South Korean electronics giant supplies the iPhone's applications processor — as was reported by AppleInsider back in January — which includes an ARM RISC core and costs approximately $14.25 in both versions of the iPhone.
Samsung is also contributing the handset's NAND flash memory and DRAM. In the 4Gbyte version, Samsung has $24 worth of NAND flash, and $48 in the 8GByte version. For both versions, Samsung also supplies 1Gbit of Double Data Rate SDRAM worth $14.00.
In total, iSuppli estimates that Samsung accounts for $76.25 worth of semiconductor content in the 8Gbyte version of the iPhone, giving the company a 30.5 percent share of the product's hardware cost—the largest total of any single supplier.
Other companies scoring design wins in the iPhone include: Wolfson, which continues to maintain its design win for the audio codec; CSR plc, which supplies the iPhone Bluetooth silicon costing $1.90; and Marvell, which is contributing a Wi-Fi baseband chip costing $6.00.
iSuppli believes that sales of iPhone, which kicked-off with a bang, will continue at a phenomenal rate. The firm estimates shipments of the inaugural Apple handset to reach 4.5 million units this year, expanding by a factor of nearly seven to reach more than 30 million by 2011.
Additional iPhone component suppliers were revealed in a teardown by Semiconductor Insights, which was covered by AppleInsider on Monday.