Source: iPod shuffle refresh to go (RED)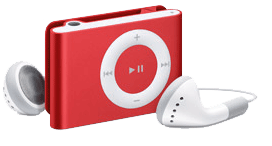 AppleInsider may earn an affiliate commission on purchases made through links on our site.
With much of the excitement lately surrounding anticipated evolutions of Apple's video iPod and iPod nano families, little has been said about an upcoming refresh to the company's diminutive iPod shuffle line, an expansion of which is likely to include a new (RED) model.
People often familiar with Apple's future product plans say the company is preparing to add a red-colored model to the line of petite clip-on players, possibly as early as next week. Any such model would presumably join or replace the electronics maker's existing (PRODUCT) RED offerings that include (RED) iPod nanos and iTunes gift cards.
(PRODUCT) RED products such as the (RED) nano help benefit the (RED) charity created by Bobby Shriver and U2 front-man Bono, which encourages big businesses to help fight against AIDS in Africa through donations. In addition to Apple, (RED) has so far garnered the support of several other big names that include the Gap, Motorola, American Express, and Converse.
A predetermined portion of the proceeds from each (RED) product sale are donated directly to the charity. For instance, Apple currently spares $10 from the sale of each (RED) iPod nano and 10 percent from the sale of each $25 (RED) iTunes gift card.
Unlike the aging video iPod and iPod nano families — which are expected to receive the royal Mac OS treatment and hefty industrial design overhauls — the iPod shuffle is arguably the freshest of Apple's digital media players. It received a completely new form factor just last fall and there has been little to no evidence to suggest a second evolution is in the cards for '07.
Outside of going the iPod Picano route, Apple's options for advancing the shuffle appear limited to capacity increases, price reductions, and new software-driven features. At the same time, the cost of the shuffle's components — such as the NAND flash used for media storage — have fallen sharply over the past year. Significant price reductions notwithstanding, Apple should make more off the sale of each shuffle this year than it did last.
Few changes and fatter margins would also lend support to source reports of an impending iPod shuffle (RED), given that Apple would be in a better position this year to hand-off a percentage of each sale to charity without significantly pinching profits.
Yesterday afternoon, Apple issued formal invitations to a special product launch event next Wednesday at San Francisco's Moscone West convention center. The gathering of analysts and members of the media is an undeniable sign that new iPods are in the cards, as the company has historically used media events in the early weeks of fall to unveil its holiday media and music player offerings.