Morgan Stanley ups Apple target, Mac sales estimates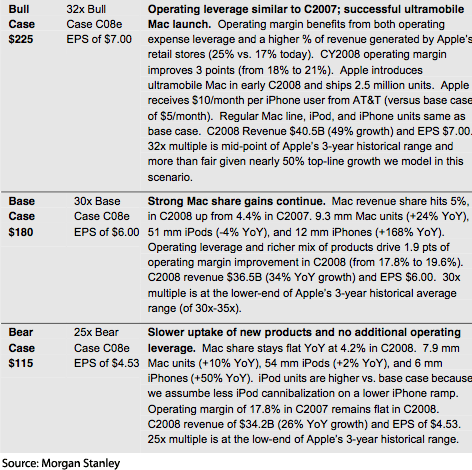 In a bullish research report released Friday, Morgan Stanley raised its price target on shares of Apple Inc. to $180 from $150, but said that the stock could potentially surge as high as $225 given the company's operating leverage and the upcoming launch of an ultramobile Mac.
The investment bank — one New York City's largest and most reputable — also raised its calendar year 2008 per-share earnings forecast from $5.00 to $6.00, adding that in its "bull case scenario" $7.00 in per-share earnings and a $225 stock price is "increasingly likely" given the Cupertino-based company's operating leverage, faster than expected Mac market share growth, and the best iPod lineup since 2005.
"We continue to believe Street estimates understate the true operating margin potential of Apple's business. In the near-term, component costs aren't nearly the headwind many feared," analyst Katy Huberty wrote. "Longer-term, Leopard OS launch, increased store revenue, AT&T payments and unit scale/accessories sales on a much larger installed base are all likely to drive margins higher."
Huberty increased her 2008 Mac unit forecast by 900,000 units to 9.3 million units and her Mac revenue share forecast by half a point to 5 percent in order to account for recent Mac outperformance as well as the continued strength she expects in Mac demand. The analyst also believes the iPhone will drive more ancillary revenue than she previously modeled.
"We are now assuming an incremental $150/iPhone payment from AT&T (in addition to $5/month service revenue sharing) and $75 of accessories revenue (vs. $30 in old model)," she wrote.
Furthermore, the analyst said, Mac unit upside and the launch of Mac OS X Leopard in late October should drive at least 80 basis points of gross margin upside to her previous model.
For Apple's recently ended September quarter, results of which are due October 22nd, Huberty said she is now expecting upside to both her $6.3 billion revenue and $0.82 per-share earnings forecast. While she had been modeling the company to sell 1.9 million Macs (20 percent growth) during the three month period, July and August Mac sellout data in the U.S. retail and distributor channels have recently suggested that Apple will best that estimate.
"Furthermore, this data shows that Apple was the only major PC vendor that did not experience a slowdown in unit growth during the month of August," Huberty added. "We believe this is a function of its higher income customer and product that stands out in what is otherwise a commoditized market."
Meanwhile, the analyst's checks on iPod build plans through the quarter pointed to units in the 14 to 17 million range. And while all of those player are unlikely to have shipped into retail stores by the quarter's end on September 29th, she does see "upward pressure" on her 11 million iPod estimate. iPhone units, she expects, will come in close to her 1.2 million forecast.
"We view Apple's powerful brand, distribution and customer experience engine as key to driving incremental revenue growth," Huberty wrote. "Operating leverage is central to our thesis, as operating expenses scale over a larger revenue base and Apple's retail stores drive improved margins."