AmTech ups estimates as Apple market cap surpasses Intel and IBM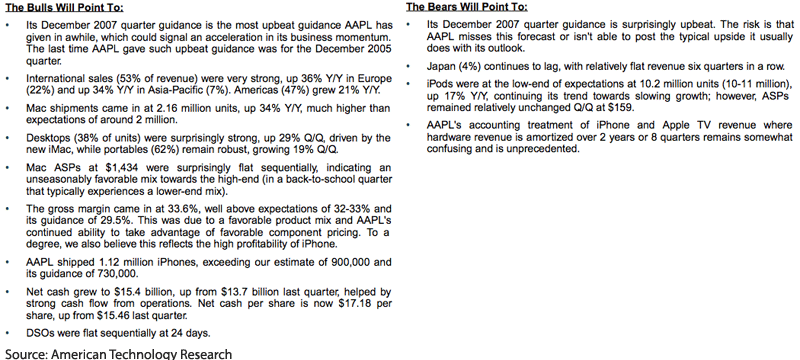 AppleInsider may earn an affiliate commission on purchases made through links on our site.
Analysts for investment research firm American Technology Research increased their estimates for Mac maker Apple Inc. on Tuesday as the company's perceived market value coasted past that of industry heavyweights Intel Corp. and IBM Corp.
Shares of Apple were trading up $12.19 or nearly 7 percent to $186.55 on the Nasdaq stock market in early morning trading following a stellar fourth fiscal quarter that beat Wall Street's consensus estimates hands down.
With nearly 870 million shares outstanding, the Cupertino-based firm's market capitalization now stands at nearly $162 billion, surpassing Intel at $155 billion and IBM at $157 billion. Apple's perceived market value is rapidly closing in on Google ($200 billion), but remains quite a ways behind Microsoft ($290 billion).
In a research note released to clients early Tuesday, American Technology Research analyst Shaw Wu said shares of Apple are poised to trade even higher over the next six to twelve months.
He raised his fiscal year 2008 earnings estimate to $5.00 per share on sales of $30.4 billion (up from $4.55 and $30 billion) and also increased his 12-month price target to $210 from $185.
In addition, Wu used the research note Tuesday to introduce his first estimates for Apple's 2009 fiscal year, which currently forecast per-share earnings of $5.70 on sales of $34.5 billion.
For Apple's current December quarter (fiscal Q108), the analyst is modeling for per-share earnings of $1.50 on sales of $9.2 billion, which factor in expected sales of 2.3 million Macs, 24 million iPods and 2 million iPhones.
"In our view, Apple's move to subscription accounting in its new, high-growth business areas, iPhone and Apple TV, may signal that earnings-per-share (EPS) is not the best way to value Apple shares. This is because EPS is amortized and understated on a quarterly basis while cash flow remains the same," he wrote.
"Therefore, cash flow from operations may be a more appropriate way to value Apple shares. We see upside in Apple shares to $210 in 6-12 months based on 26 times our calendar year 2008 FCF (free cash flow) estimate of $7.50 plus $17 in net cash."