Apple and T-Mobile unveil iPhone rate plans for Germany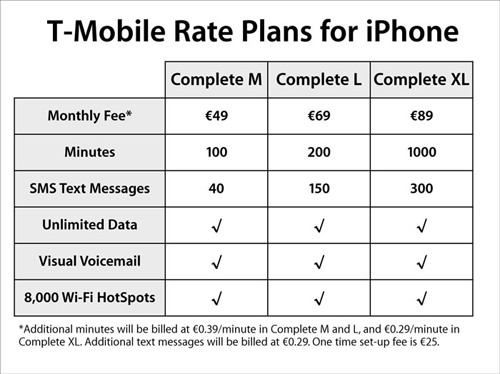 AppleInsider may earn an affiliate commission on purchases made through links on our site.
Apple and T-Mobile on Monday announced three rate plans for iPhone in Germany, starting at €49 per month for a plan that includes 100 minutes.
All three "iPhone Complete" plans include unlimited data, Visual Voicemail and access to T-Mobile's more than 8,000 Wi-Fi HotSpots in Germany. iPhone customers can choose the plan that's right for them based on the amount of voice minutes and SMS text messages they plan to use each month.
A €49 "Complete M" plan will include 100 minutes and 40 SMS messages, while a €69 "Complete L" option will offer 200 minutes and 150 SMS messages. T-Mobile will also offer a "Complete XL" plan for €89, which includes 1000 minutes and 300 text messages. Additional minutes will be billed at €0.39/minute in the Complete L and M plans and €0.29/minute in the XL plan. Additional text messages cost €0.29.
"We're thrilled to be partnering with T-Mobile and can't wait to start selling the iPhone in Germany in just a few short weeks," said Philip Schiller, Apple's senior vice president of Worldwide Product Marketing. "Starting at just €49 per month, we think these three rate plans give customers the flexibility to experience all of iPhone's revolutionary features at affordable and competitive prices."
By the end of 2007, T-Mobile will be the only network operator in Germany to offer EDGE throughout almost its entire GSM network. With 20,000 HotSpots worldwide, T-Mobile is also the biggest Wi-Fi provider in the world. Over 8,000 of those HotSpots are in Germany, where HotSpot users can achieve download speeds of up to 11 megabits per second, the carrier said.
iPhone is scheduled to go on sale on November 9 and will be sold in Germany through Telekom Shops of Deutsche Telekom and the T-Mobile web shop. iPhone requires a new 2-year T-Mobile rate plan and will be available in an 8GB model for €399 including V.A.T. and will work with either a PC or Mac.
iPhone activation will require an Internet connection; an iTunes Store account or a major credit card; the latest version of iTunes available at www.itunes.de and a PC or Mac with a USB 2.0 port and one of the following operating systems: Mac OS X v10.4.10 or later; Windows XP Home or Professional with Service Pack 2 or later; or Windows Vista Home Premium, Business, Enterprise or Ultimate Edition.