First Look: Apple TV 2.0 and iTunes Movie Rentals (photos, video)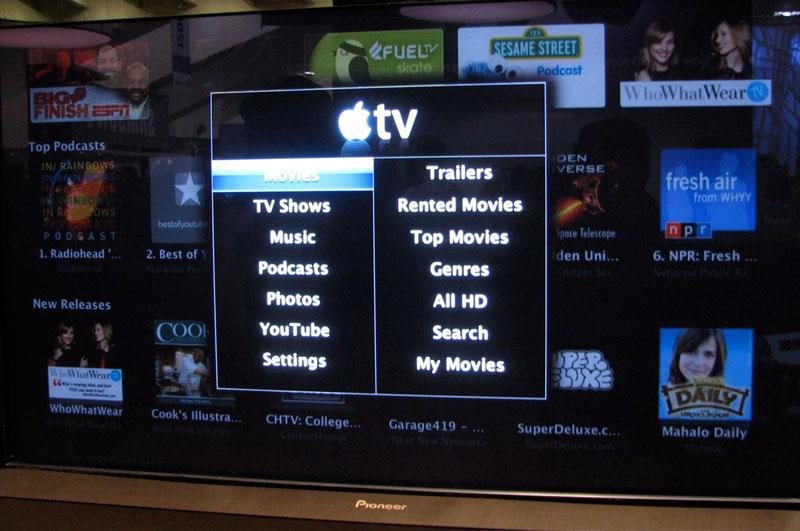 After suffering a year of media mockery and consumer indifference, Apple TV is poised to leverage its tight integration with iTunes to jump to the front of the line in living room media rentals. The best news: existing early adopters will gain all the new features via a software update without needing to replace or upgrade their existing hardware.
Steve Jobs originally floated Apple TV under the temporary moniker iTV back in the fall of 2006. In many ways, the device seemed to be a placeholder designed to inspire confidence in the company's ability to maintain parity with competitors' online movie sales. In parallel with the announcement, Apple upgraded iTunes video to "near DVD" quality, added Dolby Surround sound, and started into the movie sales business initially with only Disney as a partner.
After its official release following last years' Macworld Expo, Jobs described Apple TV as a hobby and later as a 'fourth leg' that he hoped would help hold up the company's platforms. Jobs told USA Today, "We have the Mac business, which is a $10 billion business, and music — our iPod and iTunes business — which is $10 billion. We hope the iPhone is the third leg on our chair, and maybe one day, Apple TV will be the fourth leg."
While the iPhone quickly established itself as a powerful force in the mobile industry, Apple TV didn't seem to get much attention at all. After appearing briefly in a TV ad showing a user moving iTunes video from his computer to an iPod to the living room TV, the device seemed to slip from Apple's radar and spent the better part of 2007 collecting dust in conspicuously low trafficked corners of Apple's otherwise busy retail stores.
What's New in Apple TV: Movies
The new software updates promise to solve a lot of the problems associated with consumers' lack of enthusiasm for Apple TV. For starters, there are now rental movies offered in both standard def and high-definition formats. Apple's movie studio support in iTunes has also expanded over the last year from one studio to all of the major movie studios, meaning there's far more content to choose from.
Even more importantly, Apple has upgraded the unit's software to both enhance the user interface and to make it far more powerful. The initial version of the software left it acting like a repeater for a desktop computer's iTunes library. Now, users can rent and buy movies, as well as buy music, music videos, and TV programs directly from the iTunes Store using the simple remote control. While music and video purchases can be synced back to a desktop iTunes library, just like the new WiFi Store on the iPod Touch and iPhone, video rentals ordered on Apple TV can't.
You can rent movies directly from iTunes for playback on iPods, but those can't be synced to the Apple TV. Therefore, you have to choose whether a rental you order is something you want to watch on TV or anywhere else, before you actually rent it. Given that rentals are $3.99 and $4.99, that decision isn't as deeply ponderous as it might initially seem to be.
A new menu system (below) presents Apple TV features in two columns: the first lists Movies, TV Shows, Music, Podcasts, Photos, YouTube, and Settings. Under Movies, it presents downloadable Trailers, your Rented Movies, a listing of Top Movies, Genres, and All HD titles, a Search, and a selection of My Movies.
Within any of the submenus, the movie title selection and browsing interface (below) is almost entirely graphical, with rows of title art that spin past similar to Cover Flow. The difference is that rather than only featuring one item from a selection as the Cover Flow does in iTunes or the Finder, Apple TV presents more than a half dozen options at once in each row, and quickly zips through additional titles when you scroll to the right. Families of content or genres of titles appear at the top.
Navigating the menus of movies is easy and fast.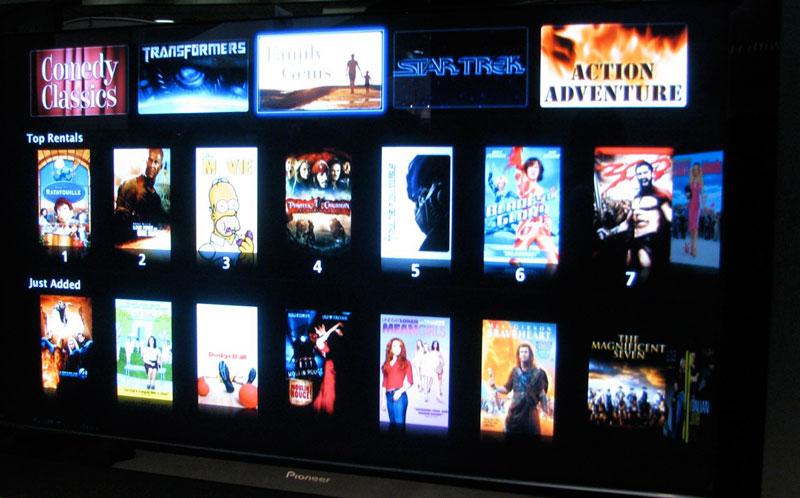 A simple search feature (below) allows you to quickly find what you're looking for by typing just a letter or two, similar to the search features on iPods.
After selecting your movie (below), you can watch a preview trailer, or rent it in SD for $3.99 or in 720p HD quality, usually with 5.1 Dolby Digital audio, for a dollar more. The currently selected movie also presents recommendations of other related films you might want to consider. Once downloaded, a rental movie can be kept on file for a month. Once you start watching it, the title can be played any number of times within 24 hours before it expires.
The Apple TV's new HD playback delivers impressive video quality. Presented on what appeared to be a 50" Pioneer display, SD rentals looked very decent and the HD content was very good. Fast forwarding and pausing movies was smooth and crystal clear. The only obvious flaw seemed to be a snapping sound that would occasionally be played when video playback was exited for the menus.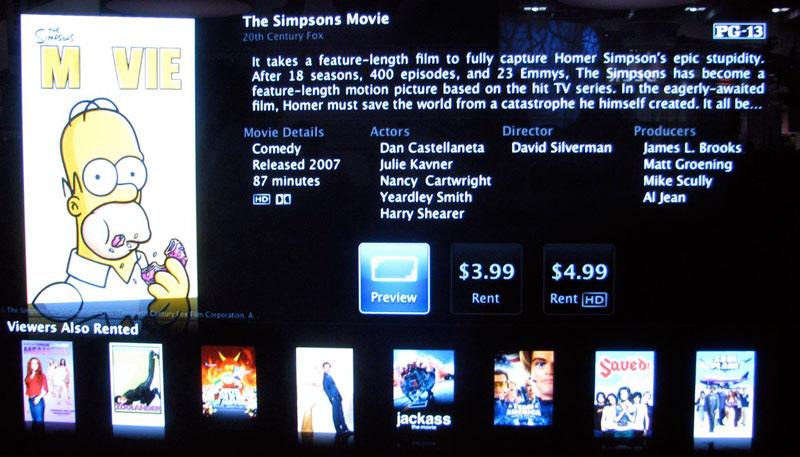 What's New in Apple TV: Playback Enhancements
In addition to adding movie rentals, Apple TV also sports similar content search and direct download features for free YouTube and Podcasts, and purchased iTunes content including music, music videos, and TV shows. Downloading TV is so easy that the new software finally makes Apple TV a truly viable replacement for cable TV for users who only watch a handful of shows.
Playback controls are also significantly enhanced. In AppleInsider's earlier reviews of Apple TV, Some time spent with Apple TV — an in-depth review, we counted its touchy remote playback control as an annoying flaw. Based on limited testing on the show floor, it appears the software update will dramatically improve things in that regard.
Pausing playback with the simple IR Apple Remote was instantaneous, and fast forward or review responded quickly and accurately, rather than suffering the current delays that make it difficult to review or skip through content without unintentionally overshooting the target. When playing a movie, the playback indicator now displays the chapter title, another nice bonus.
On page 2 of 2: What's New in Apple TV: Audio; What's New in Apple TV: Other Features; How Apple TV Compares; Apple TV Versus Vudu; Apple TV Versus Blu-Ray.
What's New in Apple TV: Audio
As noted in Something in the Air: Anticipating Macworld 2008, the Apple TV hardware arrived last year with support for 5.1 audio and HD video, it just needed a software update and content that took full advantage of its innate capabilities. The new software now enables pass though of Dolby Digital sound for output over HDMI or the unit's Toslink optical audio outputs, so movies with high quality sound tracks can be played back through a receiver supporting Dolby Digital encoding and output to surround sound multi-channel speaker systems.
Previously, the best audio Apple TV could deliver from iTunes content was the older Dolby Surround, which mixes multiple channels of audio over a stereo pair. That's the same technology used by the Nintendo Wii to enhance surround audio; now Apple TV can deliver the same audio quality as a high quality DVD player.
Another new audio feature is support for AirTunes (below). Using an Airport Express Base Station, Apple TV can now wirelessly stream audio out to the same speakers used to distribute music from iTunes.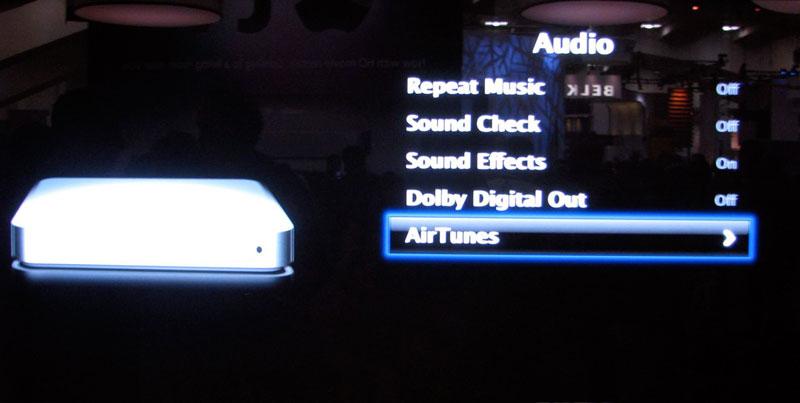 What's New in Apple TV: Other Features
The new software update will also support viewing photos from Yahoos!' Flickr and Apple's .Mac Web Galleries, in addition to existing support for iPhoto. Although not confirmed by Apple representatives, the new Apple TV software is almost certainly based upon Leopard.
Among other things, this upgrade appears to have inherited Leopard's parental controls for content playback, including TV and movie ratings, and music or podcasts tagged as explicit.
With the new software update, Apple TV moves to challenge competing movie rental devices like the Vudu, the Amazon UnBox partnership with TiVo, and Microsoft's Xbox Live online service.
Last year, the lack of HD content and rental features relegated Apple TV to use as a simple media extender for iPhoto graphics and iTunes music, TV, and movies. Despite the weaknesses of its TV box, Apple managed to swallow 91% of the video downloads business, which included 99% of the paid TV downloads and 42% of all movie downloads.
That left Apple the largest movie download vendor in 2007, with twice the share of second place Movielink (21%) which has been in business since 2002, and well ahead of Cinemalink (15%) and Vongo (15%). All other movie download sources fought over the remaining 7%, according to data published in the last quarter by NPD reflecting sales from early 2007, as presentedin Apple TV Digital Disruption at Work: iTunes Takes 91% of Video Download Market.
Over the last two years, Apple's iTunes video downloads haven't matched its music sales (now passing 4 billion tracks), but have been growing at a faster pace. Between January 2006 and 2007, Apple doubled its iTunes cumulative song sales from one billion to two billion, but more than doubled video sales from 15 million to over 50 million downloads. This year, Jobs reported sales of 125 million TV shows and 7 million movies, significantly more than a 200% increase.
Now that Apple has both rentals and HD content lined up, it shouldn't have any problem maintaining a strong showing in the video download business. The discounted price of the Apple TV hardware to $229 will provide stiff competition to the $399 Vudo, which only rents or purchases downloadable movies, and does not interface with a computer for photos or music. Vudu does now sell selected TV content.
The Vudo does offer higher resolution 1080p movies however. Whether Vudu can deliver a noticeable improvement still remains to be seen, as existing HD Vudu content is commonly so heavily compressed that the difference in top native resolution, 720p to 1080p, visibly doesn't matter. The difference between 720p content and 1080p content is typically only visible on sets over 50", particularly when viewed from a ten foot distance.
For download devices like Apple TV and Vudu, 720p can offer high quality video at reasonable compression settings; the additional pixels of 1080p requires more compression to deliver over the Internet, which results in either no obvious improvement or far longer download times. Vudu attempts to solve this issue by turning their box into a peer-to-peer network node, so that your Internet connection is used to speed the download of movies to your neighbors. Apple's iTunes uploads are all centrally downloaded using servers Apple pays to use. Vudu subscribers also have to have a very fast Internet connection; the company recommends having 2 to 4 MB service for SD and HD downloads, respectively.
The superiority of 1080p is more evident on less aggressively compressed HD content such as Blu-Ray HD disc. Consumers, however, haven't responded enthusiastically to to the heavily DRMed new HD disc formats, with HD-DVD going down in flames in the last few months and Blu-Ray only maintaining a niche audience with slower growth than the considerably cheaper alternative offered by upscaling DVD players.
While Apple's new HD iTunes content can't rival the specification numbers of a directly read optical disc, the convenience, rental options, and new jump in quality will make it a compelling alternative to Blu-Ray, particularly for users with HDTVs under 50", as noted in Why Low Def is the New HD.
Apple TV and movie downloads are also considerably less expensive, although iTunes isn't going to be selling any HD movies, only offering them for rent. Because Apple TV offers so much beyond movie rentals, it can also serve as an accompanying content source for users who buy Blu-Ray players such as the Sony Playstation 3.
Once Apple releases the new Apple TV update, scheduled for the end of the month, AppleInsider will present a closer look at the new features.