Steve Jobs to Apple investors: 'hang in there'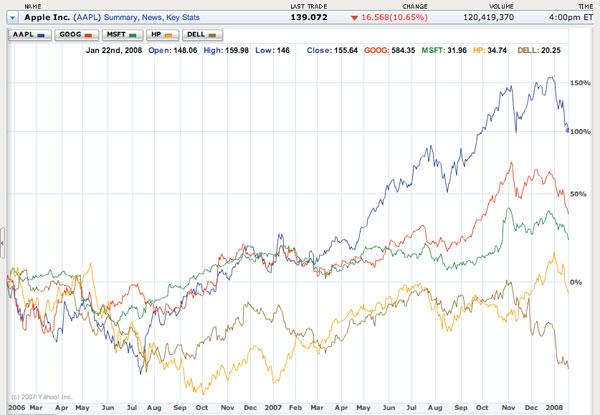 In a private communication last week, Apple chief executive Steve Jobs acknowledged the beating his company's shares have taken during this time of economic uncertainty, but remained confident that investors would inevitably recoup their losses and then some.
"Wow... what a remarkable last few days," he wrote in an email to employees, a copy of which was obtained by AppleInsider. "Our stock is being buffeted around by factors a lot larger than ourselves."
The Apple co-founder expressed sadness for many of the company's investors who may have seen their investments fall under water, but encouraged those with positions to put the matter into perspective by examining the performance of Apple shares over the past 24 months.
"As you can see, we have outperformed many other blue-chip tech companies, including Google," he wrote, tacking on a stock performance comparison chart for illustration. "I continue to believe that our fundamentals - our remarkable people, our clear and focused strategy, our new product pipeline, our 200+ retail stores, our $18 billion of cash in the bank with no debt, etc., will serve us well in the coming months and years."
Jobs, whose 5.54 million shares make him the single largest shareholder in Apple behind Fidelity Investments, was among the hardest hit by Wall Street's recent sell-off, with losses in company shares alone totaling an estimated $377.5 million on paper since the start of the new year.
In closing out his remarks to employees, Jobs remained upbeat, reiterating confidence that those who remain loyal to their positions in Apple would reap the benefits in the long run.
"I believe that investors who stay with us will be rewarded as the market's confidence is restored over time," he wrote. "Hang in there."