Intel dishes new details on Apple-bound Silverthorne chip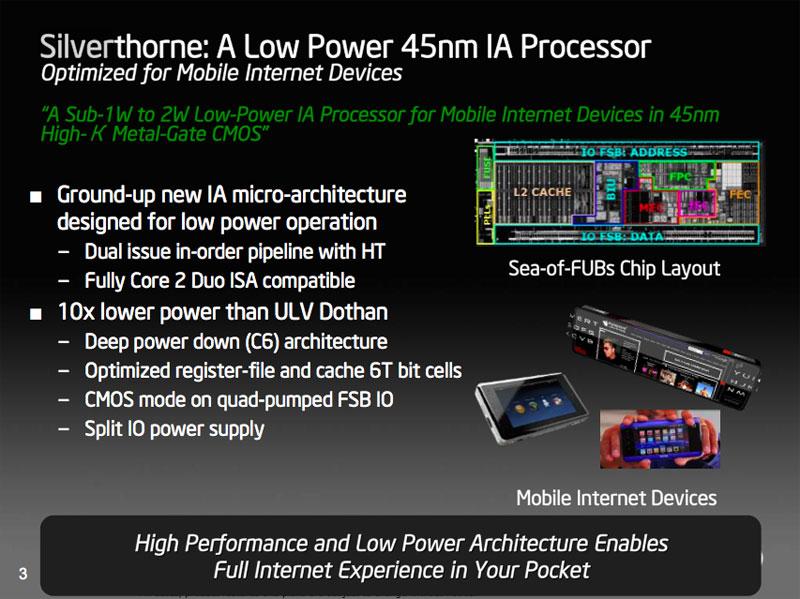 AppleInsider may earn an affiliate commission on purchases made through links on our site.
Intel has revealed some of the first official details of its upcoming lower-power Silverthorne processor that will soon turn up in a handful of next-generation mobile internet devices from Apple and other electronics manufacturers.
Presenting at the Solid State Circuits Conference (ISSCC) in San Francisco this week, the world's largest chipmaker issued 15 technical papers covering some of its most recent advancements. Atop that list is Silverthone, the code-name for the company's forthcoming 45 nanometer high-k metal gate, low-power processor architecture for ultra-mobile and mobile Internet devices.
Intel says the microarchitecture will be fully compatible with the Core 2 Duo instruction set, meaning Silverthorne chips will be capable of running the same applications written for Core 2 Duo-based notebook PCs.
At their peak, chips running on the new architecture will deliver performance inline with that of the Pentium M chips that powered the first array of Centrino notebooks, but consume only between 0.5 and 2 watts — about 10 times less than a typical notebook chip.
Silverthorne processors will also boast support for a low power mode and hyperthreading, according to Intel. The first will allow the chips to shut down between tasks for optimal power savings, while the second will allow for execution of multiple simultaneous threads on a single core — essentially emulating a dual-core chip.
Thus far, no specific chip numbers or clock frequencies have been released by Intel, though the firm maintains that the first production quality units should arrive some time during the second quarter of the year, with successive models eventually scaling up to 2.0GHz.
Intel chief executive Paul Otellini has already gone on record in saying that his firm plans a whole "product family" of 45 nm Silverthorne chips in the near future aimed at capturing the "top 10 to 20 percent of the cellphone market."
Chief among the players aiding Intel on its quest for a slice of the high-end cell phone market is Apple, which AppleInsider reported in December would be among the first electronics makers to adopt Silverthorne chips.