Exclusive preview: Delicious Monster's Delicious Library 2.0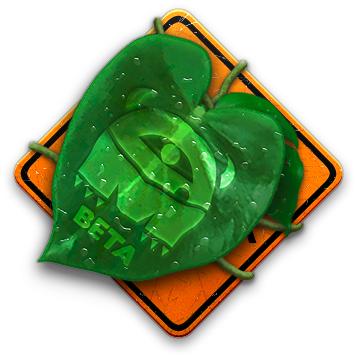 Back in 2004, shortly before the release of Mac OS X Tiger, Delicious Library 1.0 arrived as a slick looking inventory cataloging application designed to manage listings of books, videos, albums and other media. This year, Delicious Library 2.0, currently in beta and scheduled for a March release, will deliver a major update by taking full advantage of features in the new Mac OS X 10.5 Leopard. Here's an exclusive preview.
First Rate Third Party Software
When Apple first released Mac OS X at the beginning of the decade, the biggest challenge it faced was finding support from third party developers. Major software developers such as Adobe and Microsoft were slow to take full advantage of Mac OS X's features, initially only layering on native-looking widgets and using Apple's Carbon environment to reuse as much of their existing cross-platform legacy code as possible. This prevented the majors from really squeezing the most from Apple's new operating system.
The reluctance of the big developers to really use the new technology that Apple was building into Mac OS X left a big opportunity for small developers. Among those 'small batch' master crafting developers is Wil Shipley, who had earlier founded the Omni Group to develop software for NeXT systems. That background gave Shipley a head start in developing native applications for the new Mac OS X, which was largely based upon NeXT's forward looking frameworks and coding style.
After a decade at Omni, Shipley left to start Delicious Monster, with the goal of planting new projects to bloom into beautifully rare and delicately ornate products just like the company's namesake tropical plant. Delicious Monster's goal of delivering a native Mac software title with an innovative, intuitive, and attractive interface resulted in Delicious Library, which won several distinguished ratings including Apple Design Awards as the Best Mac OS X User Experience for 2005 and placement in the Best Product New to Mac OS X category that same year. At the most recent Apple Design Awards from WWDC 2007, it won as the Best Mac OS X Leopard Application, despite its not even being released as a product yet. What's all the fuss?
Delicious Library 2.0 revamps the application's interface to follow the design cues of iTunes 7, Apple's flagship app that acts as harbinger of the company's user interface directions. Like iTunes, DL2 drops its heavy Brushed Metal look to adopt Leopard's lithe new Unified appearance, which makes it feel more modern, lighter, and cleaner overall. DL2 looks like it could be part of iLife.
At the same time, the new version advances and introduces some innovative design ideas of its own. For example, the pull down sheet for configuring publishing options uses a compact but intuitive selection interface that needs no textual explanation fields (below left). Click on the green info inspector tag and the "publish to" item slides over to reveal specific configuration settings for that target (below right), which can be dismissed either by clicking on the close box or by clicking the inspector icon again.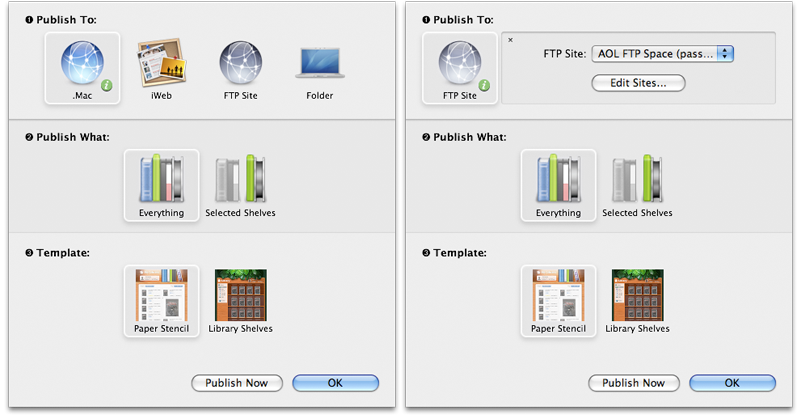 Another original, but very Mac-like behavior of Delicious Library appears at its first installation. After downloading, the application is ready to run without an installation process. If launched directly from the Leopard downloads folder, the application is smart enough to suggest copying itself into the Applications folder and handles the task for the user (below). That's a smart trick that every application should copy.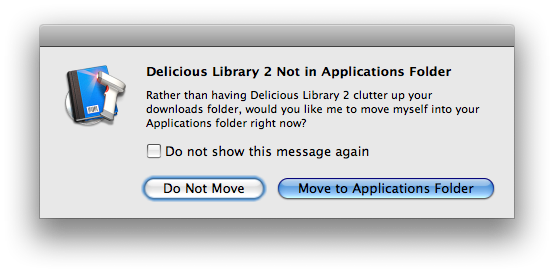 The Importance of Being Earnestly Organized
As its name suggests, DL2 exists to organize your stuff into libraries. It automatically discovers songs, videos, and audiobooks from your iTunes library (and keeps this information in sync with any changes made within iTunes), but you can also add physical media such as CDs in standard jewel cases or paper cartons, DVDs, Blu-Ray, HD DVD, UMD, 7" and 10" vinyl, XBox, XBox 360, Wii, and Playstation 3 video games and other software titles, or even your gadget hardware, tools, toys, and apparel. Items from Library collections can be organized into Shelves. Shelves and Libraries can be presented graphically (below top), or as a flat item listing along with the desired attributes (below bottom).
Smart Shelves act just like other smart collections in Leopard-style apps, allowing you to view live search results for any rule set of library items, such as movies from the 80s from a particular genre with a given rating.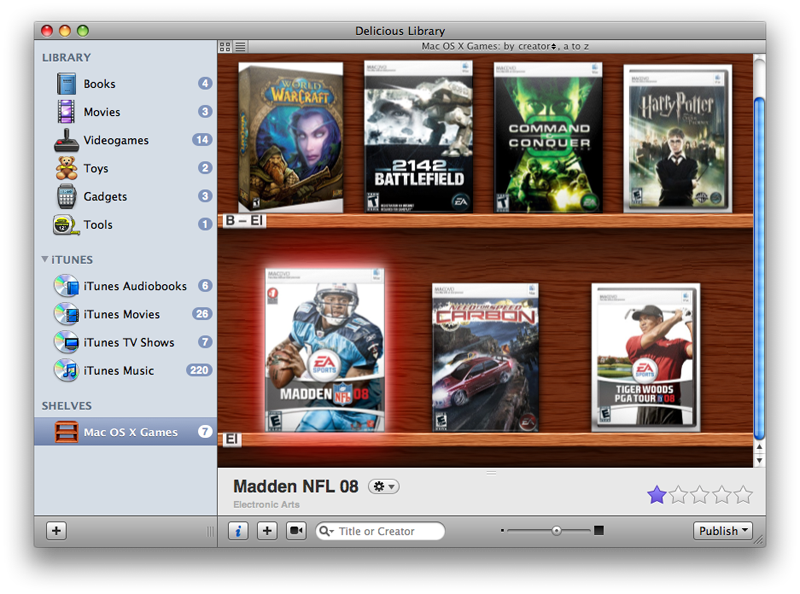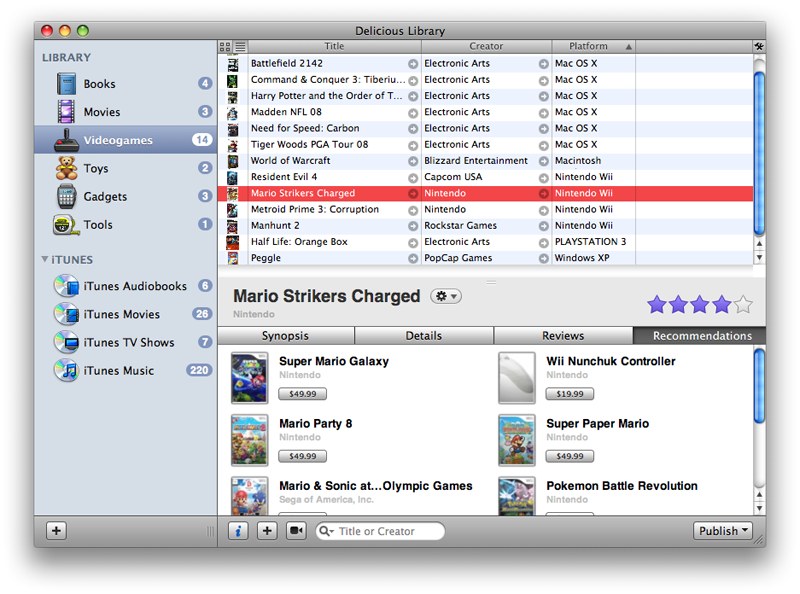 Items can be entered manually, by dragging in URLs from Amazon, or by importing data from other applications. The slickest way to populate your collection, however, is to use the application's bar code scanner integration with a webcam such as the iSight built into all modern Mac notebooks. Once a DVD or any other item is scanned, the program looks up the UPC code from Amazon and adds the item to your library along with all the metadata it can find, including cover art.
Library items presented on a graphical shelf smartly composite the plain album art from iTunes or Amazon onto a dimensional CD jewel case, DVD box, or book outline in a way that makes for an attractive rendering. Media titles are presented against a woodgrain bookcase shelf (below top), while gadgets (such as computers, smartphones, iPods, or other peripherals) are drawn against a metal rack (below middle), and tools are hung up against a perforated workshop board (below bottom).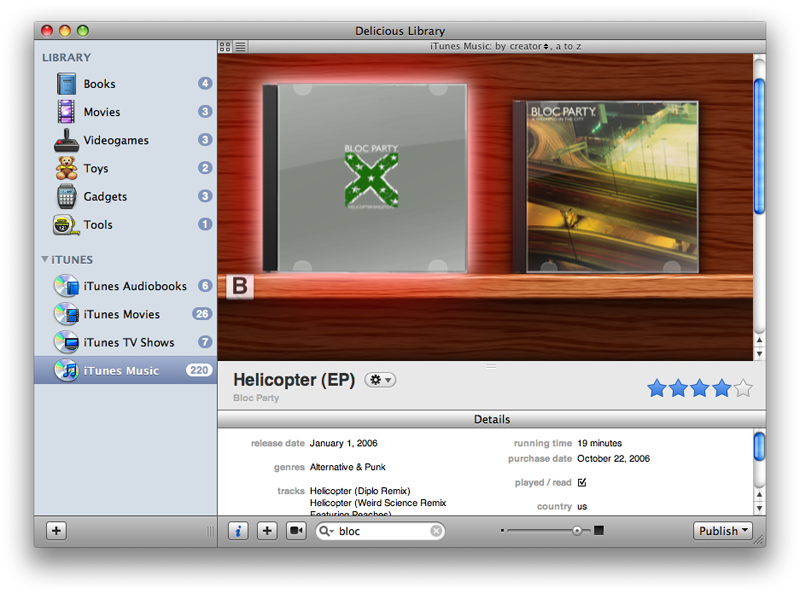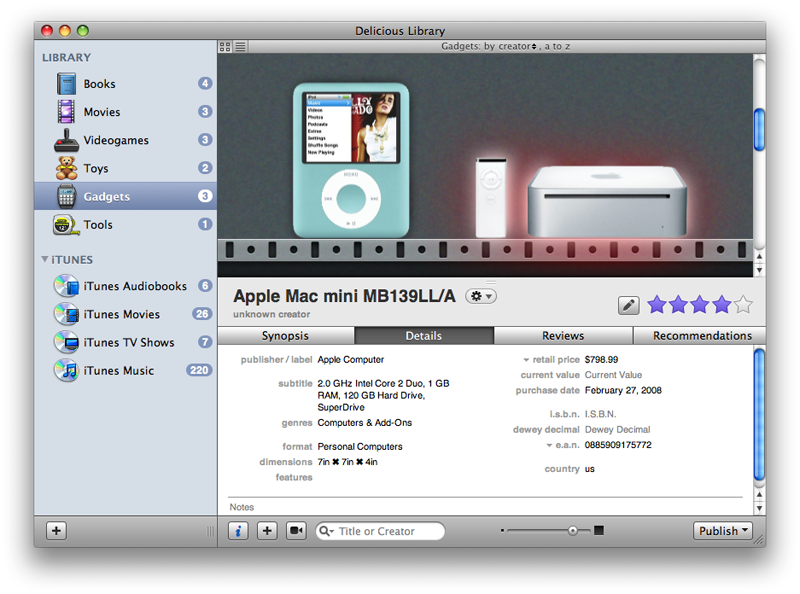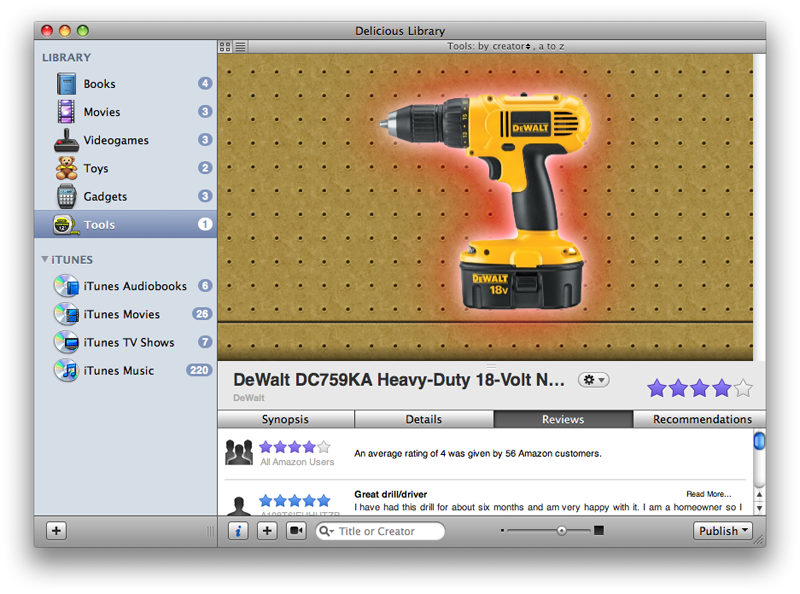 A third pane presents more information on the selected item, including a synopsis from Amazon, user reviews from the web, and recommendation links for buying related items (as presented in the above graphics).
Right-clicking on a item (or clicking its gear action menu) brings up options to play the item (if it's media from iTunes), or to buy or sell it on Amazon as a used item, in the case of a physical object. Recommending the item to a friend will create a simple HTML email with a link to Amazon to buy it, with an affiliate link for Delicious Monster.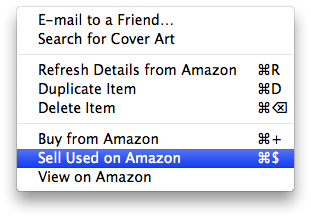 Actions can also be initiated with the standard Apple Remote on Macs that support one. The remote can be used to browse the library and play items. Some items that lack a manually associated action URL will automatically play; iTunes songs or movies play from iTunes, while books will open a browser to Amazon's Look Inside site for the title.
You can also add Friends from your Address Book and check items out to them, using a return due date. Checked out items are tagged with an out flag and appear as ghostly outlines on your own library shelf (below), as well as being listed on your Friend's shelf. This makes it easy to track who has what, and send out the needed reminders to get your toys back.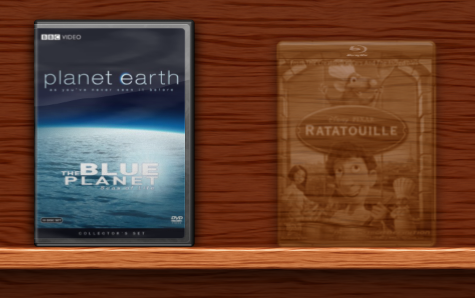 On page 2 of 2: New in Two; Publish and Subscribe; Scan Lines; and Leopard-palooza.
The new version sports a clean new look, which has evolved significantly during the development process. Early builds attempted to present metadata, star ratings, reviews, and other details in a Leopard iCal-style bubble that popped up for each item (below top). In the latest builds, the interface has been reworked to display related information in an adjustable third pane similar to Mail (below bottom). The overall interface looks a lot like FileMaker's new Bento personal database. That's no real surprise, as both take full advantage of Leopard features and follow the revised Human Interface Guidelines related to the latest release of Mac OS X.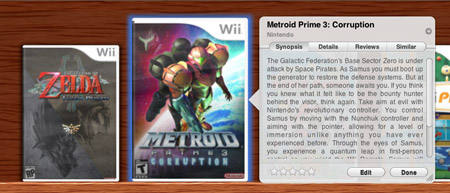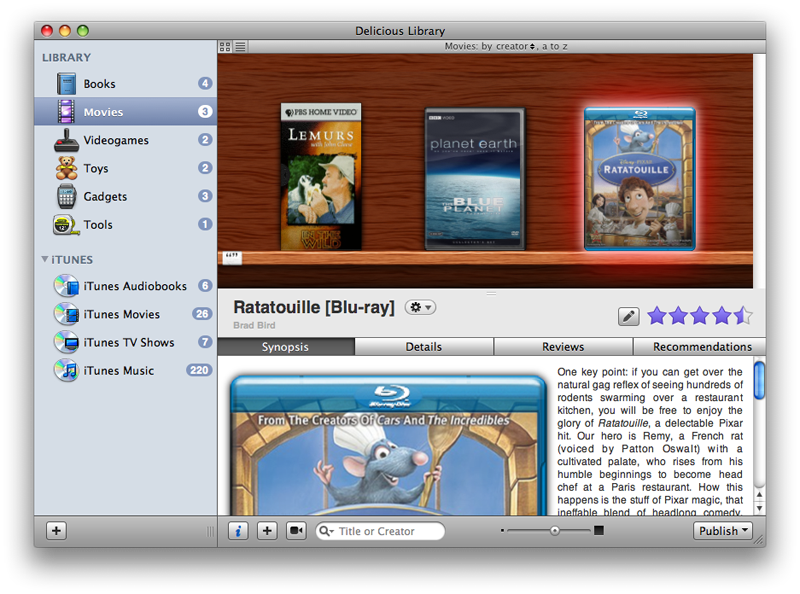 Smart Money and Automation
DL2 also adds automatic currency conversion; it downloads the latest currency rates, and when the user performs a smart shelf that selects by value, or sorts a shelf by value, it correctly knows how a British Pound compares to a US Dollar and an Autralian Dollar or Euro and 21 other world's other currencies.
It also offers expanded support for AppleScript, supporting both read and write operations. It's also the first program ever to allow users to add scripts anywhere within DL2's menu system. That means a user could add an "Import from FileMaker" script which appears under "File->Import" in the main menu bar rather than only within the Script menu.
In addition to AppleScripts, shell scripts, workflows and applications can also be added to DL2's menus by adding them to the /Library/Scripts/Applications/Delicious Library 2 folder.
Users can publish their library shelves as a printed hard copy, as a portable Notes listing that can be uploaded to an iPod, or as webpages that can be saved to a local folder, uploaded to an FTP server, or published automatically to .Mac (using the interface described above). Library items can also be sent to iWeb to add the listings to customizable web pages. When generating an HTML listing, a translucent progress window pops up (below).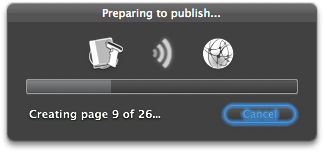 Once completed, the application presents a link to visit the new site. While still a work in progress, the generated web pages look pretty slick, with Ajax-style interactivity including artwork popups and a details section for each item (below). Leveraging .Mac makes publishing a public library effortless, although DL2 can also spit out pages to an FTP server or to a local folder for manual uploading to a web server.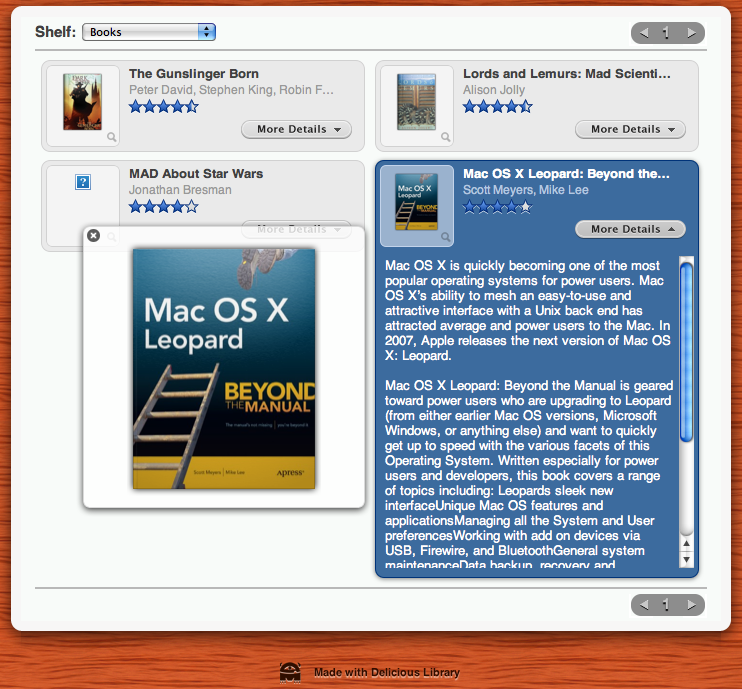 Along with publishing conventional HTML web pages, DL2 also uploads a hidden, invisible binary file that can be read by DL2 directly. That means anyone who knows your published web URL can also browse your shared library within their own copy of DL2 instead of as web pages.
When contacts are added to the Friend shelf, DL2 automatically searches the web and find if they have published a Delicious Library of their own. It then lists their published web URLs on their friend tab; that link can be used to load their library automatically from wherever in the world for direct browsing in DL2.
DL2's library can also be shared via Bonjour to other local computers, just like shared albums in iPhoto or iTunes, allowing users to keep a central library viewed by other machines.
Library data can also be exported from the Pro version of DL2 in either comma or tab separated files, BibTeX format for use with Bookends, SYLK format for use in Excel, XML, and six of the most common bibliography formats.
DL2 also features faster bar code scanning, which has always been a key feature of the application. Click the camera icon, and a translucent panel shows up with faux red laser lines and an outline target for your UPC code (below left). When the application grabs the barcode, it flashes an X-Ray representation of it onto the display with a beep (below right), then looks the product up online, and announces the product name out loud using Leopard's new Alex voice. If the item has already been added to your library, the voice tells you that too, and gives you the option to create a duplicate.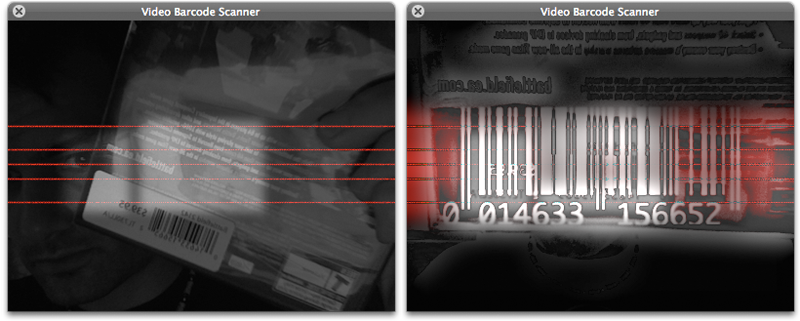 Once scanned, the barcode isn't presented anywhere in the interface, and there's no provision for printing barcodes to manage library items yet. DL2 does adds support for searching items by Dewey Decimal and Library of Congress numbers, and scanned books are assigned an ISBN, EAN, and Dewey Decimal number from Amazon's online database (below). Movies, video games, and software titles are listed by EAN.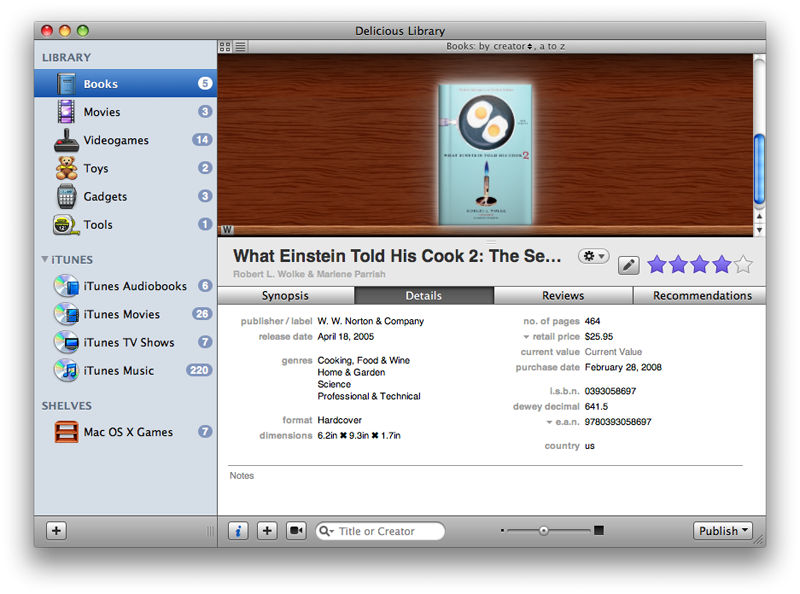 The application's barcode scanning is cool enough that it would be great to see it offered as a general purpose service for other applications to use, along with a mechanism for printing barcode labels for items that get checked out. Perhaps Delicious Monster will also take advantage of the iPhone's upcoming SDK to offer barcode scanning on it as well. QR barcodes are already a required feature on Japanese smartphones, and popularly used to pull up information on barcoded products, as noted in the article Readers Write: the iPhone in Asia, iTunes OTA, and a CueCat?.
DL2 adds enough other new Leopard-centric features to make the new version Leopard-only:
Creating a library loan adds an event to Leopard's Calendar Store, visible within iCal and other applications that use shared calendar data.
Core Animation effects abound, adding slick and sometimes comical flourish to the user interface. Delete an item, and it doesn't just disappear, but explodes into burst of confetti.
Items can be dragged to the Desktop to create double-clickable icons that open DL2, or present a Quick Look synopsis of the item with a touch of the spacebar.
Library data is now stored in CoreData using SQL rather than a flat XML file, for much faster performance. It also uses roughly a quarter the disk space to store the same data.
Leopard printing support includes extensible HTML-based templates and a new preview mode.
Delicious Library 2.0 should be available in March for $40, with a $20 upgrade offer for users of the existing version. Anyone who bought the existing version on or after December 1, 2007 will be able to upgrade for free.