Coming to iPhone: Instant Messenger, EA's Spore, SEGA games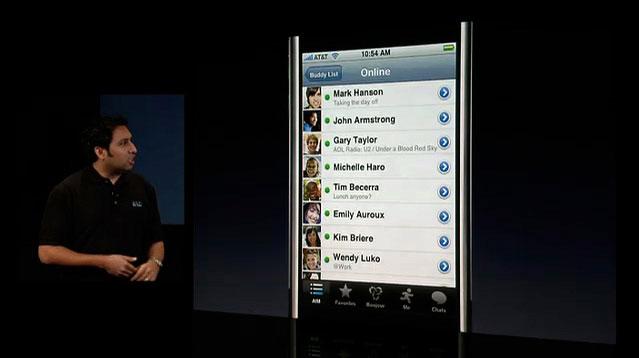 AppleInsider may earn an affiliate commission on purchases made through links on our site.
During its iPhone Software Roadmap event on Thursday, Apple invited several developers on stage to demonstrate work-in-progress versions of some of the first third-party native iPhone applications that included Instant Messenger (AOL), Spore (EA Games), and Super Monkey Ball (SEGA).
One of the most warmly received announcements came from AOL, which managed to develop a working version of its Instant Messenger software for the iPhone after having been provided with a beta of the iPhone SDK just two weeks ago.
The application includes a full featured Buddy List that integrates with Address Book and the iPhone's contact list, displaying the name, status and icon of each buddy. It also supports multiple simultaneous conversations. Switching between them requires just a 'swipe' across the iPhone's touch-screen.
"No question the powerful tools and APIs in the iPhone SDK made it easy to develop a feature-rich mobile application for the iPhone," said Kevin Conroy, executive vice president, AOL. "The rapid development cycle for this application was very intuitive, and when you add the App Store, it's an unbeatable combination for development and distribution of mobile applications."
Via a new application programming interface (API) offered as part of the iPhone SDK, applications like the AIM client are able to interface with the iPhone's Photo Library. As such, users can select custom buddy list icons from their iPhone's Photo Library or create one on the spot via the handset's built-in camera.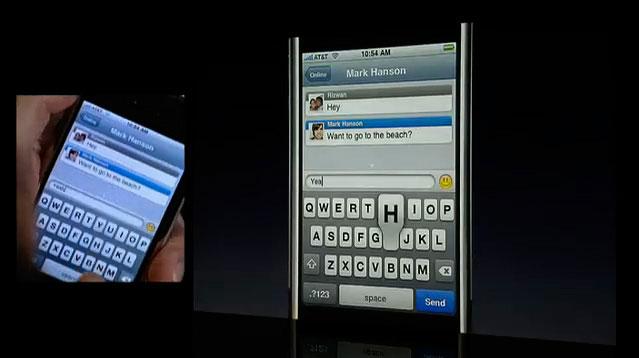 EA's Spore and SEGA's Super Monkey Ball
On another front, it became clear that the iPhone's built-in three-axis accelerometer is going to unleash a new chapter in handheld gaming unparalleled by anything in the industry thus far. Apple began by demonstrating a Photo editing application that lets users "undo" changes simply by shaking the iPhone like an "etch a sketch." EA Games' Travis Boatman was then introduced to perform a demo of "Spore" on the iPhone, also ported to iPhone in just two weeks. Like the photo editing app, game-play is based purely on tilting and maneuvering the orientation of the handset.
"The animation technology in the iPhone OS enables us to build awesome games," said EA chief executive John Riccitiello. "I think iPhone consumers are going to be blown away by the games we create for this platform."
Similarly, SEGA's Ethan Einhorn showed off a version of his firm's Super Monkey Ball title that leveraged the iPhone's Accelerometer, and like Spore was also ported to the handset within two weeks. To move the monkey around the screen, all players have to do is tilt the iPhone.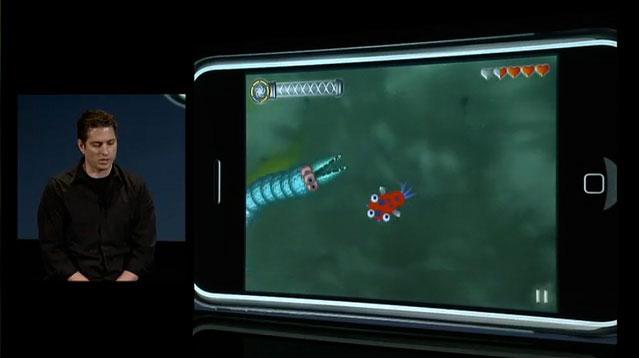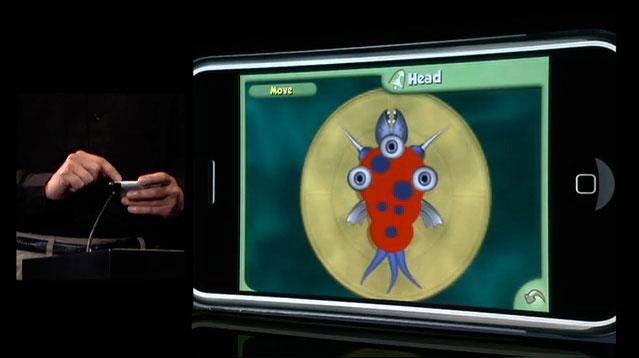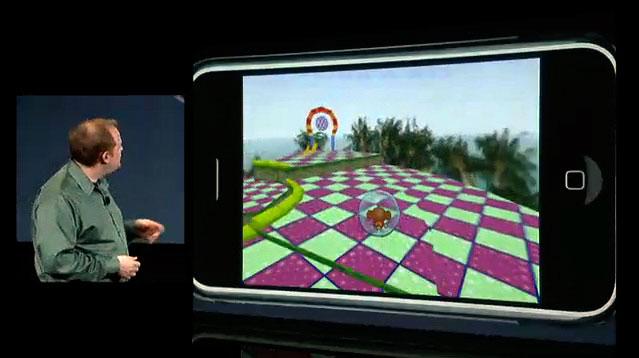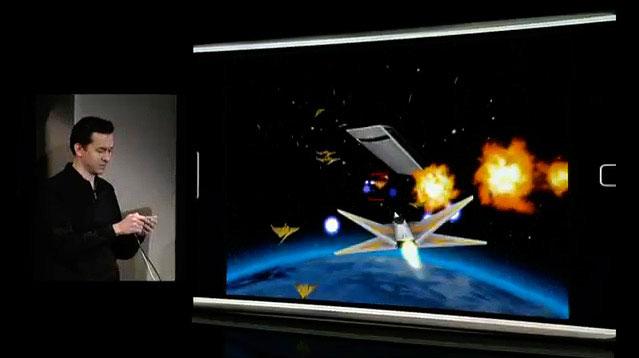 "It's gonna be really hard to go back to a traditional game controller," he said.
Salesforce.com and Epocrates
Also demonstrating applications at the SDK event were representatives from Salesforce.com and PDA medical software developer Epocrates.
Salesforce demonstrated an application — written by a single developer in less than two weeks — that will allow sales representatives to view graphical representations of their monthly sales goals on the iPhone. Chuck Dietrich, who spoke on behalf of the company, said the iPhone SDK will allow his firm to repurpose data for the iPhone, which could then be distributed wirelessly to those sales reps.
Shortly after, Glenn Keighley of Epocrates demonstrated a new medical reference application for the iPhone that will allow physicians to reference and identify various different kinds of medicines (pills).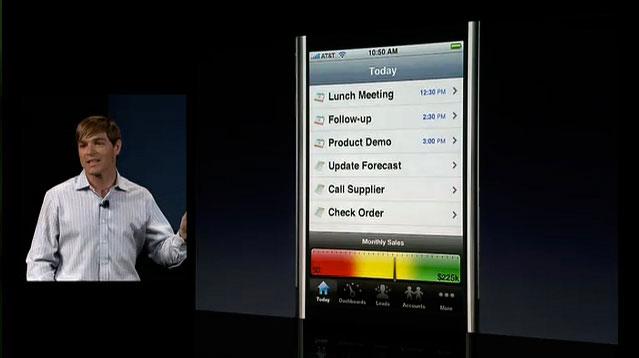 "By putting so much computing power into such an elegant mobile device, Apple has opened up tremendous opportunities for application developers," said Kirk Loevner, Epocrates's chairman and CEO. "The technology and software in the iPhone OS will allow us to create new and innovative applications that help improve patient safety and provide healthcare professionals with an unsurpassed user experience."
Available only on the Apple App Store
All these applications and hundreds more will be distributed exclusively via Apple's new App Store beginning in June. The App Store application will ship as part of iPhone Software 2.0 and allow users to download and install applications and games wirelessly over EDGE or WiFI, Apple said, or via iTunes on a Mac or PC.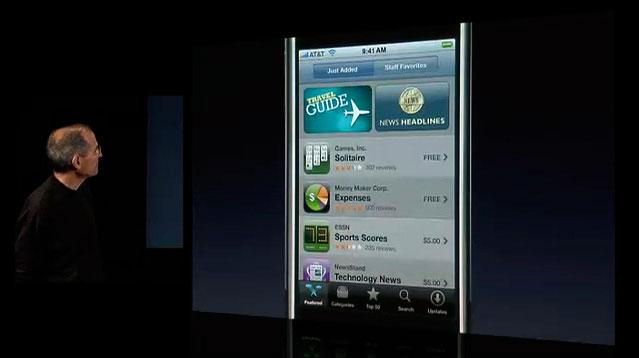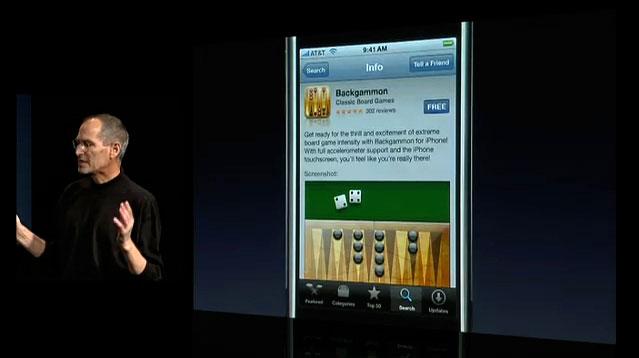 The store's landing page will feature the Top 50 most popular applications and include a search function for the remainder of the offerings. Developers must register with Apple ($99 fee) to obtain a digital certificate and the right to publish their games on the store. Developers will set the price of there applications and see 70 percent of the proceeds from sales while Apple will garner the remaining 30 percent to cover server, marketing and other costs.
There will be a slight vesting period between the time developers submit their applications to Apple for inclusion on the App Store and when they are actually made available for download, said Apple Vice President of Worldwide Marketing, Phil Schiller, who declined to elaborate further.
More news from today's Apple event