More evidence of Apple's iPhone eventually going Intel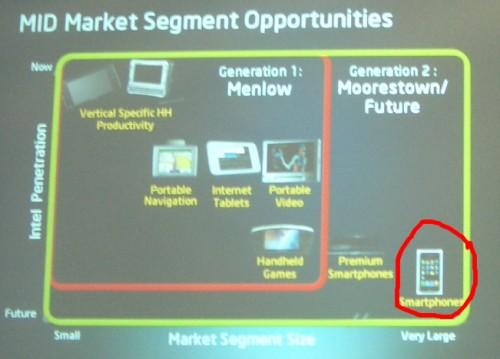 There's some more anecdotal evidence this week to suggest that Apple Inc.'s iPhone will eventually abandon its Samsung-based roots and make the jump to Intel's freshly-coined Atom architecture.
Citing is own sources, as well as a leaked presentation slide belonging to Intel, the Inquirer is corroborating reports first published by AppleInsider last year in saying that the touch-screen handset is destine to join the ultra-mobile platform in the not too distant future.
However, and more appropriately given recent disclosures by the Intel on the first-generation of the Atom architecture, the evidence suggests the transition will not take place until the second rev of the ultra-mobile Atom platform, code-named Moorestown.
This would see the third-generation iPhone pick up Silverthorne's smaller, and more refined successor sometime in 2009, while the Silverthorne chip itself serves an initial role in Apple's tablet-like extension of the iPod touch platform, frequently referenced by AppleInsider as a reincarnation of the Newton MessagePad.
Among other things, the move will allow Apple to better solidify the codebase of its handheld devices with that of its remaining business segments, mainly its Mac computer line and fledging media hub business (Apple TV). It will also serve as a measure that will help the electronics maker form a tighter shield around its intellectual property, given that the company's disclosures and product plans will be privy to one less partner.
During Intel's Fall developer forum last year, executives for the chipmaker flaunted an unnamed Moorestown processor, describing it as the "chip the iPhone would have wanted." Like Silverthorne, the 45nm Moorestown design bundles an integrated memory controller, video encode/decode engine and graphics processor all on a single SoC, with the added option of WiFi, 3G, and WiMAX technologies.
An Intel Atom roadmap slide shown off at CeBIT | Source: The Inquirer