Apple pushing Safari downloads on Windows users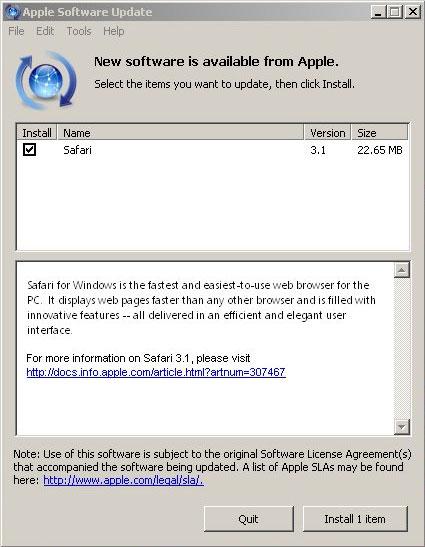 In an apparent bid to rapidly gain share of the online browser market dominated by rival Microsoft, Apple is leveraging its vast iTunes install base to recommend that Windows users also download and install the latest version of its Safari web browser.
To date, Apple has sold over 100 million iPods, the majority of which have gone to Windows users who subsequently must install the company's iTunes software for synching files between their PCs and the digital media players. As part of iTunes, Apple also installs its Software Update mechanism on the Windows-based machines to notify users of iTunes updates, in addition to updates to its QuickTime media software required for several iTunes functions.
It now appears that the Cupertino-based company aspires to use the advantage presented by the Software Update mechanism to muscle its way further up the browser charts at the expense Microsoft's Internet Explorer and other third-party Windows browsers.
"Earlier today, Apple released the Safari 3.1 Web browser for Mac OS and Windows XP/Vista. A couple hours later, Apple Software Update popped up on my daughter's Sony VAIO, offering Safari 3.1 for download," noted Microsoft Watch's Joe Wilcox. "I didn't recall seeing an earlier version installed on the laptop. And I made no mistake: The Apple updater offered installation of new software, not something that had been there before. Whoa."
Windows users receiving the notification are greeted with Apple's marketing pitch alongside the download option, which reads: "Safari for Windows is the fastest and easiest-to-use web browser for the PC. It displays web pages faster than any other browser and is filled with innovative features — all delivered in an efficient and elegant user interface."
In a statement released Monday alongside the release of Safari 3.1, Apple said the browser loads web pages 1.9 times faster than the current version of Internet Explorer and 1.7 times faster than Firefox 2.0. But when it comes to install base, Safari is world's behind.
According to NetApplications, the Apple browser maintains an approximate 5.7 percent share of the market, a distant third to the well established presences of both FireFox and Internet Explorer, which hold a 17.2 percent and 74.8 percent share, respectively. But like FireFox, Safari is slowly eating away at Internet Explorer's commanding lead. Its share has risen nearly a full percentage point over the past twelve months, while the Microsoft browser has shed about 5 percent of its share.
Meanwhile, Apple is also contending on a second front in its charge towards supremacy in the browser market, to which it has witnessed more immediate success. Its iPhone and iPod touch — both of which ship with a mobile version of Safari — have served to springboard the company to the top of the US mobile browser rankings in a mere eight months, according a recent report from Ireland-based StatCounter.
But Wilcox, who credits Apple with wisely leveraging its resources to infiltrate Microsoft's territory, questions how well the fledging Safari browser will hold up amongst a PC world proliferated by trojans, viruses and other rogue tactics that threaten to disrupt the stability of Windows systems.
"Safari is fairly new to Windows and has yet to really show that it has can muster the security to withstand the associated attacks," he wrote. "Mac OS X is a quaint neighborhood where little Safari was safe. By comparison, Windows is a gang-ridden ghetto: life is survival, and it's tough going."