AT&T now limiting iPhone sales to one, requiring plastic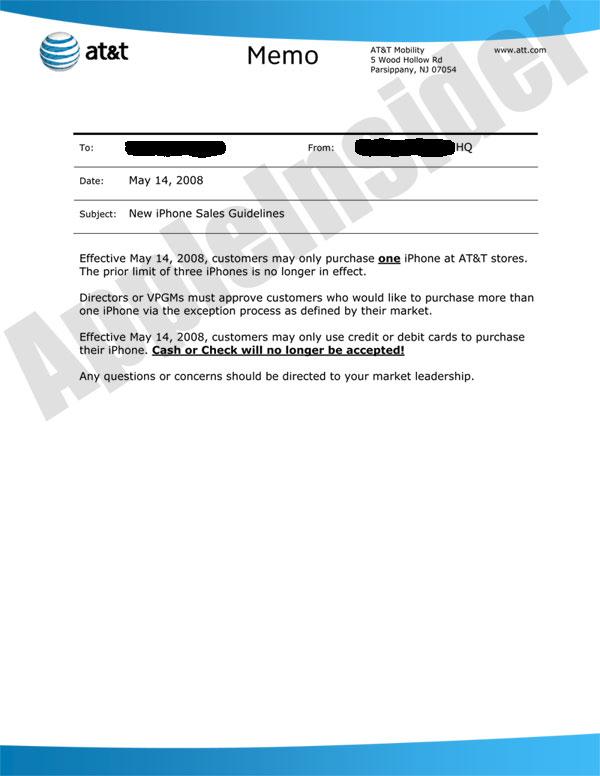 AT&T in an internal memo to its retail department on Wednesday instated a couple of new policies regarding sales of Apple Inc.'s increasingly hard-to-find iPhone, primarily that customers are allowed to purchase only one of the handsets until further notice.
"Effective May 14, 2008, customers can only purchase one iPhone at AT&T stores," reads a copy of the memo obtained by AppleInsider. "The prior limit of three iPhones is no longer in effect."
The exclusive US iPhone carrier said all requests to purchase more than one of the touch-screen handsets must be approved by a director or general manager, adding that cash and checks will no longer be accepted.
"Customers may only use credit or debit cards to purchase their iPhone," the memo says.
The move comes amongst a growing shortage of the handset worldwide, as Apple is believed to have ramped down or ceased production of the current 8 and 16GB models ahead of a new version that will run on so-called 3G networks.
Over the weekend, both of Apple's online stores in the US and UK stopped accepting new iPhone orders. Availability of the device overseas has faired littler better, with UK wireless partner O2 having run dry of its supply last week only to return bearing just the high end model.