Latest iPhone 2.0 beta adds geo-tagging to Camera photos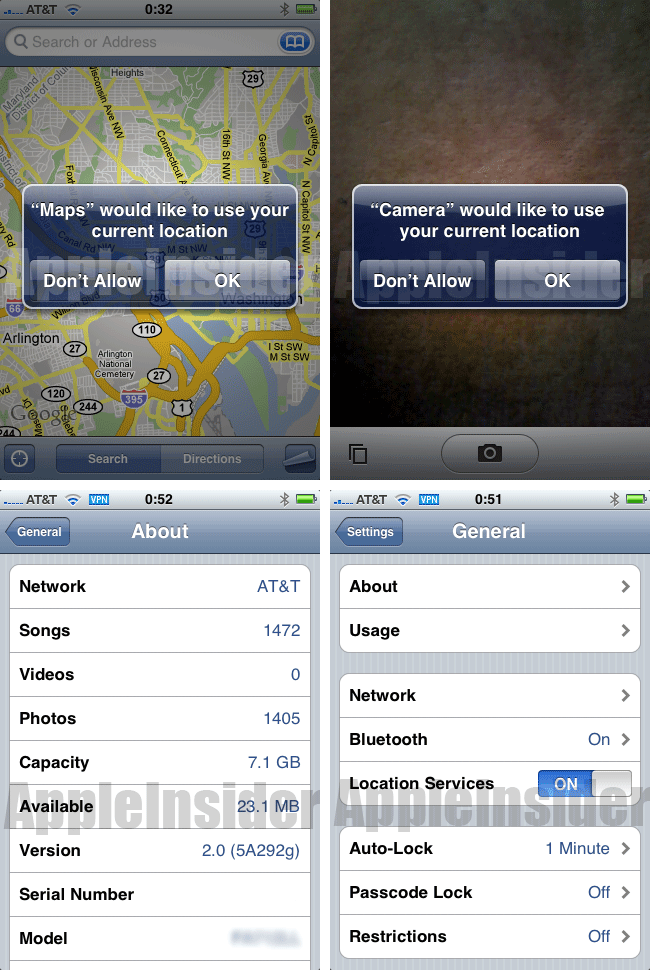 A new beta of Apple's iPhone Software v2.0 Update released privately to a select group of enterprise partners this week adds a few new preferences and the beginnings of geo-tagging support for the handset's Camera app.
People familiar with the release, reportedly labeled build 5A292g, say location-aware services such as "Maps" and "Camera" now ask the user's permission before transmitting data used to identify their current geographical location.
The addition as it applies to the Camera application is interesting in that it suggests Apple is actively working on adding support for geo-tagging photographs, those people say.
Essentially, geo-tagging is the process of adding geographical identification metadata to media files such as latitude and longitude coordinates — or even names of places — so that those files can later be referenced, searched, and grouped based on their origin.
In addition, Apple is also reported to have added a toggle under the iPhone's general preference pane that will allow users to enable/disable Location Services on a system-wide basis.
Although the new beta prompts users for permission to use Location Services in the Camera application, those people familiar with the software say it appears that location metadata is not yet embedded in new photographs.
iPhone Software 2.0 is due next month alongside the company's much-anticipated next-generation iPhone that will boast support for so-called 3G networks. However, it will also be made available for existing iPhone owners.
One of the most highly anticipated features of the software is the App Store, which will allow users to purchase a wide variety of native third-party applications that are currently under development for both generations of the touch-screen handset.