Complexity of Apple retail stores revealed by permits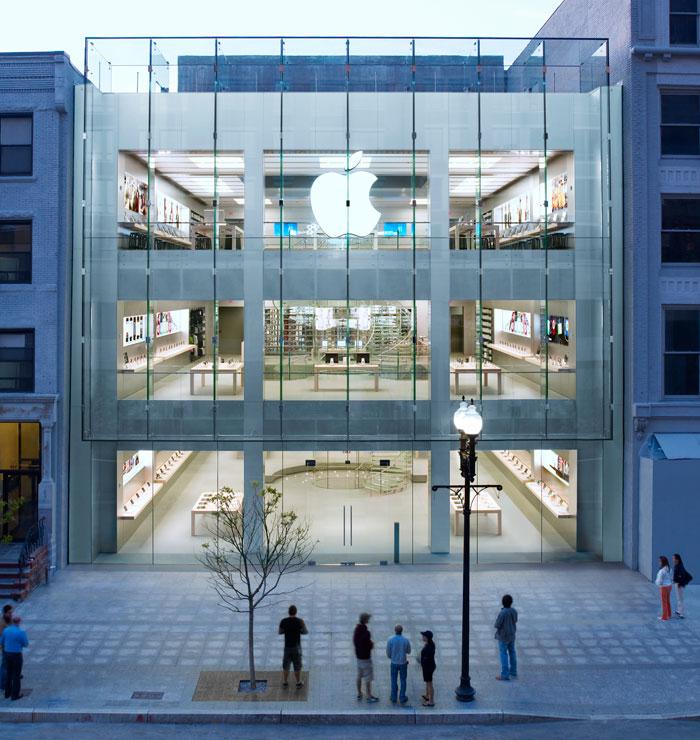 (ifoAppleStore) The complexity of an Apple store is visible to visitors, but beneath the structure of stainless steel, glass and stone is another level of complexity that is just as important. City permit records show that the electrical, plumbing and other systems inside the retail outlets are extensive — and expensive.
For instance, the new Boylston Street (Boston) store has 550 lighting fixtures, 224 electrical receptacles and 25 switched outlets, consuming a maximum of 1,200 amps, according to the permits. That's enough current to power 12 average-sized homes.
The store also has 17 motors for various air conditioning and elevator operations, and a 200 KVA gas-fired generator to supply electricity if the utility power fails. Meanwhile, the fire alarm system consists of 97 different detection and initiating devices, and has 37 alarms to alert the public.
Additionally, city permits show the store to have 51 security devices, 94 data outlets and 90 "telecommunications" devices. In total, Boylston Street store's electrical installation is valued at $971,000, according to an application filed Apple to allow contractors to perform the electrical work.
The store's plumbing is equally complex: three water closets, one kitchen sink and four lavatories in the basement, along with one hot water heater, slop sink, one urinal and one drinking fountain. Two boilers in the basement connect to the HVAC system, supplying a maximum of 1 million BTUs, a measure of the system's capacity to heat or cool.
The store's video surveillance system uses 36 cameras, according to the documents, which safeguard both the store's public and non-public areas.
Even the work permits themselves came with a high pricetag: $11,590 for the permit covering the installation of temporary electrical service during construction, and $80,900 for the permanent electrical work permit. The closed-circuit TV permit was $20,700, the plumbing permit $17,000, and the gas fitting permit $12,000.
Apple's latest flagship shop on Boylston Street in Boston, Mass.
Overall, some estimates put the total cost of the Boylston Street store at nearly $6 million, including $236,000 to demolish the original building on the site.
Gary Allen is the creator and author of ifo Apple Store, which provides close watch of Apple's retail initiative. When Gary isn't busy publishing news and information on Apple's latest retail stores, he finds himself hanging out at one.