Google's Android demo shows app store, tweaks iPhone formulas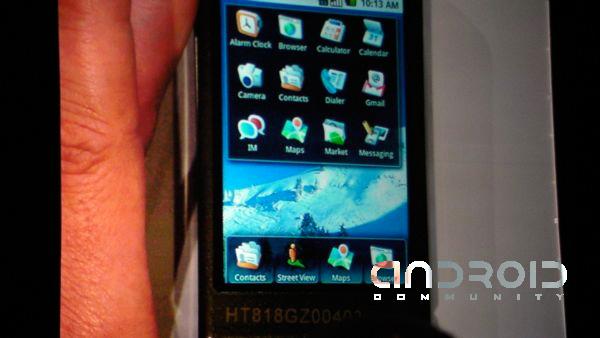 AppleInsider is supported by its audience and may earn commission as an Amazon Associate and affiliate partner on qualifying purchases. These affiliate partnerships do not influence our editorial content.
Attendees at Google's I/O Conference this week were greeted with an Android phone interface that shares yet more common ground with the iPhone from the company's close neighbor Apple, including the first evidence of a dedicated app store.
The search engine giant's project lead for Android, Andy Rubin, dropped hints at the event that his firm's commitment to open development access doesn't preclude it from creating an official marketplace for Android apps. Instead, he argued that the concept could be essential for promoting the mobile operating system and its partners.
"It would be a great benefit to the Android community to provide a place where people can go to safely and securely download content and where a billing system would allow developers to get paid for their effort," The Register heard Rubin say. "We wouldn't have done our job if we didn't provide something that helps developers get distribution."
While details of just what this would involve are still murky at this stage, the Google manager's live demonstration of the latest version of Android revealed a conspicuous "Market" button already in place — albeit one not explored during the presentation.
Even so, the addition creates an unusual similarity between Google's commercial platform and that coming with Apple's iPhone 2.0 firmware in June. Where most mobile app stores are operated independently of hardware or software, such as Handango, both the Android Market and the iPhone's App Store will be controlled by the same companies responsible for their respective operating systems.
Google's open platform is believed to allow installations of apps without official blessing, however, in contrast to the official certification process necessary for iPhone software.
Although one of the more conspicuous similarities, the I/O gathering also revealed a few familiar, if improved, interface elements initially seen in Apple's hardware.
Of note are multiple home screens accessed through the same swiping gestures as those introduced with Apple's January firmware update, though with an extra twist: while Apple's screen is limited to application icons and web shortcuts, the Android front-end uses the extra space for links to particular contacts and even immediately viewable widgets like clocks.
Even the slide-to-unlock motion, which is a simple left-to-right affair with the iPhone, expands to a nine-point system with Android that lets users secure the phone with a memorized pattern.
And while Google has regularly declared its pride in offering Google Maps with the iPhone, the Mountain View, Calif.-based company has reserved some of its best features for its own platform. The accelerometer that largely governs just screen rotation in the iPhone can now be used in a new Street View mode that rotates the point of view simply by changing direction in the real world.
Google itself won't produce handsets and is leaving that responsibility to established handset makers like HTC and Samsung, many of which are expected to produce a mix of devices that will kick off Android's debut late this year.
Android's new home screen.

Street View in Google Maps.

Android's new slide-to-unlock system.