Apple backs out of Apple Expo, but Paris store coming - reports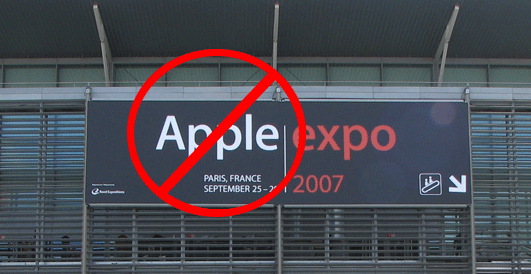 AppleInsider may earn an affiliate commission on purchases made through links on our site.
Apple appears to have changed its mind about attending this year's Apple Expo in Paris, France but is pushing ahead with plans to open an elaborate flagship shop in one of the most trafficked areas of the capital city.
The French-language MacGeneration, which issued reports on both matters this week, notes that the Apple Expo website suddenly makes no mention of the Mac an iPhone maker as an exhibitor at this year's conference, scheduled to run September 17 - 20.
That wasn't always the case, according to the report. As recently as last week, the Apple Expo site was said to have listed Apple as the register of two of the conference's largest exhibition booths, or the same floor spaces it occupied last year.
Although the spaces once designated to Apple are now marked "reserved," MacGeneration claims to have it on good measure that Apple has indeed withdrawn from the conference. A statement from show organizers is expected within the week, according to the report.
Apple Expo was once the world's largest Apple trade conference, attracting more than 90,000 attendees a year during its prime. However, Apple's commitment to the show has waned over the past few years, with chief executive Steve Jobs canceling a keynote appearance in 2005 due to illness then failing to make up for it the following year.
Attendance fell to 54,000 last year as Apple, facing last minute delays in launching the iPhone locally, was unable to show off the touch-screen handset during the conference.
"This is a sad news because this year is the 25 birthday of Apple expo," MacGeneration's Christophe Laporte told AppleInsider. "[It's] really hard to imagine an Apple expo next year."
Apple flagship @ Carrousel du Louvre
In what may be some solace to French Apple enthusiasts, a second report adds that Apple has just received the go-ahead from regulators to open an Apple Store at Carrousel du Louvre in Paris. Though no timeframe was specified, the flagship store will reportedly span some 7,700 square feet over two floors.
The Louvre, a historic monument and one of the world's most visited museums, attracts over 9 millions visitors each year, 40 percent of which are said to be tourists.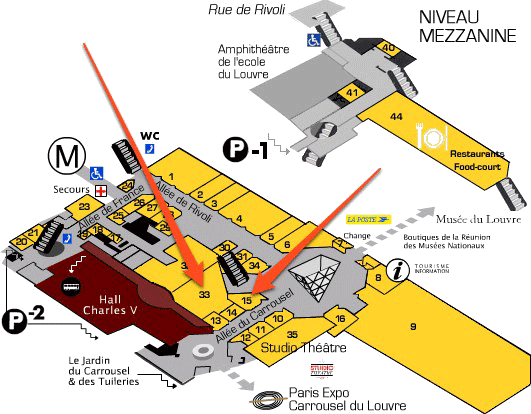 Still, Apple is more than a year late in tackling the French retail market based on a series of comments from members of its leadership over the years. In 2005, Jobs was reported to have told a visitor at the Apple Store Regent Street in London that the company would open its first store in France in 2007.
It's believed Jobs was referring to plans to open an outlet along Champs Elysées, the most prestigious and broadest avenue in Paris. Senior Vice President of Apple Retail, Ron Johnson, has previously named Champs Elysées one of five "key locations" in the world where he said Apple needed to operate a retail store. It's unclear why plans for the store fell through.