AT&T prices iPhone 3G data plan at $30, nixes rev share deal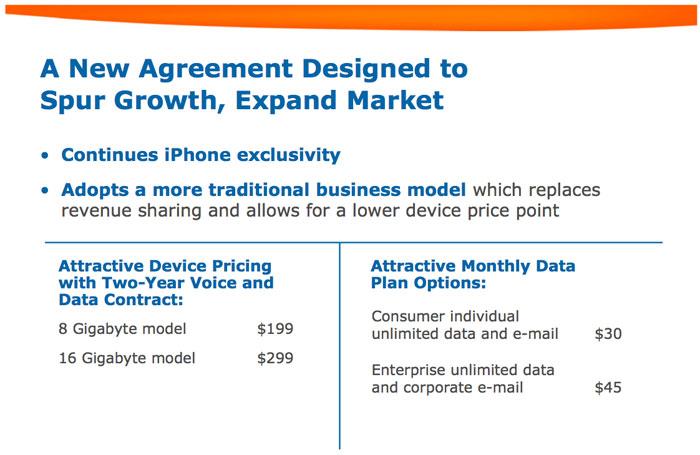 AppleInsider may earn an affiliate commission on purchases made through links on our site.
AT&T confirmed in a press release Monday that it will remain the exclusive U.S. provider for Apple's new iPhone 3G, adding that unlimited data plans for the new touch-screen handset will fetch $30, an increase of $10 from the plan offered alongside the original iPhone.
The No. 1 US wireless carrier, which will begin selling the new iPhone alongside Apple in more than 2,200 company-owned retail stores and kiosks on July 11, added that unlimited 3G data plans for business users will be available for $45 a month.
Data plans must be purchased in addition to standard calling plans, which will begin at $40 for both home and business users and include at least 450 minutes of calling time, 5,000 evening and weekend minutes, 200 SMS text messages, and Visual Voicemail.
AT&T also announced its has entered into a new agreement with Apple that eliminates the revenue-sharing model under which AT&T shared a portion of monthly service revenue with Apple.
"Under the revised agreement, which is consistent with traditional equipment manufacturer-carrier arrangements, there is no revenue sharing and both
iPhone 3G models will be offered at attractive prices to broaden the market potential and accelerate subscriber volumes," the company said.
"The phones will be offered with a two-year contract and attractive data plans that are similar to those offered for other smartphones and PDAs. AT&T anticipates that these offers will drive increased sales volumes and revenues among high-quality, data-centric customers."
In the near term, AT&T anticipates that the new agreement will likely result in some pressure on its margins and earnings, reflecting the costs of subsidized device pricing, which, in turn, is expected to drive increased subscriber volumes. However, it also anticipates that its attractive iPhone 3G pricing offers will drive increased sales volumes and revenues among high-quality, data-centric customers.
In addition, AT&T said it's working closely with Apple to roll out several new and innovative applications that take advantage of the iPhone's advanced capabilities. For example, it's currently finalizing YELLOWPAGES.COM mobile for the iPhone, a GPS-enabled application that combines local search with social networking capabilities, giving users the ability to search for information, share reviews and plan activities with friends, neighbors and co-workers.
Furthermore, the wireless carrier said it is working to certify many of its existing mobile applications for businesses, created in conjunction with third-party developers, for use on the iPhone.