Apple seeds iPhone build 5A331, OS X 10.6 build 10A96, Safari 4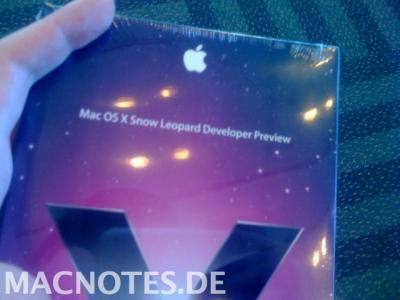 AppleInsider is supported by its audience and may earn commission as an Amazon Associate and affiliate partner on qualifying purchases. These affiliate partnerships do not influence our editorial content.
Apple in the past 48 hours has provided its developer community with a wealth of new pre-release software, including the first external builds of both Mac OS X 10.6 Snow Leopard and Safari 4, as well as a fresh build of iPhone Software v2.0.
iPhone Software 2.0 (build 5A331)
People familiar with the seedings say iPhone Software v2.0 build 5A331 arrived late Monday to a select group of testers, and includes minor changes to reflect announcements made earlier in the day at Apple's developers conference.
Most notably, all references to .Mac setup have been re-branded for the upcoming MobileMe replacement service. The build also repaired a nagging issue where an IPSec VPN account with pre-shared key authenication would fail to establish a connection.
Apple said it plans to release iPhone Software v2.0 sometime in early July, likely around the same time it launches iPhone 3G on July 11th. A full rundown of features expected as part of the release were covered Monday.
Mac OS X 10.6 (build 10A96)
Separately, developers attending WWDC 2008 were provided with a physical Mac OS X 10.6 Snow Leopard installation disc, pictured below, containing the first build of the next-generation operating system to leave Apple's corporate boundaries.
A handful of uneventful screenshots (1, 2) from the release reveal the build number to be 10A96 and the system preference pane to reflect whether the system is running at 32- or 64-bit.
Apple said Monday that rather than focusing primarily on new features, Snow Leopard will enhance the performance of OS X, set a new standard for quality and lay the foundation for future OS X innovation. A list of enhancements expected as part of the release are available here.
Apple says it plans to release Snow Leopard "within a year."
Safari 4.0 build (5526.11.2)
Finally, Apple on Tuesday provided developers with a Developer Preview of Safari 4.0 for Leopard, Tiger, and Windows. People familiar with the 40.2MB release for Leopard say the browser is noticeably more responsive than version 3.1.1 and also includes a couple of minor features.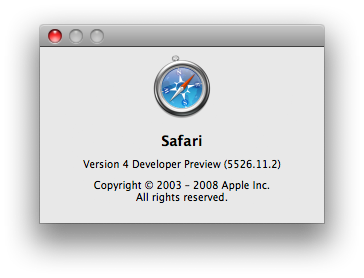 Among the new additions is a General preference setting to set new browser windows to open with tabs from the bookmarks bar or a specific tabs folder. Another feature, accessible under the File menu, lets web pages be saved as self-contained, executable Mac OS X applications — a feature that exists today via a third-party application called Fluid.