Five undisclosed features of Apple's Mac OS X Snow Leopard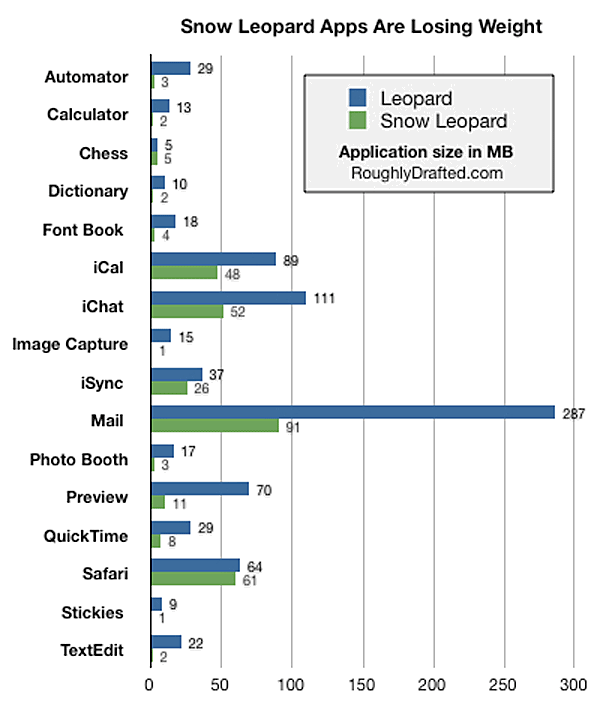 Although Apple is marketing Mac OS X Snow Leopard as an operating system update with "no new features," under the hood improvements will actually translate into a slew of new enhancements, five of which are described herein.
However, the technology publication touches on a few additions that haven't received widespread attention, such as a new multi-touch framework, file size reductions, text-processing features, auto activation of fonts, and full ZFS support:
New multi-touch framework
With all Apple notebook systems due to ship with multi-touch enabled trackpads following this summer's MacBook and MacBook Pro design overhauls, Apple is putting the finishing touches on a complete multi-touch framework that will ship as part of Snow Leopard.
It will consist of code libraries and functions that ordinary developers can use to enhance their applications with the same multi-touch capabilities currently available in Apple-born apps like Safari and iPhoto, and do so with ease.
Another goal of Snow Leopard is to reduce the overall footprint of Mac OS X so that it can be scaled to a growing array of mobile devices that will rely on lower capacity solid-state Flash RAM drives, like the upcoming Apple Newton Web tablet.
As such, Snow Leopard applications have been put on a weight loss regiment that has already translated into the standard Mac OS X Utility folder dropping from 468 MB to 111.6 MB in size. Mail has also seen its heft shaved by two-thirds, from 287MB to 91MB. Similarly, iChat is down from 111MB to 52MB, and iCal from 89MB to 48MB.
Among the technologies believed to be aiding the downsizing are Resolution Independence, which substitutes bitmapped raster graphics with smaller vector graphics files, and Localization, which extracts the plethora of localized language files from each individual application and instills them into a centralized container accessible to each application.
Taking a page out of Redmond's handbook for once, Snow Leopard will also leverage text processing features originally conceived by Microsoft as features for Word.
Mac OS X already includes some of these fancy functions, such as red underlining to highlight spelling mistakes and the green squiggle for grammar errors. Those still missing — such as word auto correction, smart dash insertion, and text replacement features (such as typing TM to get the ™ character) — will arrive next Spring.
Apple will also build out its Data Detector technology with Snow Leopard. In addition to extracting contacts and events from Mail as it does in Mac OS X Leopard, the technology will be used to help expand upon Font Book to provide full Auto Activation of any fonts requested by any application, using Spotlight to track them down.
Finally, Snow Leopard will also be the first version of Mac OS X to boast full support for the much ballyhooed ZFS file system, originally designed by Sun Microsystems for the Solaris Operating System. (This was suggested in a report by AppleInsider last October.)
Mac OS X Leopard debuted read-only ZFS features, but Snow Leopard and Snow Leopard Server will provide both read and write support for the new 128-bit file system. It won't, however, replace HFS+ outright.
Among the advantages of ZFS are storage pooling, data redundancy, automatic error correction, dynamic volume expansion, and snapshots — technologies that apply primarily to servers and higher-end workstation users who deal with multiple disk drives.