Pre-paid iPhone 3G customers may pay $600 for handset - report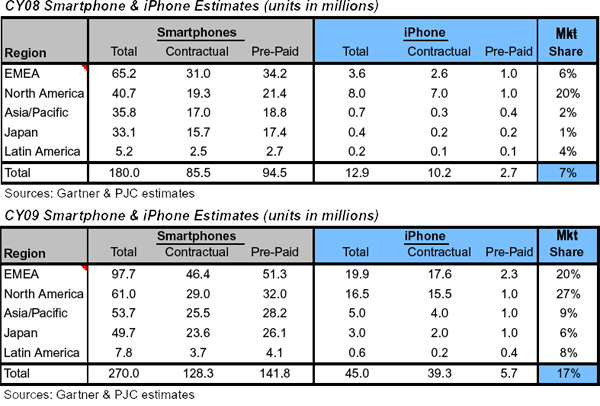 Approximately one out of every ten iPhone 3G buyers are likely to be international pre-paid subscribers who'll find themselves paying in excess of $600 for the touch screen handset, according to a new report.
Piper Jaffray analyst Gene Munster estimates that 53 percent of Apple's total addressable market for the new 3G mobile phone will be pre-paid customers who'd forgo lengthy service agreements, and thus wouldn't be privy to hefty subsidies offered to those buyers who'd sign multi-year contracts with carriers.
Therefor, pre-paid subscribes will in all likelihood wind up paying in excess of $600 for the new touch-screen handset, he said. The estimate assumes Apple charges carriers an average $425 for the new phone and those carriers then turn around and mark up the pre-paid handsets another $175 or so to turn a profit.
Given those costs are around three times more than the $199 subsidized price Apple and its wireless partners plan to charge contract customers for an 8GB iPhone 3G, the analyst believes pre-paid customers won't make up a proportionate share of global iPhone sales — a belief he's factored into his current model.
More specifically, Munster's model calls for Apple to sell 12.9 million iPhones in 2008 and 45 million in 2009, which would garner the Cupertino-based company a 17 percent slice of the global smartphone market by the end of next year. Of the 2.9 million iPhones in 2008, he estimates 2.7 million will be purchased by pre-paid subscribers. In 2009, he sees just 5.7 million of the 45 million units going to pre-paid customers.
"While 17 percent may seem aggressive, Apple currently has 20 percent in North American driven by a $400 priced phone," he told clients. "We only expect Apple to have 20 percent or greater smartphone share in two regions, North America and EMEA (Europe, the Middle East and Africa)."
Munster issued his report on Monday mainly to address growing concerns amongst Apple investors who had begun to believe that the impact of selling iPhones in heavily prepaid markets would substantially dilute the global opportunity for the handset.
Those investors were acting on the misconception that more than half of potential iPhone customers would be forced to pay $600 or more for the new 3G handset, when in actuality that number is more likely closer to 15 percent, or 1 out of every 10 units sold, according to Munster's models.
The Piper Jaffray analyst and his team maintain a Buy rating and $250 price target on shares of Apple.