Report: half of prospective smartphone buyers eying iPhone 3G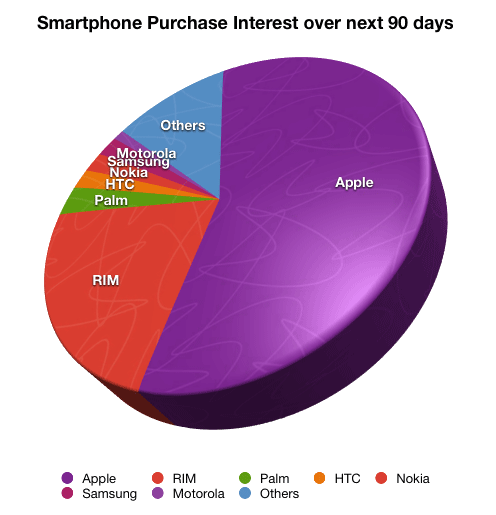 AppleInsider is supported by its audience and may earn commission as an Amazon Associate and affiliate partner on qualifying purchases. These affiliate partnerships do not influence our editorial content.
In a sign of "unprecedented pent-up demand" for the upcoming iPhone 3G, investment bank RBC Capital Markets says its own proprietary study has revealed that more than half of consumers who are in the market for a smartphone intend to purchase one of the new Apple handsets after its launch on July 11th.
Specifically, the survey of 3,600 RBC Technology Adoption Panel members conducted shortly after Apple's annual developers conference this month indicated that 56 percent of those consumers who plan on buying a smartphone in the next 90 days have their heart set on the sleek new iPhone 3G.
That's a jump from just 35 percent of consumers who said they anticipated buying one of the new touch-screen handsets back in March when the firm conducted a similar survey before Apple had announced pricing and features. Another 25 percent indicated that they may buy an iPhone 3G "sometime in the future" — a more than twofold increase in interest from the March study.
There's more good news for Apple. The same study showed that purchase interest in the Apple handset is two times greater than that of other brands surveyed. Consumers holding out for a BlackBerry device in the next 90 days made up 23 percent of responds, while Palm garnered interest from just 3 percent. HTC, Nokia, and Samsung each had the interest of 2 percent of respondents to the study, and Motorola just 1 percent.
Consumers routinely cited the iPhone 3G's lower price (67 percent) and faster 3G internet access (63 percent) among the top reasons they plan to choose the Apple handset. 47 percent indicated GPS was a strong selling feature as well, while 35 percent included enterprise email in the list of selling points, and 20 percent check-marked third party applications.
Overall, RBC analyst Mike Abramsky said the surge in interest is the biggest jump ahead of any consumer phone recorded by his firm's internal panel since 2003.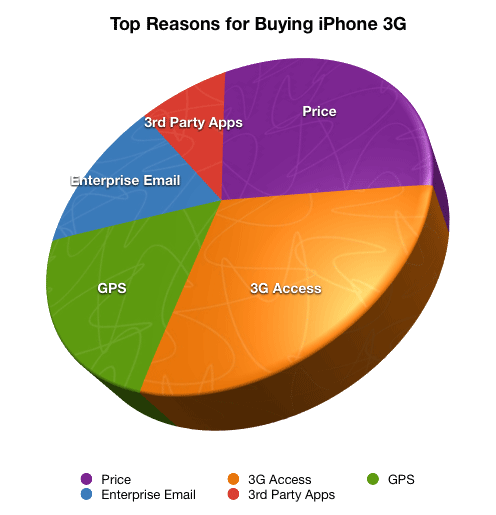 "Overall intentions by the panel to purchase smartphones jumped to 10.5 percent, indicating a significant expansion of the smartphone market," he wrote. "[The] iPhone's TAM (Total Addressable Market) handset share [is] expected to rise from 0.3 percent in 2007 to 1.7 percent in 2009.
The analyst, who reiterated his Outperform rating on Apple shares, said he continues to expect that the company will ship 14 million iPhones in 2008 and 24 million in 2009.