It's already begun: iPhone 3G line starting in New York City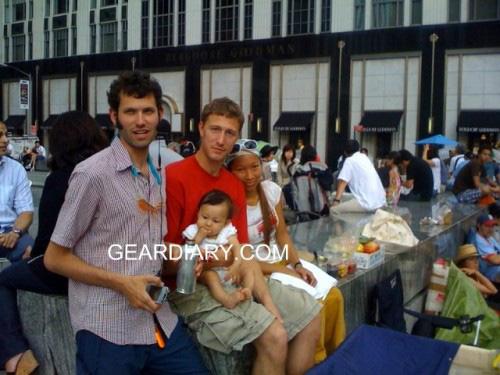 AppleInsider may earn an affiliate commission on purchases made through links on our site.
Although it's not the first release and ample supply is expected, a queue has reportedly begun outside of Apple's Fifth Avenue retail store to buy iPhone 3G a full week before its release.
As of mid-afternoon on Friday, a ten-person line has been spotted by Gear Diary along the marble border that surrounds the retail store above ground.
The lineup is acknowledged by both store security and Apple employees, some of whom have already left the store temporarily to talk with those in line. Chairs and other apparel make it clear the early visitors are there for the seven-day wait.
The names of those first in line are unknown, though unlike the queue at the same store last year, the front isn't headed up by well-known line waiter Greg Packer, who regularly queues up early to be the first in line for many high-profile events.
Also unlike last year, however, there exists more of a clear incentive to be first in line at the New York City flagship outlet. With customers required to activate iPhone in-store rather than simply walk out with their purchases, the time spent processing each customer is estimated to take at least 10 minutes — a process that will slow the line down considerably versus the original launch, in which many customers could buy their handsets and leave in just a fraction of the time.
A snapshot of the early lineup. Image credit: Gear Diary