Visual preview of top 10 free iPhone applications

Apple's highly anticipated iPhone App Store launched earlier this morning, spawning a user-generated list of the most popular applications available at no cost. This article previews the top 10 with links, descriptions, and screenshots.
With Apple's new iTunes Remote app, you can control the music on your computer or Apple TV from your iPod touch or iPhone. Play, pause, skip, shuffle. See your songs, playlists and album art on your iPod touch or iPhone as if you were right in front of your computer.
Remote works with your Wi-Fi network, so you can control playback from anywhere in and around your home.
- Control the music on iTunes or Apple lV
- See the album artwork on your Remote
- Search your whole iTunes library
- Control your AirTunes speakers
Mobile AIM lets you stay in touch with your friends and family right from your iPhone or iPod Touch. The app lets you communicate whenever you want, wherever you are, in whatever way that suits you best. Connect with friends and family and keep track track of status and presence updates in real time.
-Send and receive messages over WiF, EDGE, or 3G networks.
-Connect to anyone on the AIM network worldwide, whether they're on AOL. AIM, ICQ, .Mac or MobileMe.
-Manage your Buddy List feature, choose Favorites, or add a new buddy anytime.
-Your changes are automatically synced with iChat and or Windows or Mac.
-View expressions and update status
-See who's available before you contact them
-Send IMs and SMS text messages — even from an iPod Touch
-Take pictures with the built-in camera to use as your buddy icon
You can get started by signing in using your existing AOL, AIM, .Mac or MobileMe name, or register for a free screen name right from your device.

Facebook for iPhooe makes it easy to stay connected and share information with friends. Use your iPhone to start a conversation with Face book Chat, check your friends' latest photo, and status updates, look up a phone number, or upload your own mobile photos to Facebook while on the go.
Facebook promises even more features will be updated in the weeks and months ahead.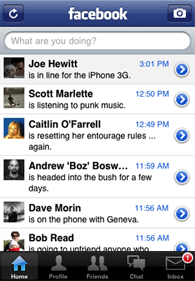 Google Mobile App for the iPhone or iPod Touch aims to make it fast and easy to search the Web.
Find web pages, business listings, phone contacts and more with Iess typing than ever before via Google's intelligent query completion and handy search shortcuts which appear as you type. You'll get suggestions to help you complete your query, and can see the results on a map in a single click.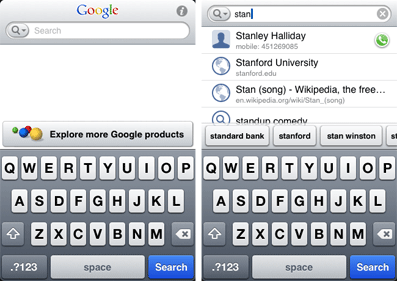 With the new eBay application for the iPhone and iPod Touch, eBay members can search, bid, and check their activity on the go. Buyers can sneak in that last-minute bid on a hard-to-find item, sellers can check on their sales, and everyone can act on timesensitive information on the spot without a computer. "eBay is now open for business anytime, anywhere on the Apple iPhone and iPod Touch."

WeatherBug puts live, local weather conditions from over 45,000 locations in the world on your iPhone or iPod Touch.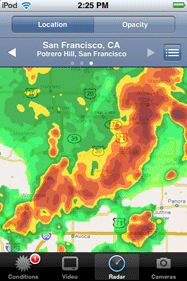 Twitterrific is described as a fun application that lets you read and and publish posts (call "tweets") on tho Twitter social network. Stay connected with friends, family, and co-workers through tho exchange of quick, frequent answers to one simple question: What are you doing?
Twitterrific's interface is clean, concise and designed to take full advantage of your iPhone or iPod touch. Please note, however, that the free version will periodically show advertisements.
-Displays posts, replies and direct messages
-Post messages, photos and location updates
-Mini-browser for showing links
-Easy access to user profiles

This app lets you browse The New York Times from your iPhone or iPod touch wherever you are.
- Access the latest news articles and photos
- Customize your news category display
- Read articles even when you are offiine

If you spend large chunks of your life hanging out on MySpace, you're "going to love Myspace Mobile for iPhone" and the iPod touch.
- Send and receive messages
- Browse your network of friends and see their current status
- Upload and share photos from your iPhone
- Post comments on friends' profiles and photos
- Stay up-to-date with bulletins
- Search to find new friends

AOL Radio powered by CBS Radio features over 200 stations that span more than 25 genres plus 150+ CBS Radio status from across the United States. iPhone and iPod touch users will also be able to access an extensive collection of popular terrestrial news/sports/talk programming including CBS Radio's WFAN-AM and 1010 WINS in New York, KLSZ and KROQ in Los Angeles, WXRT in Chicago, WVEE in Atlanta and more.