Notes from our experience activating iPhone 3G at Apple retail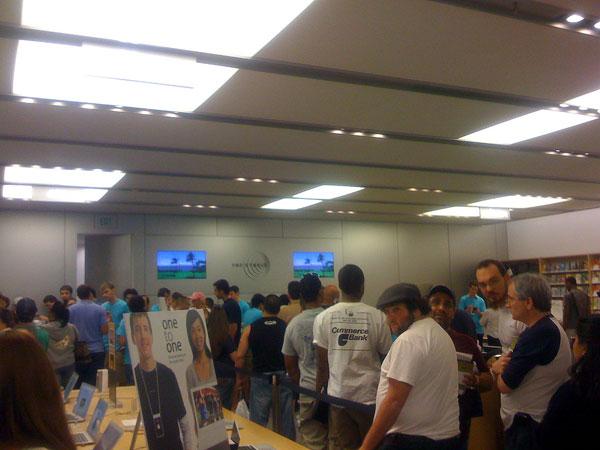 We stood in line at a local Apple retail store early this morning to experience the first-day iPhone 3G launch and new activation process. What follows is a comprehensive set of notes covering the process for those customers who'll be picking up their new iPhone later today, this weekend, or sometime thereafter.
We arrived at our local Apple retail store a little after 6:00 a.m. and we surprised to find only about 50 customers ahead of us. But by the time the store opened at 8:00 a.m., the line had swelled to several hundred.
Preparing to enter the Apple store
During the two-hour wait, several employees made their way up and down the line, handing out waters, pouring Starbucks coffees from huge canisters, conveying the information that customers would need upon entering the store, and occasionally handing out information pamphlets (which seemed to be in limited supply).
Customers who were subscribed to an existing AT&T FamilyTalk plan but were not that primary account holder were told that they would be unable to upgrade to a new iPhone 3G on that plan without the primary account holder being present. The explanation for this was that adding an iPhone 3G to an existing FamilyTalk plan actually alters the contract, and hence the primary account holder needed to be present. This was upsetting for a number of folks whose primary account holders happened to be hundreds of miles away in a different state.
Customers making the switch to AT&T alongside their iPhone 3G purchase needed to have their current wireless account number and password, their full social security number, a government-issued photo ID, and a credit card. Existing AT&T subscribers and iPhone owners only needed to present the last four digits of their social security number, their existing AT&T mobile number, a government-issued photo ID, and a credit card.
There were several customers on line who did not have credit cards and instead had only cash. Apple appeared well prepared for this situation — as those customers reached the front of the line, employees ushered them to the front-of-store cash wrap stations to purchase Apple Store Gift Cards with their cash, which could then be used to purchase the iPhone 3G. In fact, Apple had stacks of "iPhone 3G Gift Cards" for this purpose and for customers who wanted to give the gift of iPhone 3G to a friend or family member that could not attend the launch.
Having arrived two hours early at one of the larger New York Apple retail stores outside of New York City, we found the process to be quite painless. The same, however, may not be true for those customers who arrived much later and were hundreds deep in the line when we walked out of the store around 8:55 a.m. with our new iPhones.
At 8:00 am sharp, the store opened and about 40 customers were immediately ushered into the store. Every 10 to 15 minutes later another 15 or so customers were able to make their way in. Having arrived early, we were amongst the second group of folks to enter the store. The line to get into the Apple retail store was just the first of three, however.
Once in the store, we were directed to wait on a second line that funneled towards that back of the store. After about 20 minutes, we arrived at the front of that line and were greeted by an Apple retail employee who fetched the specific iPhone models we requested and then took us to a side table to begin the upgrade process.
Side note: European customers wondering where Apple dumped the majority of its initial iPhone 3G inventory should look no further than the United States. The mid-sized Apple store we attended had hundreds of units stacked near the rear of the store, and from conversations with staffers it was revealed that thousands more lay in the back of the house. There were plenty of black 8GB and 16GB models, as well as a visible mound of white 16GB models. Employees seemed overly confident that they'd make it through day, if not the weekend, without any problems. This, however, may not be the case for every Apple store.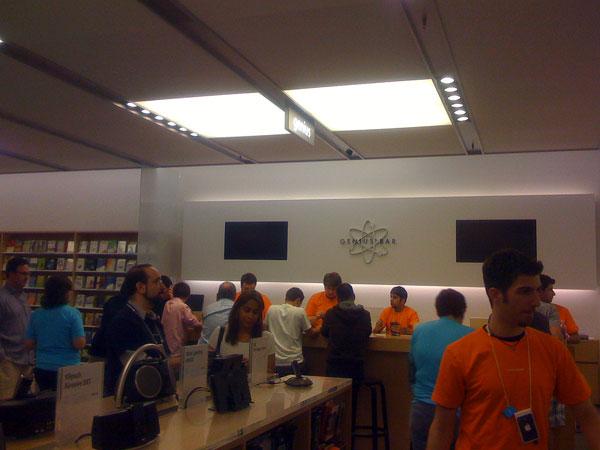 Once our 16GB iPhones were retrieved, we were taken aside to begin the upgrade process which was conducted entirely through the use of Apple's handheld EasyPay devices, as we noted last week. With the iPhones still sealed, the retail employee scanned a few of the bar codes from the back of the boxes, input some information from our drivers licenses, asked for the last four digits of our social security numbers (since we were upgrading, not new to AT&T), and then asked that we provide our current mobile telephone numbers.
Next came the plan selection. Being existing iPhone AT&T customers, we were told we could not alter the number of minutes in our calling plan in the store and would instead have to call AT&T to take care of that. No big deal. We were, however, able to change our text message plans. During this process we were asked to agree to two sets of terms and provide our signature twice on the EasyPay's touch screen. In less than five minutes, our receipts for the iPhones were printed (as well as emailed to the email addresses we provided).
From there, it was on to the third and final line: waiting for a free Mac running running iTunes so that we could tether our new phones and activate them. After about 10 more minutes, we reached the front of this line with our iPhones still sealed in their retail packages. Apple, while mandating that no iPhones leave the store without being activated, still wants customers to have the experience of unboxing their new handset for the first time by themselves. This takes place when you reach the front of the iTunes activation line (if you hadn't unboxed the phone already while you were waiting).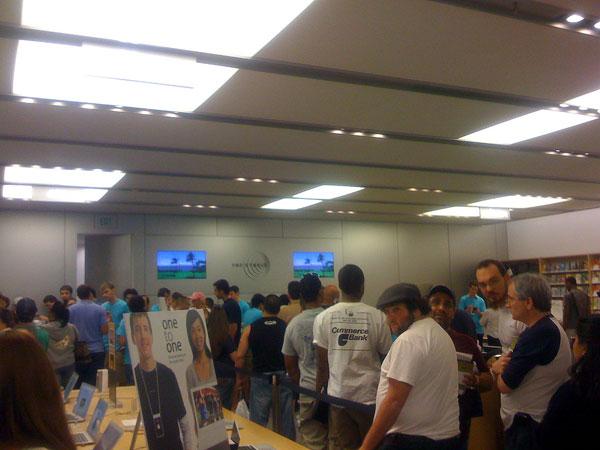 After connecting our new iPhones to a computer running what appeared to be a standard version of iTunes, we waited for about 5 to 7 more minutes while iTunes connected to Apple's servers and authorized our new handsets. This took much longer than expected and there was some discussion going on amongst the store employees that actual iTunes activation had slowed considerably since the first batch of customers activate their devices 35 minutes earlier. This was likely a result of a massive digital queue where thousands upon thousands of new iPhones 3Gs all across the East Coast were all attempting to connect to Apple's iTunes servers simultaneously. To remedy this problem, employees began setting up additional iTunes activation stations so the line would continue to move.
Side note: while AT&T stores are using a modified iTunes activation application, the version of iTunes used to activate our new iPhone 3Gs appeared to be a standard distribution. Unless Apple's iTunes servers are specifically checking for activation requests coming from Apple-owned networks and IPs, there seems to be no reason why the actual activation could not be completed at home.
After about 7 minutes, the iTunes clients tethered to our new iPhones finally got through to Apple's servers, a 3G icon popped up in the menubar of the phones, and we were good to go and leave the store. From start to finish, the entire process took about 35 to 40 minutes.
Upon leaving the store, we noticed that the flow of the line had slowed considerably (likely a result of the slow responses from Apple's iTunes server near the end of the buying process). Several hundred folks remained on line outside the store and it seemed as if they'd have to grab a late lunch by the time their purchases were complete.
As demand dies down, the process should be much quicker. By our estimations, customers should be able to walk into an Apple Store this time next week and be out in under 15 minutes with their new phone.