A look at who's making iPhone 3G purchases thus far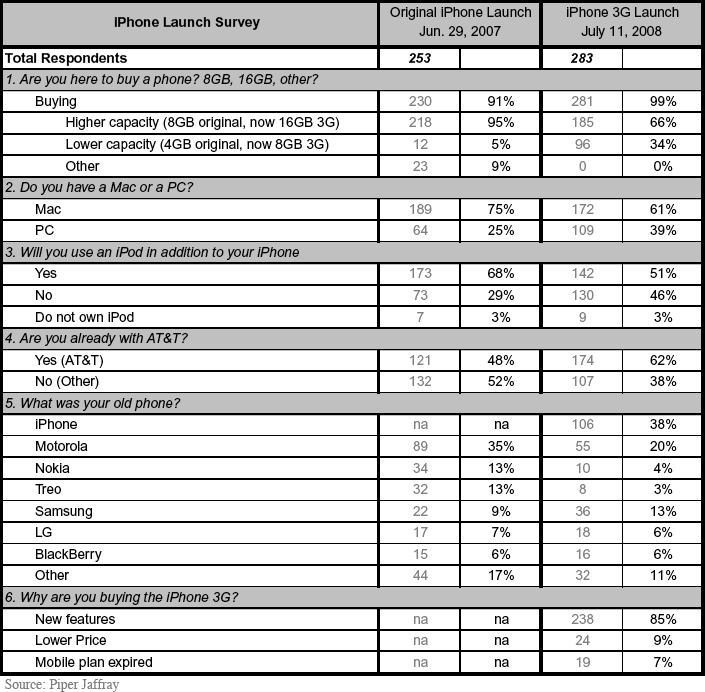 AppleInsider may earn an affiliate commission on purchases made through links on our site.
A study of customers queued outside of Apple's retail stores over the weekend reveals that early iPhone 3G adopters are predominantly Mac users, and that Motorola and Samsung are amongst the rival handset vendors that will be hit hardest as consumers flock to Apple for their new mobile phone.
The survey of more than 280 line waiters conducted by investment bank Piper Jaffray in New York City and Minneapolis was aimed at quantifying everything from launch demand, to the mix of 8GB and 16GB models, to the phones from which customers were upgrading. The results were then also compared to those from a similar survey conducted during the original iPhone launch last year.
Overall, Piper Jaffray found that 61 percent of early adopters owned Macs and 39 percent owned Windows-based PCs, a sign that Apple's existing customer base was largely to thank for the successful launch that raked in sales of more than 1 million units in just three days. At the same time, however, that figure clearly shows the Cupertino-based company to be gaining influence amongst Windows users, who accounted for just 25 percent of first weekend iPhone sales last year.
Of those surveyed, 66 percent said they planned on buying the higher capacity 16GB model, compared to a resounding 95 percent of buyers who selected the higher capacity 8GB option during last year's iPhone launch. The remaining 34 percent were content saving $100 and settling for the entry level iPhone 3G that offers half as much storage.
The iPhone is also starting to show some definitive signs of cannibalization of standalone iPods, however. Last year, 68 percent of early iPhone adopters surveyed by Piper Jaffray said they would continue to use an iPod in addition to their iPhone. That compares to just 51 percent this year.
Also of interest from the firm's survey is that 85 percent of early iPhone 3G buyers said they were compelled into their purchase by the handset's new features, while only 9 percent cited the phone's greatly reduced price. Meanwhile, the iPhone continues to serve as a driver for AT&T's subscriber base, with 38 percent of those queued outside Apple retail stores indicating they'd be switching to AT&T for the first this past weekend (compared to 52 percent during the original iPhone launch).
Those customers switching to AT&T to get an iPhone 3G or dump their non-Apple handset were doing so largely at the expense of handset makers Motorola and Samsung, Piper Jaffray found. In particular, 20 percent said they were retiring a Motorola handset and 13 percent said they were trading up from a Samsung phone. Only 6 percent said they were moving from a Blackberry, 4 percent from a Nokia, and 3 percent from a Treo. Another 6 percent said they were upgrading from an LG phone, and 38 percent owned a first-generation iPhone.
Gene Munster, an analyst with Piper Jaffray, had originally estimated that Apple would sell 425,000 iPhones from Friday morning to Sunday evening. Following Apple's announcement Monday morning that it actually moved 1 million units, Munster issued an updated report to clients in which he estimated the majority of that upside was driven by stronger than anticipated demand internationally.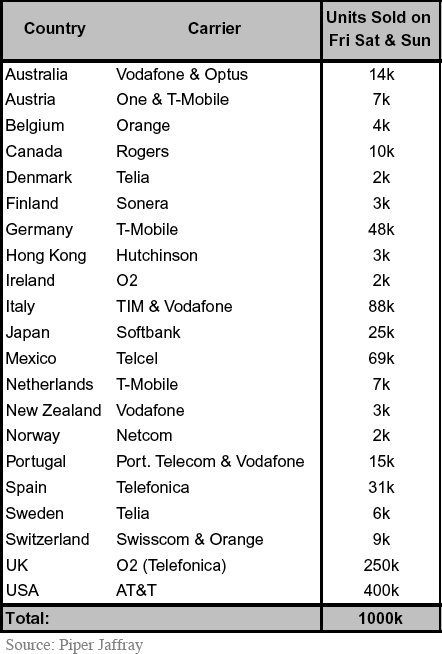 Specifically, he estimated that 400,000 units were sold in the U.S., 250,000 units were sold in the U.K., and an average of 18,000 units were sold in each of the 19 other countries.
"Global demand for the iPhone is better than expected. This trend will likely continue as Apple rolls out an additional 58 countries in the next several months," the analyst said. "In addition, we expect Apple will sell phones in China and Russia by year end. The only problem is production, but we continue to believe 45 million units for 2009 is achievable."