Apple's iPhone 3G battery good for about 3.5 hours of browsing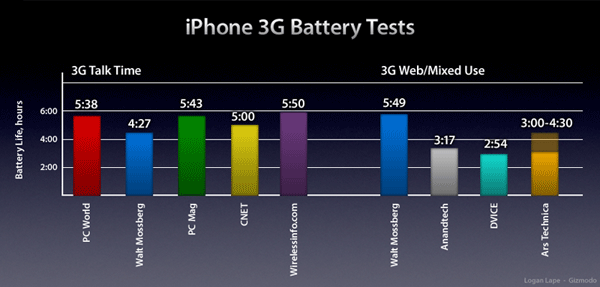 Existing iPhone owners moving to Apple's new iPhone 3G should expect an approximate 50 percent reduction in battery life when using the new handset in 3G mode to browse the web and perform other Internet-related functions, a series of tests show.
Over the past five days, several publications have weighed in with early reviews of the new phone that include battery benchmarks covering 3G talk time and 3G Internet use. For the most part, talk time results have met or exceeded Apple's promise of "up to 5 hours on 3G."
An average of five 3G talk time tests (PC World, WSJ, PC Mag, CNet, and WirelessInfo) have the new iPhone's battery lasting just shy of 5 hours and 20 minutes when used solely to perform voice calls — 20 minutes more Apple's own tests, and good enough to place the handset among the best in its class.
On the other hand, iPhone 3G suffers the same battery limitations as other smartphones when acting as an Internet device on 3G networks, and has routinely fallen short of Apple's claim of "up to 5 hours" of Internet use on 3G.
With the exception of the Wall Street Journal's Walt Mossberg, who somehow managed to keep his battery juiced for nearly 6 hours while browsing and performing other Internet functions, other reviewers saw their iPhone 3G's battery fall anywhere between one and two hours short of Apple's optimal 5-hour claim.
An average of four 3G Internet tests taken from the chart compiled by Gizmodo (below), which includes Mossberg's stellar results and the mid-point of Ars's mixed-use test, suggests the battery in the new iPhone will conk out after 3 hours and 55 minutes of continuous use. However, individual tests performed by DVICE and Anandtech have the battery fizzling out at 2 hours and 54 minutes, and 3 hours and 17 minutes, respectively.
While Anandtech's chart shows the Apple handset to last about 30 minutes more than Samsung's 3G Blackjack, the unsettling comparison exists between the iPhone 3G running on AT&T's 3G network and the original iPhone running on AT&T's EDGE network. In the site's tests, the original iPhone lasted 2 hours and 26 minutes longer while browsing over EDGE than the new iPhone did browsing over 3G.
In its analysis of the matter, Anandtech noted that Apple has been unable to achieve a substantial edge over other smartphones for 3G Internet use because it "doesn't design any of the chips or battery technology that goes into the iPhone, [and therefore] doesn't really have much control over things like 3G battery life."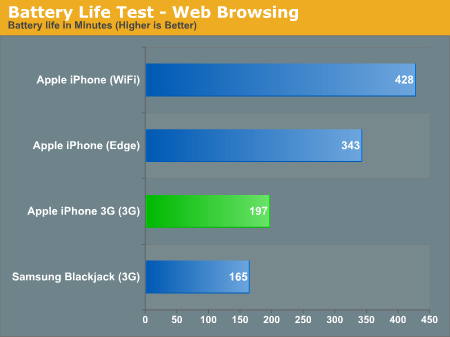 That observation, however, lends hidden promise for future generations of the touch-screen handset. Apple recently purchased boutique microprocessor design firm PA Semi for $278 million and plans to use the assets acquired in that deal to help it design a new generation of proprietary chips to power future iPhones and iPods.