Apple may have shipped record 2.54 million Macs in third quarter

AppleInsider may earn an affiliate commission on purchases made through links on our site.
Based on an analysis of Gartner Group's recently published estimates on domestic Macintosh sales, AppleInsider contributing analyst Andy Zaky estimates Apple to have shipped 2.54 million Macs during its third fiscal quarter ended June.
Extrapolating Gartner's Data
According to Gartner, Apple shipped about 1,397,000 Macs in the United States during the three-month period that ended on June 30, 2008 (fiscal Q3). In fiscal Q3 2007, domestic sales made up 57.31% of total Mac sales. Based both on the recent trend of U.S. shipments making up a smaller portion of total Mac sales, and on the anticipated slowdown in consumer spending (due to the rising price of oil and other inflationary pressures), domestic sales could reasonably fall to about 55% of total sales.
As the table below indicates, U.S. Mac sales as a percentage of total sales fell moderately in Q1 and Q2 from the same periods last year. U.S. Mac sales made up a total of 44.63% and 44.12% in Q1 and Q2 of 2008, falling from 50.31% and 48.85% in Q1 and Q2 of 2007. This could be explained in any number of plausible ways.
First, one could argue that worldwide Mac sales are growing at a much higher pace than in the U.S. and that one should expect U.S. sales to make up an increasingly smaller portion of total shipments. The historical chart (below) on Mac shipments lends some support to this theory. Sales in Europe were blistering hot in Q1 and Q2 when compared to other periods in Apple's history and when compared to the U.S. in general. Mac sales in Europe were up 43.60% in Q1 and 44.80% in Q2; while in the United States, Mac sales were up only 28.1% and 36.3% during those same time periods, respectively.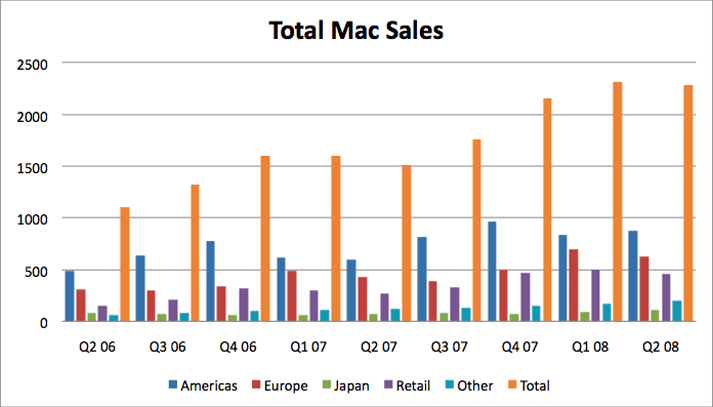 Furthermore, European sales continue to have a prominent impact on overall Mac shipments. For Q1 and Q2, European sales made up about a third of total Mac sales (30.5% in Q1 & 27.4% in Q2). The U.S. by contrast, made up about 44.63% in Q1 and 44.12% in Q2. Thus, European Mac sales are not only growing at a faster pace than in the U.S., but have a solid overall impact on total shipments. This tends to suggest that the U.S. will make up a smaller total portion of Mac sales in Q3 as it did in Q2 and Q1 when compared to last year.    Â
Secondly, one could argue that the recent slowdown in consumer spending (a foregone conclusion on Wall Street that has yet to be proven) has had at least a marginal impact on domestic sales. While it is yet to be seen whether a slowdown in U.S. consumer spending will ever actually occur, and if it does whether it will affect Apple, it's nevertheless something that shouldn't be easily dismissed. If U.S. consumers have in fact recessed, then the Gartner estimate, as impressive as it is, is even more impressive when considering the state of the consumer.
It should be mentioned that the Gartner Group estimates cannot be tested for accuracy and that the arguments put forth in this article are based on Gartner's findings. Apple does not release data on U.S. Macintosh sales so there is no way to compare Gartner's findings with Apple's actual reports. Apple reports U.S. sales under the heading of two separate operating segments.
One operating segment, the "Americas," presumably includes North and South America while the other operating segment, "Retail," includes the U.S. and any other countries where Apple retail stores are located. Thus, it makes it nearly impossible to determine exactly the number of Macs Apple has shipped in the United States. Yet, the table below gives a rough approximation of U.S. shipments by combining both "retail" and the "Americas" since U.S. shipments probably make up the vast majority of each of these two segments:

Supporting Argument Based on Current Growth Rate
While the growth rate in Mac sales, taken alone, doesn't present with particularly strong predictive evidence of where Mac sales will fall in Q3, it can be supportive of hard evidence such as that presented by the Gartner Group.  The current trend in Mac sales suggests that Apple will report between 2.547 million (based on the 44.39% growth seen in Q1) and 2.662 million Macs (based on the 50.89% growth rate seen in Q2). Â
Alternatively, one could also compare the sequential growth rates between Q2 and Q3 of previous periods and apply the differences to this period. For example, last year (2007) Apple reported a 16.28% sequential growth rate between Q2 and Q3. In 2006, that sequential growth rate was 19.33%. Based on the most recent sequential growth rate of 16.28%, Apple would report about 2.662 million Macs. Yet, sequential growth rates and current year-over-year (YoY) growth rates have only modest predictive power due novel conditions and to the law of large numbers. At some point, Mac sales are going to be so large that Apple will not be able to sustain its 50% growth rate that it enjoyed in Q2.Â
Supporting Arguments Based on NPD Data
NPD data for the months of April and May indicate that Mac sales are up some 50% from the same months last year. If NPD data for the month of June also suggests 50% growth, then it's possible that Apple could record nearly 2.646 million Macs in Q3. Yet, NPD data has tended to suggest conclusions that have been proven overly aggressive in the past when it comes to Mac sales. Yet NPD data is supportive of a 2.54 million Mac estimate if viewed conservatively.  Â
Apple will hold its fiscal year 2008 third quarter conference call on Monday, July 21, 2008, 2:00 p.m. PDT/5:00 p.m. EDT. Actual third quarter results will be released approximately 30 minutes prior to the call. AppleInsider will provide comprehensive coverage.
Andy Zaky is an AppleInsider contributor and the founder and author of Bullish Cross, an online publication that provides in-depth analysis of Apple's financial health.
Disclosure: Andy owns long term 2009 and 2010 call options in Apple. The information contained in this post is not to be taken as either an investment or trading recommendation, and serious traders or investors should consult with their own professional financial advisors before acting on any thoughts expressed in this publication.