AT&T offers iPhone owners free access to 17,000 WiFi hotspots [u]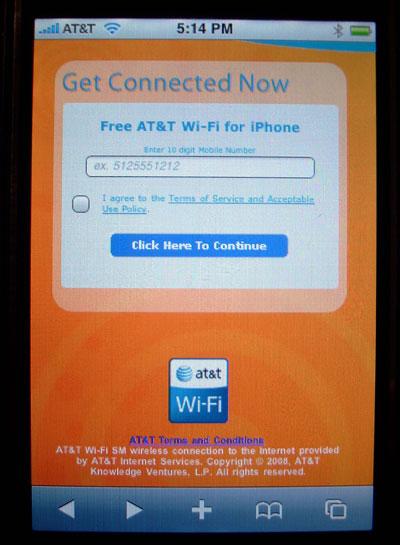 After months of confusion and a couple of false starts, AT&T formally announced Friday that iPhone owners in the United States can now access free of charge its nation-leading Wi-Fi network comprised of more than 17,000 hotspots.
"AT&T knows Wi-Fi is hot, and free Wi-Fi even hotter, which is why we are proud to offer iPhone customers free access to the nation's largest Wi-Fi hotspot network with more than 17,000 hotspots, including Starbucks," the company said. "Now users can relax and access music, e-mail and web browsing services with their favorite blend in hand from the comfort of their favorite location."
Of those 17,000 hotspots, more than 8000 are located in restaurants or Starbucks locations, 700+ in bookstores, and another 50+ can be found in supermarkets. The network is also accessible at 12 airports, 31 hotels, 23 universities, 18 convention centers, and 5 sport complexes.
iPhone owners can use this link to locate AT&T Wi-Fi hotspots in cafés, bookstores, airports, hotels, and universities, or this link to find their nearest Starbucks location.
Once in range of an AT&T hotspot, iPhone users simply need to attempt to access any webpage via their handset's built-in Safari web browser. This will trigger an AT&T "Get Connected Now" login page that will ask users to input their iPhone's mobile number and agree to a set of terms of service before granting access.
Update: AT&T clearly does not have its act together when it comes to this offering and has for fourth time changed its mind. Around noon Eastern time, the company pulled the latest announcement from which this report was based, citing yet another error on the part of its employees by posting the announcement.