Tight supply of iPhone 3G leaves customers waiting for hours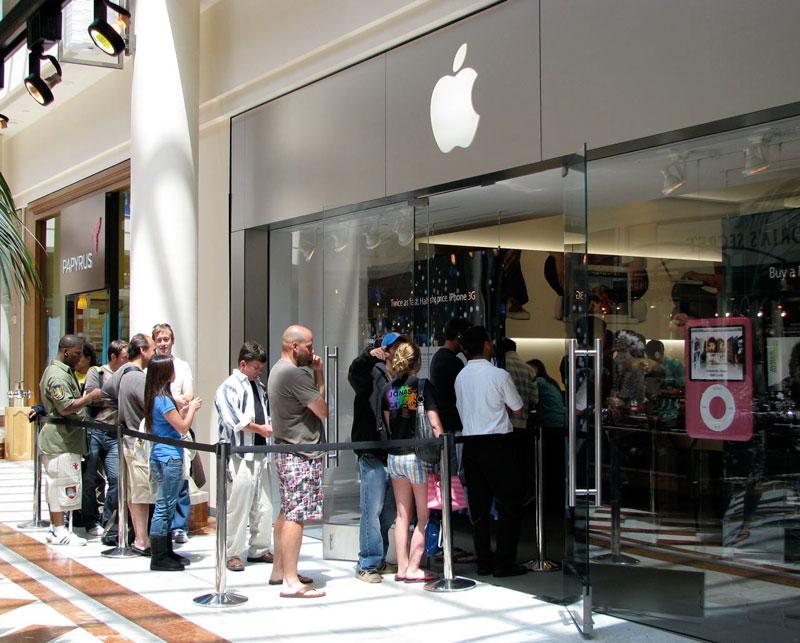 AppleInsider may earn an affiliate commission on purchases made through links on our site.
Two weeks after it launched on July 11, the iPhone 3G is still hard to find in the US. Many Apple retail stores have no supplies at all, leaving buyers to track down the stores that do have remaining stock and wait in slow moving lines that stretched out for five hours.
The 3G iPhone Availability web page, run by Chris Barnes using updates from Apple's retail store availability feed, indicates that less than half of the US Apple retail stores are currently reporting units in stock. Of 188 US stores, 51% had inventories of the white 16 GB model, 44% had some 8 GB units, and only 40% had the black 16 GB version.
Apple only reports whether each store will have some units available the next day, not how many each store has or will be receiving; supplies can run out quickly, and sometimes the availability report isn't even accurate, as some stores have indicated that they had supplies when they did not. Flagship locations such as the landmark store on New York's Fifth Avenue and the Union Square San Francisco store appear to receive more stock, but also sell out quickly due to high foot traffic.
On Wednesday, only one of the three Apple retail stores in San Francisco had any units in stock by late morning; the Chestnut and Union Square stores were completely sold out, leaving hopeful customers the only option of standing in line waiting for an estimated "three to five" hours at Stonestown Galleria. AT&T's retail stores also reported being completely sold out in the City.
The line at the Apple Store in the Stonestown mall, located deep in the southwest residential corner of San Francisco and far from any tourist attractions, appeared to only be fifteen people deep at the door (below top), but the line continued outside the mall on the sidewalk (below bottom), with Apple store employees shuttling in waiting users a half dozen at a time as space allowed inside.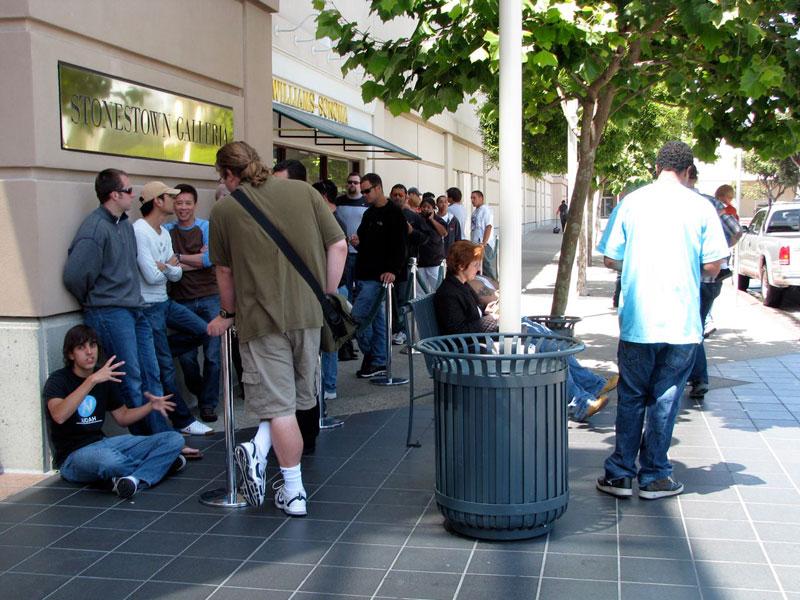 One enterprising young man standing toward the front of the line was trying to sell his spot for $400, but said if he'd known from the start that he'd have to wait five hours to get there, he wouldn't have waited. A food court fortune cookie suggested that the wait would be worth it: "Your labors will bear sweet fruit."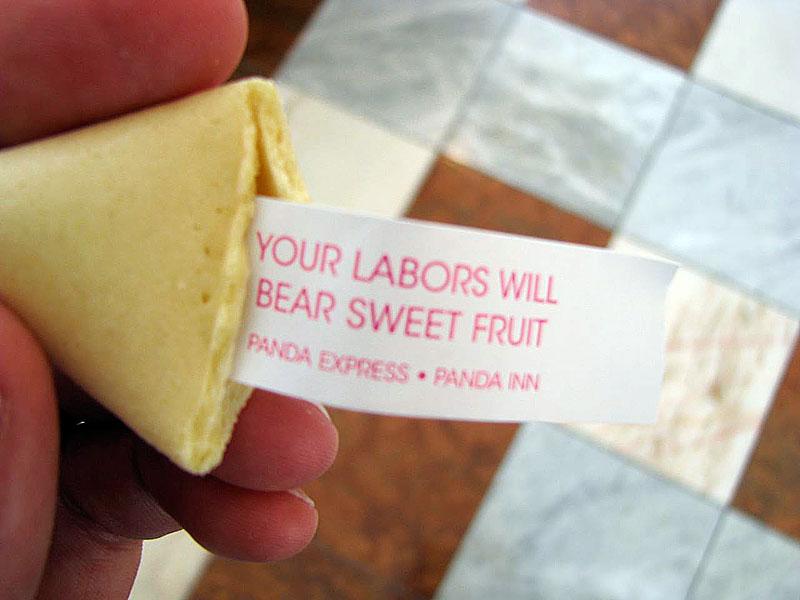 Delayed by activation issues
While supplies of the iPhone 3G are constrained worldwide due to strong demand, The primary reason for the long lines has been the added requirement for in-store activation. Unlike the original iPhone, the new model must be set up with a contract in the store. Last year, some users ran into problems with Apple's novel home activation process through iTunes, but the process was quite smooth for most buyers. Those who had problems didn't delay those who didn't. This year, problematic activations are holding up everyone.
The downside to home activation with the original iPhone was that it allowed users to buy iPhones and unlock them for use with other carriers, either T-Mobile in the US or any other GSM provider worldwide. Apple received a mobile service revenue share from iPhone sales, but only those activated with AT&T or its official partners in Europe. Pundits complained that Apple could potentially eventually "lose" a billion dollars in mobile service revenue from unlocked phones, but the company's own executives downplayed the problem, noting that they only viewed unlocked phones as evidence of strong demand overseas.
The iPhone 3G requirement for in store activation removes the unlocking issue, but the real reason for binding a mobile contract sale to the phone purchase is that Apple is now selling the iPhone with a traditional mobile provider subsidy, which allows the company to advertise a much lower price, either $199 for the 8 GB version or $299 for the 16 GB model. The end result is that the few users who run into activation problems delay everyone else buying the iPhone 3G.
Some customers fail credit checks or arrive without identification or their social security number or lacking a credit card in their name. Some existing AT&T users have a phone contract on a business account or family plan, which can pose a problem if they are not the primary account holder. Others have a discount mobile plan related to their employer, which must be removed prior to signing up for an iPhone account.
AT&T customers who have already received a subsidized price for new phone within the last several months may have to pay a higher price to migrate over the iPhone 3G, although existing iPhone users do not face any penalty.
However, the biggest problems related to new iPhone 3G activations have plagued users from other carriers hoping to move their existing number to a new AT&T plan. Mobile providers in the US are supposed to offer number portability on demand, but many customers don't realize they'll need their existing mobile account number, resulting in a prolonged, in-store telephone transaction in order to set up their new plan.
The activation situation isn't any different for other mobile phones, but the iPhone 3G launch has been particularly plagued with delays because there is far higher demand for it compared other phones, and most competing units are available from a wider selection of stores. Further, the simpler initial launch of the first iPhone last year makes the 3G model's introduction appear to be a catastrophe in comparison.
In Europe, the iPhone 3G launch has been at least as clumsy if not more so, as sales are being handled primarily by mobile partners rather than in Apple's own stores. In Switzerland, Swisscom representatives at multiple stores were refusing to sell iPhones to users who had existing contracts with the company, telling them to return in a few months when their existing contract was up. That's not the official policy of the provider, but rather an issue with sales training.
In the US, Apple has exerted more control over the launch and the training of its salespeople, down to the subtle details. While European sales agents ripped open iPhone 3G boxes to set up the units during activation, Apple Store employees followed a careful transaction script that involved handing the new box to the customer to open. Stress related to the activation complications and high demand have taken a toll on Apple's retail representatives, resulting in at least two employees being fired for walking off the job at San Francisco's downtown store.
Undaunted iPhone 3G interest
The activation complications have resulted in an average wait of 15 minutes or more per person. Even with five retail employees servicing new iPhone 3G buyers in the store non-stop, each store is limited to setting around 20 units per hour in ideal conditions. The extremely long waits and complicated transactions associated with the iPhone 3G haven't scared away customers however.
In San Francisco, around 40 people were waiting in line Wednesday afternoon at Stonestown Mall. The line included a wide spectrum of buyers, from businessmen in suits talking about corporate support for the iPhone to college students upgrading from the iPod touch. Some were current iPhone users, but most of those waiting were new to the iPhone. Apple employees frequently serviced the line, asking for information from current AT&T customers to ensure that they were eligible for the "incentive" price advertised for the iPhone 3G, and reminding users of what they'd need to complete their contract activation before making it to the front of the line.
New supply shipments should help accommodate demand in the coming weeks. Some of those waiting in line suggested ordering the iPhone 3G from AT&T online, avoiding the slow moving lines at retail stores. Online sales don't require standing around in line for hours, but do involve a roughly five day wait. That's too long of a delay to those currently waiting for hours in line.
After a half hour long wait, the iPhone 3G line progressed by about ten people, while another dozen new people joined the end of the queue. By 6 PM, the line was closed to new customers in order to get those currently waiting set up before the store closed at 9 PM. Those who only had to wait three hours were lucky; everyone in line prior to that had waited at least five hours to receive their phone.
A few interested buyers left the line after being informed by Apple employees that their existing plan had complications they'd need to resolve with their employer before making the purchase. Others were no doubt turned away by the prospect of spending most of the afternoon waiting in line. The iPhone 3G line even left a number of store visitors confused about whether they could enter the store to make other purchases.