Apple's next-gen iPod nano may see return of narrow form factor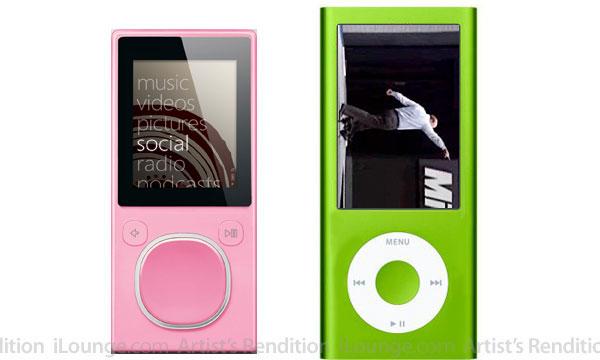 Apple's "fatboy" iPod nano may be retired after only a year on the market to make way for a new generation of the player that will mark a return of the narrow form factor used in the first two generations of the device.
Citing "extremely confident" sources, iLounge reports the new player will retain its traditional click-wheel while sporting an elongated display with the same 1.5:1 widescreen aspect ratio as the iPhone and iPod touch, versus the 1.33:1 ratio of the prior iPod nano and iPod classic.
This will leave the player looking like, among all other things, one of Microsoft's existing Flash-based Zune players, those sources say. Apple is said to have made the move in order to preserve all of the fatboy nano's usability, while adding longer display that will allow users to rotate the device into landscape mode for viewing videos.
While iLounge is not a traditional source of insider information, it does have close ties to iPod and iPhone casing manufacturers who are sometimes privy to the dimensions of Apple's next-generation handheld devices ahead of their release.
By releasing those dimensions early, Apple affords those manufacturers ample time to develop and bring to market casings and protective holders around the same time that it introduces its remodeled handheld products.
An artist's rendition of what may be Apple's next-gen iPod nano design. | Source : iLounge.
As such, iLounge is largely credited as being one of the few publications to accurately describe the form factor of Apple's iPhone 3G handset before its public unveiling.
In its report late Tuesday, the publication also cited sources who indicated that recent rumors of next-generation iPod nanos adopting multi-colored enclosures are "most likely inaccurate."