Briefly: shots of Nike+ touch app not the real deal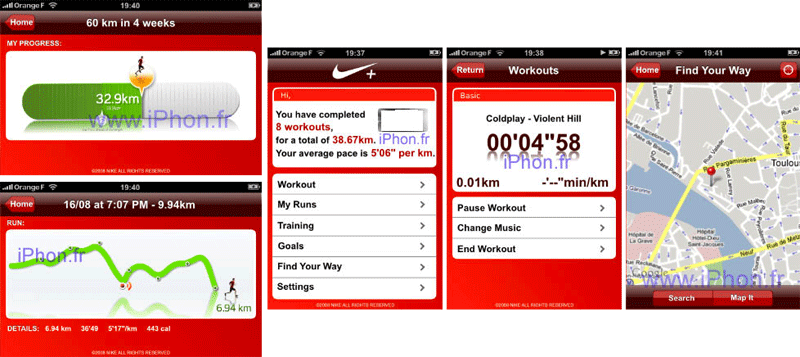 AppleInsider may earn an affiliate commission on purchases made through links on our site.
A series of images making the rounds on the Internet this week as 'leaked' screenshots of an upcoming Nike+ application for the iPhone and iPod touch are not authentic, AppleInsider has learned.
The application depicted in the shots, which shows off touch-based interface for managing runs and workouts tied to Nike's $30 Nike+iPod Sport Kit, is neither the work of Apple nor the athletic shoe maker, several people familiar with Nike+ initiative say.
First published on the French-language blog iphon.fr, the screenshots are believed to be the product of a third party or individual developer who conceptualized a semi-functional application for one reason or another.
Of particular interest to those examining the shots was one screen capture that suggested the would-be application was capable of accessing music that would reside on Apple's touch-based devices .
Since Cupertino-based company does not offer iPhone developers a programming interface for accessing a user's music library, some believed the purported application was therefore developed in conjunction with Apple. This is not the case, however, and that portion of the conceptual app is unlikely to function.
While Apple and Nike are indeed working to bring the Nike+ experience to Apple's touch-based handhelds sometime in the future, it may be some time before that application sees the light of day.
Some of the unauthentic images posted to a French blog earlier this week.