Apple posts "Let's Rock" event QuickTime stream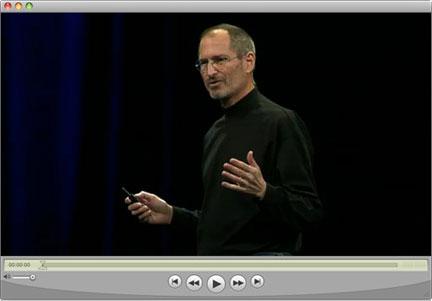 AppleInsider may earn an affiliate commission on purchases made through links on our site.
Apple on Tuesday evening gave those left out of the Yerba Buena Center a video stream of the company's iPod and iTunes introductions.
The stream-only video currently captures the entirety of Apple's "Let's Rock" event.
At the special music gathering, Apple's event was headlined by iTunes 8, which adds a new Genius feature for automatic playlist creation as well as HD resolution TV shows and a new Grid view for browsing by album and show covers. NBC Universal shows are returning to iTunes along with the update.
The most significant device release was the fourth-generation iPod nano. Aside from significantly revamping the design, Apple has given the player a new interface and a hardware twist borrowed from the iPod touch: as revealed by AppleInsider just before the launch, the fourth iteration of the iPod nano is the first with an accelerometer that enables an easy Cover Flow mode. It also brings quicker photo browsing and a shake-to-shuffle control for music.
Apple also took the opportunity to introduce a reworked iPod touch with hardware volume controls and built-in Nike + iPod support, a 120GB iPod classic, and rejuvenated color choices for the iPod shuffle.
The company also set the launch of 2.1 firmware for Friday with a focus on bug fixes, and introduced brand-new earphones that include the first-ever in-line mic for iPods and Apple's first high-end, in-canal earbuds.
Lastly, AppleInsider has collected additional notes about the event, including Steve Jobs' own statements on his health.