New iPod touch, iPod nano gutted in disassembly photos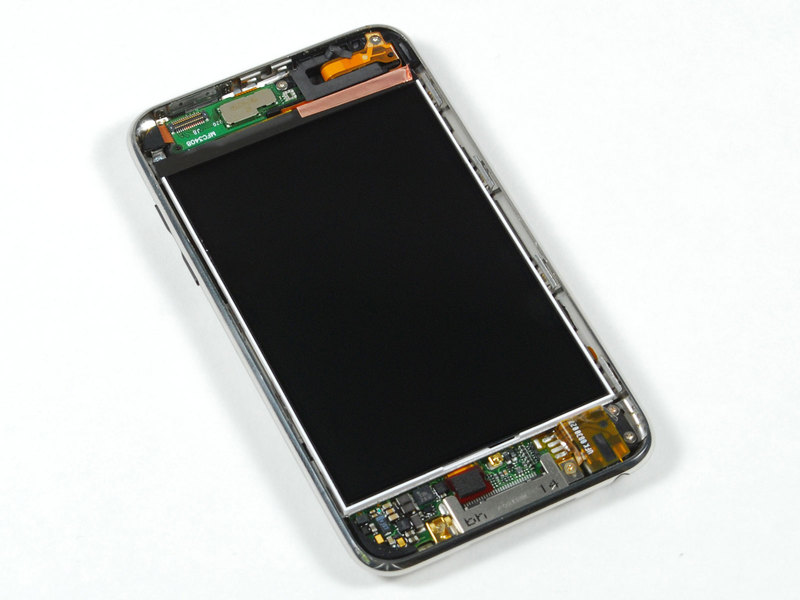 Both Apple's second-generation iPod touch and fourth-generation iPod nano are expected to be widely available at Apple Retail stores today. The folks at iFixIt have already snagged one of each, tore them down, and weighed in with some observations.
Both the touch's 3.5-inch LCD display as well as its Lithium-ion polymer battery are held in place with strips of double-sided tape. The WiFi antenna and circuitry, which are located at the top of the unit, are connected to the main logic board by wide orange cable that were designed to prevent external noise from interfering with the digital signals as they travel along the device, iFixIt says.
The specialty online reseller, which offers replacement parts for Macs and iPods, was particularly excited by its discovery of an unpublicized Broadcom BCM4325 Bluetooth chip within the device. The particular chipset supports BT2.1+EDR, and is necessary for the touch's built-in support of Nike+ iPod technology. It's unclear, however, whether the chip supports A2DP, which would pave the way for Apple and third-party developers to introduce stereo headphones for the player.
iFixIt also discovered brown rectangular component centered about three quarters of the way down the touch's logic board, which is suspected to be the device's speaker. Other discoveries include a 3.7 V Lithium-ion polymer battery with part number 616-0404, NAND flash memory from Micron with part number 29F64G08TAA, and an Apple-branded Samsung-manufactured ARM processor with SDRAM that's similar to the one employed by the iPhone.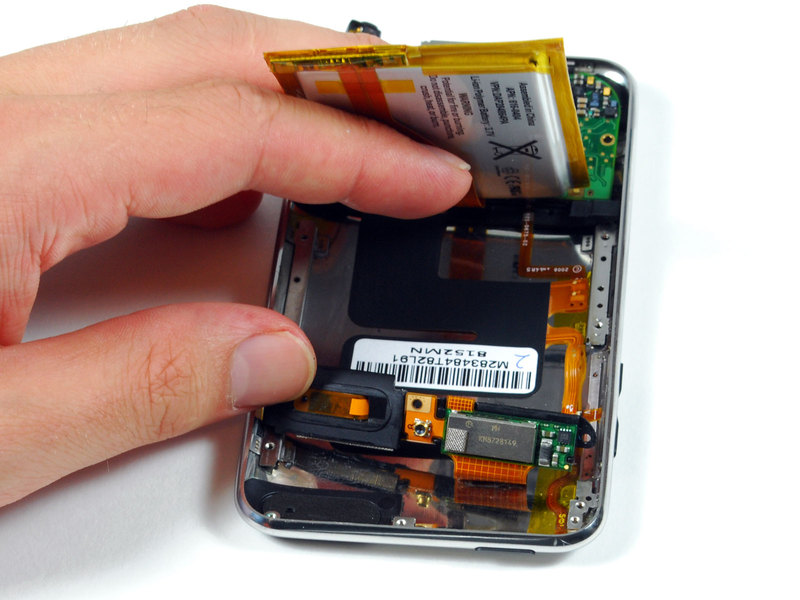 Separately, iFixIt dissected the new iPod nano and observed that the unit's 3.2 mm wide dock connector "looks pretty big compared to the iPod" itself, making it unlikely that Apple will be able to slim down player any further without developing a new dock connector.
A particularly surprising find was that the new nano uses a real piece of curved glass, "about .7 mm thick on the edges, and 1.7 mm thick in the middle," to cover the LCD display. The glass is said to be completely separate from the player's anodized aluminum enclosure, with nothing holding it in place outside the force of the adjacent components.
The LCD itself "is actually almost exactly the same size as the 3rd Gen Nano LCD," iFixIt said, with the only difference being a resolution of 240x320 rather than 320x240.
Among the nano's internal components are a Apple-branded ARM processor manufactured by Samsung in July with on-board DRAM on-package, three other small Apple-branded chips of unknown origin, and an 8 GB Toshiba flash chip. "Unfortunately, the battery is soldered to the logic board," iFixIt said. "Replacing the Nano's battery isn't going to be easy."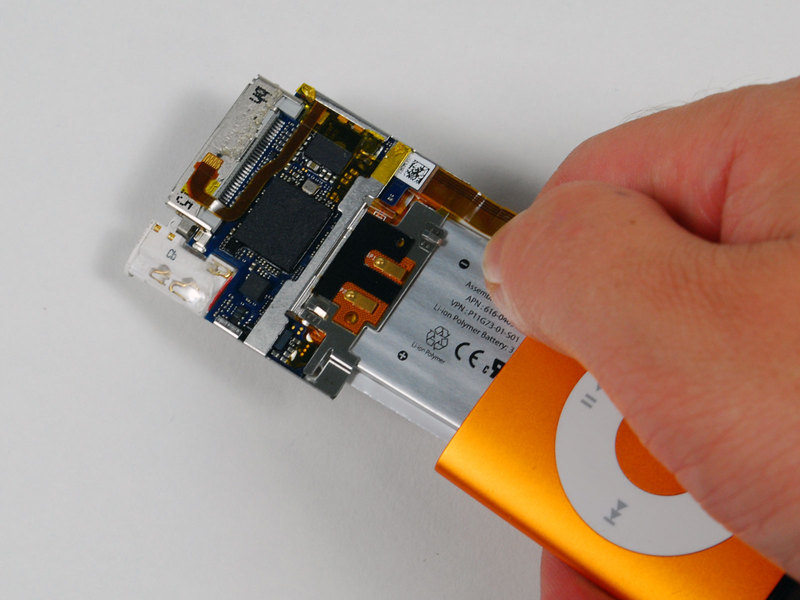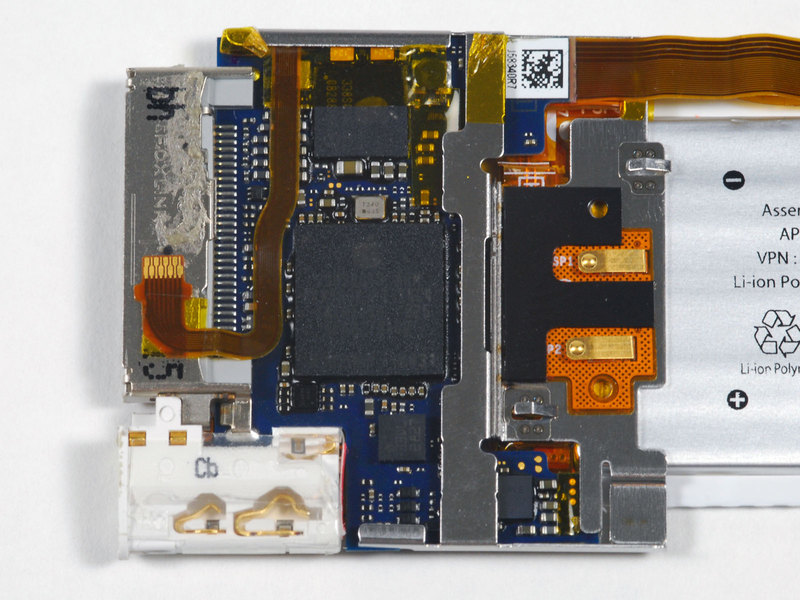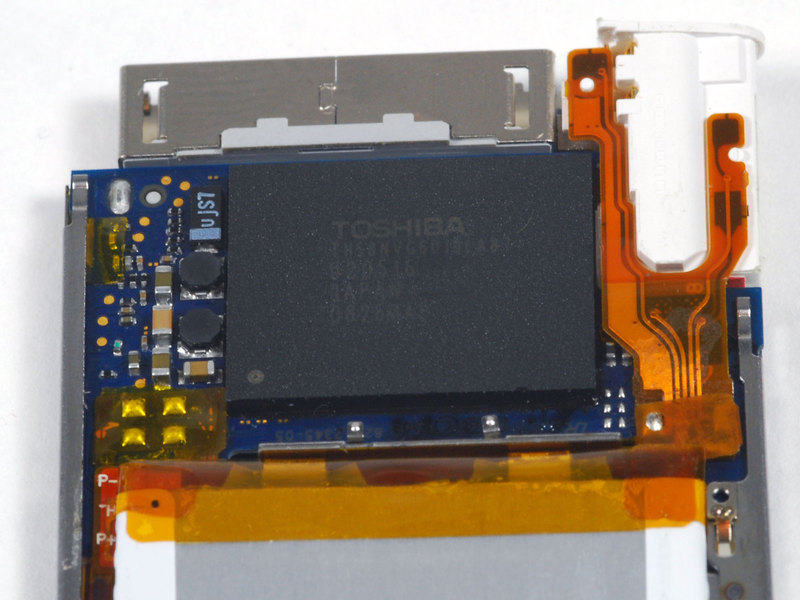 For additional photos and precise chip markings, check out the iPod touch and iPod nano tear-downs in their entirety.