Piper Jaffray raises estimates for Apple's Sept quarter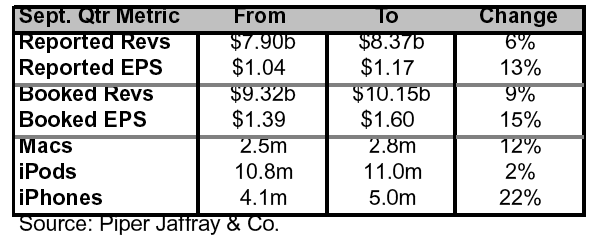 AppleInsider is supported by its audience and may earn commission as an Amazon Associate and affiliate partner on qualifying purchases. These affiliate partnerships do not influence our editorial content.
Investment bank Piper Jaffray boosted its estimates for Apple's current quarter on Monday, noting that iPhones will for the first time account for a material portion of the company's booked revenue.
Citing recent NPD market data as the driver behind his modifications, analyst Gene Munster now expects the Cupertino-based company to report earnings of $1.17 on revenue of $8.37 billion, driven by sales of 2.8 million Macs, 11 million iPods, and 5 million iPhones.
That's up from his previous estimate of $1.04 in per share earnings on revenues of $7.9 billion from sales of 2.5 million Macs, 10.8 million iPods, and 4.1 million iPhones. The Street consensus is $1.11 in per share earnings on revenues of $8.07 billion.
Separately, Munster noted that the soon-to-end September quarter marks the first time the iPhone will account for "a meaningful percentage" of Apple's booked revenue.
"Last quarter (June) it was 4 percent, and this quarter (Sept) we are modeling for it to be 21 percent," he wrote.
As such, the analyst also published a new metric to help investors quantify the full impact of iPhone sales by assuming revenue from each model is accounted for at the time of sale, rather than spread over the course of 2 years per the company's current accounting practices.
"We are calling this booked EPS and revenue," Munster said.
He estimates Apple would report per share earnings of $1.60 on revenue of $10.15 billion for the September quarter under that model, which would mimic the way the company accounts for sales of Macs, iPods, and almost everything else in its product portfolio.
Munster maintained his Buy rating on Apple shares with a price target of $250.