Apple updates App Store to address developer misuse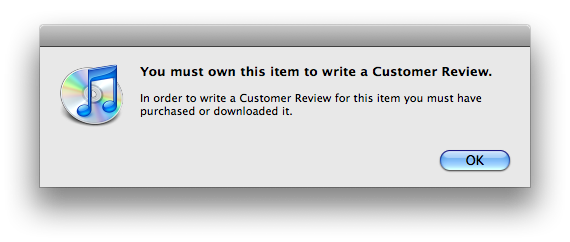 AppleInsider may earn an affiliate commission on purchases made through links on our site.
Apple over the weekend instated a series of changes to the way its App Store operates in an effort to knock out loopholes that were being exploited by some developers seeking an unfair advantage.
Users attempting to post a review of application that they haven't downloaded are now met with a dialog box stating: "In order to write a Custom Review for this item you must have purchased or downloaded it."
Apple hopes this move will mitigate the number of bogus, or agenda-driven reviews that have been used to raise or lower an applications overall rating, sometimes at the hands of developers themselves.
Similarly, and more critically, the company also made changes to the way applications appear on the App Store after receiving a minor update.
In the past, all applications were categorized based on their 'release date.' However, Apple had been determining release dates based on the last date the application received an update, rather than the first time it appeared on the store as a 1.0 application.
As a result, applications receiving updates would be pushed back to the first page of their respective category listing, often appearing on the App Store home page within iTunes as well, and the first page of category listings viewed on an iPhone or iPod touch.
The result was an immediate jump in sales, as noted by Krishna Vegesna, whose company TouchMeme offers three applications on the App Store. He posted the graph (below) illustrating this behavior, where each spike in sales coincided with the release of one of his app updates.

"With the latest update to the AppStore, the above behavior is no longer holds true (and I am glad it doesn't)," he said. "This is because the applications are now categorized according to the 'Actual Released Date' rather that the last updated date."
Given Apple's changes, new version 1.0 applications will have a longer shelf life on the first page of category listings, as they won't be bumped down in the listings as quickly due to an influx of minor app updates.
The moves should also allow developers to shift their focus to "real innovation in functionality rather than focusing on who pushes the update first," Vegesna said. At the same time, however, he raises the concern that tactical developers may now focus on rolling out new apps to generate high profits rather than improving their existing ones.