iPods accounted for just 14.2% of Apple's sales in Q4 2008

AppleInsider may earn an affiliate commission on purchases made through links on our site.
If someone were to tell investors two years ago that iPod sales would only contribute 14.2% of Apple's total revenue and that the company's sales would significantly accelerate to a pace of 75% year-over-year, those investors would likely have presumed Apple shares would be trading at a significant premium to 2006 levels.
And yet here we are: Two years later, iPod sales only contributed 14.2% of Apple's total fiscal Q4 2008 revenue which grew at a rate of 75% YoY. Yet, Apple's stock is only $4.00 higher than it was in November 2006.
Investors, the media and the analysts have consistently overstated Apple's dependence on the iPod for future revenue and earnings growth. In Q1 2008, the street, choosing to disregard iPhone and Mac revenue as being at the core of Apple's primary driver of future revenue growth, only focused on how iPod unit sales grew at a meager pace of 5% YoY. Wall Street also seemed to disregard the fact that iPod revenue growth in Q1 was still 16.6% higher than it was in the same quarter the year before.
Even today, analysts and the media continue to question whether Apple could succeed in a recessionary environment due largely to the perceived uncertainty as to whether iPod sales can continue to grow in 2009. Several members of the media, including analysts and fund managers who don't cover technology stocks, continue to refer to Apple as the "iPod maker" or simply a "gadget maker" indicating that Apple's core business is derived from iPod sales. Nothing could be further from the truth as illustrated in the tables and charts below.
It is absolutely crucial that investors notice that while iPod sales as a percentage of Apple's total revenue continues to decline (indicating that Apple is less dependent on the iPod for growth), overall revenue is accelerating at a significant pace due largely to blistering growth rates in Mac and iPhone sales — Apple's total revenue grew at a pace of 75% from 2007 to 2008 but grew at a pace of only 38% between 2006 and 2007. iPod revenue growth rate is accelerating, and yet, Apple still drew 86% of its sales from sources other than the iPod in Q4.
Mac and iPhone sales accounted for 70% or two-thirds of Apple's total revenue last quarter (Q4) and that trend appears to be accelerating as we head into 2009. Even on a GAAP basis, the iPhone is slowly but surely overtaking the iPod as the second biggest contributor to GAAP-based revenue and earnings. In Q4, iPhone revenue on a GAAP-basis reached over $800 million while contributing $4.67 billion on a non-GAAP basis — more than the iPod has ever contributed in revenue even in its best quarter ever.
By Q4 2009, iPhone revenue on a GAAP basis will be a larger contributor to overall revenue than will iPod revenue.
This means that even with the subscription method of accounting, iPhone revenue will still have a far bigger role than iPod sales in Apple's earnings reports. What is even more striking about this analysis is that even though the iPod is starting to have a reduced role in Apple's revenue growth, iPod revenue actually accelerated in 2008. The revenue growth rates of the iPod were better in 2008 year-over-year than they were in 2007 year-over-year.

It's time for investors, analysts and the media to change their views on Apple as being a mere iPod maker and recognize that Apple is a serious blue-chip stock with a larger cash hoard than Microsoft. The bottom line is: Apple drew 86% of its revenue in Q4 from sources other than the iPod.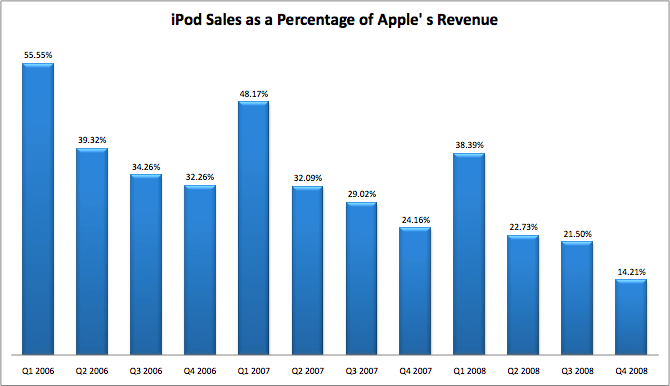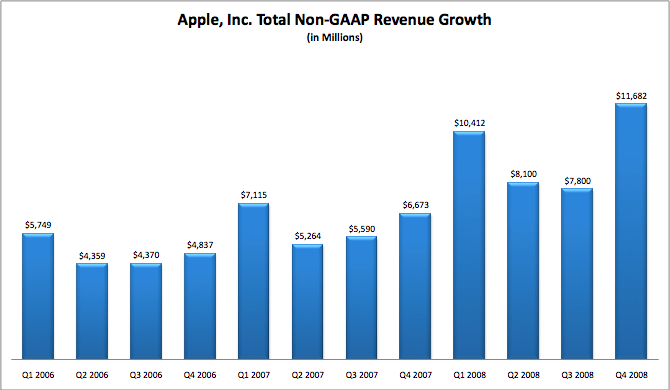 Disclosure: Long Apple. The information contained in this blog is not to be taken as either an investment or trading recommendation, and serious traders or investors should consult with their own professional financial advisors before acting on any thoughts expressed in this publication.