Apple, Psystar ask court to set trial date for next November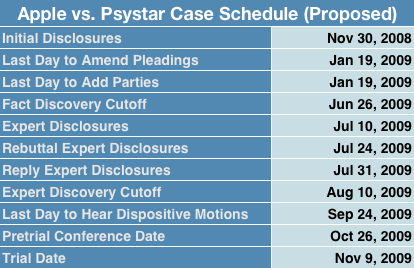 A proposal that would have had Apple and unauthorized Mac clone maker Psystar potentiall settle their legal dispute may not result in an out-of-court deal, with the two firms more recently asking a judge to approve a lengthy discovery and court schedule that would end in a trial next fall.
The timetable was part of a proposed case management order filed by the two companies last Thursday, which requests that initial disclosures begin later this month, fact discovery end late next June, and a trial be scheduled for November 9, 2009.
Apple sued Psystar in July, claiming the small Florida-based firm was violating its copyright and trademark rights — as well as the terms of the Mac OS X Software License Agreement — through online sales of its Open Computer, an unauthorized version of Mac OS X 10.5 Leopard running on knock off, non-Apple-branded hardware.
About a month later, Psystar responded with a countersuit that accused the Mac maker of violating federal antitrust laws by unfairly attempting to squeeze potential rivals out of the market. It retained the services of Carr & Ferrell LLP, a Palo Alto-based firm specializing in intellectual property litigation that has successfully taken on Apple in the past.

Outside of Apple's motion to have Psystar's countersuit dismissed, neither of the two companies believe the issues in dispute in the case can be narrowed down or simplified.
"The Parties do not believe that this type of case can be handled on an expedited basis with streamlined procedures," they wrote in the filing. As such, they've proposed the following discovery and court schedule that, if approved, would stretch over the course of the next year:
In the meantime, the extended timetable may afford Psystar more time to grow its unsanctioned Mac clone business with the introduction of new models. In an email reply to one AppleInsider reader last week, an unidentified Psystar representative assured that the company was hard at work on its first Mac notebook clone, which it plans to price competitively.
Last month, it was reported that Apple and Psystar had agreed to pursue a mediated settlement to their legal dispute, though the mediation is non-binding and so doesn't prevent a court battle by itself.