Mozilla-based iTunes rival "Songbird" takes flight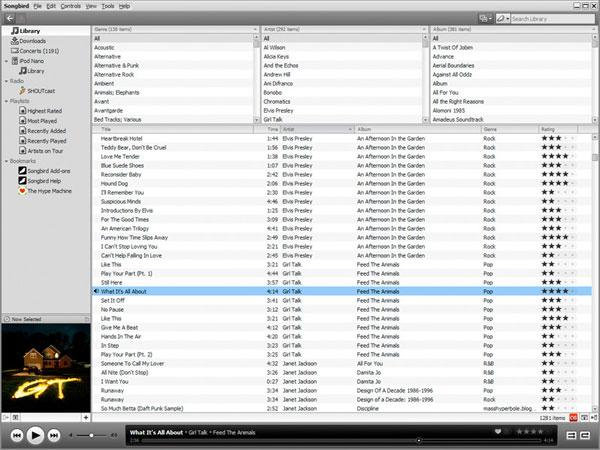 AppleInsider is supported by its audience and may earn commission as an Amazon Associate and affiliate partner on qualifying purchases. These affiliate partnerships do not influence our editorial content.
A multi-year effort to deliver an open-source and customizable iTunes rival came to fruition this week with the release of Songbird 1.0, but whether it will sway some users from the Apple jukebox software remains to be seen.
The cross-platform player is available as a free download for Intel-based Macs, Windows and Linux. It's based on the same Gecko rendering engine that drives Mozilla's Firefox browser but comes wrapped in an extensible user interface that could easily be mistaken for iTunes.
Unlike the Apple media software, whose features are governed by the iPod maker and its licensing agreements, Songbird prides itself on extensibility through add-ons that allow you to customize the media player experience through collapsable panels and gain new functionality.
In addition to support for QuickTime playback and a variety of iPods, the inaugural release includes four other add-ons by default. Among them are SHOUTcast radio streaming, Last.fm Scrobbling, and Songkick integration for discovering and acquiring concert tickets related to artists in your library.
Another highly touted add-on is mashTape, which displays Flickr photos, YouTube videos, artist biographies, news items and other web content related to the artist currently playing. Dozens of other add-ons can be downloaded from Songbird's website.
For file formats, Songbird currently supports MP3, FLAC, and Vorbis on all platforms; WMA on Windows; and AAC on Windows and Mac. It's quick to import full iTunes libraries — including DRM-wrapped tracks — and maintains their associated metadata. For playback, the software uses the high-performance and open-source GStreamer multimedia framework.
Songbird's user interface was designed to be familiar to Apple iTunes users.
Still, there are a number of limitations and potential roadblocks that may combine to slow adoption of the new player, which also features a built-in web browser.
For example, Songbird 1.0 lacks CD ripping capabilities, and its list of compatible devices omits the most recent generation of iPods and all of Apple's Mac OS-based handhelds, including the iPhone and iPod touch. Zune is also unsupported, though support for all these devices, CD ripping, broader video support, and others are all on the software's roadmap.
Another big question mark is what, if any, measures Apple will take to prevent Songbird compatibility with its software and media players going forward. The company has recently moved to squash efforts from open-source competitors aiming to develop products compatible with its iPod+iTunes ecosystem.