Yahoo launches iPhone-friendly Flickr with video support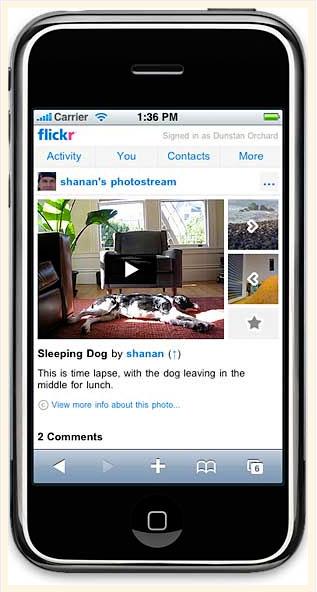 Search engine giant Yahoo has formally launched an updated version of Flickr optimized for mobile phones and with special formatting friendly to the iPhone, including a newfound ability to watch streaming videos.
The revamped edition of Flickr mobile is ostensibly built for all smartphones with capable web browsers, such as any Firefox, Opera or WebKit variant, but is particularly aware of Apple's touchscreen devices.
The web interface includes new finger-sized links for different categories and for browsing the contents of individual photostreams, including the ability to add new contacts, favorite images, and browse comments.
But while these features have been available in rough form since a beta first surfaced in October, all users now have access to playing the short videos that users can upload to the online photo service.
The implementation uses Yahoo's Video Platform and is independent of any one format, operating system, or resolution: in most cases, a device will play the video as long as the format itself is recognized in software.
iPhone and iPod users only have to tap the video's preview frame to launch the video in Apple's default video interface.
Yahoo sees the update as particularly important to Flickr; in the past year alone, web traffic to the mobile site has surged by more than 50 percent.