Roxio introduces two versions of Toast 10 Titanium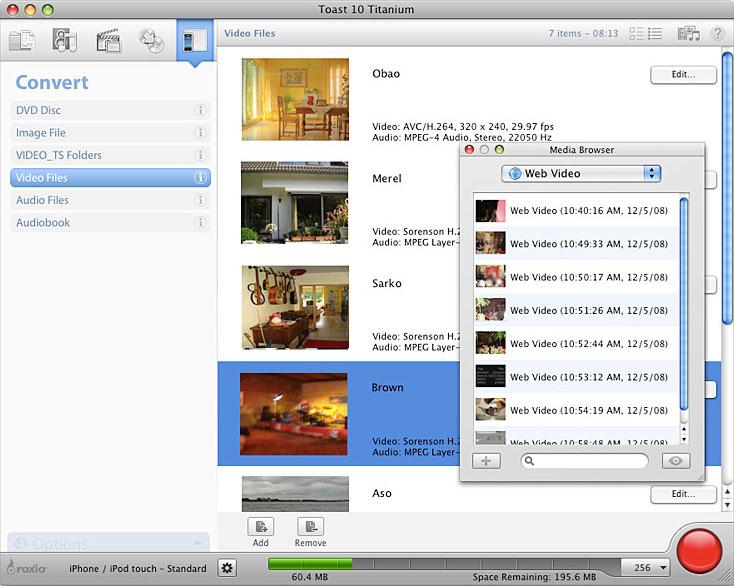 AppleInsider is supported by its audience and may earn commission as an Amazon Associate and affiliate partner on qualifying purchases. These affiliate partnerships do not influence our editorial content.
Roxio on Monday kicked off its Macworld introductions early by announcing two new versions of its Toast optical disc burning and digital media software that include new capabilities for creating, sharing, and viewing digital content.
Immediately available as a direct download for $99.99, Toast 10 Titanium introduces Mac2TiVo for sending standard definition and HD video content from a Mac to a TiVo DVR, and also adds an audiobook creator for converting audiobook CDs into files compatible with portable devices.
Also new to version 10 is an AVCHD Archive feature for quickly backing up original content from high-definition camcorders onto DVD or Blu-ray Discs, and a Web video file capture and conversion tool that allows web-based video to be viewed on DVD or mobile devices.
Among the other feature additions provided by the standard version of Toast 10 are Folder Sync for synchronizing folders bi-directionally between multiple computers, network volumes or external hard disks; Music Builder for capturing streaming audio and automatically splitting captured songs into tracks that are then sent to iTunes; and an "On-the-go Entertainment" function that will allow users to stream and watch television programs — such as EyeTV recordings and TiVoToGo transfers — on their iPhone or iPod touch over Wi-Fi with a new iPhone native application called Streamer.
An accompanying High Definition/Blu-ray Disc plug-in, which is needed to author Blu-ray Disc video, is sold separately for $19.99 but is being made available free of charge for those customers who purchase Toast 10 Titanium online through February 5, 2009.
Separately, Roxio has also announced Toast 10 Titanium Pro for $149.99, which it's aiming at prosumers, creative professionals and designers, as well as photo and video hobbyists.
In addition to offering everything available in Toast 10 Titanium, the Pro version includes the High Definition/Blu-ray Disc plug-in and bundles four third-party applications for developing advanced photo, video, and audio projects.
The third party apps include SmartSound Sonicfire for orchestrating sound tracks to accompany videos and slideshows, and BIAS SoundSoap for removing unwanted noise like wind, hisses, scratches, and pops from LPs, cassettes, or almost any audio, music or video soundtrack.
For photo professionals, Toast 10 Titanium Pro also includes LightZone and FotoMagico. The former delivers features such as zone mapping and relight, while the latter promises to turn sets of photos into slideshows with a few simple clicks, which can then be presented in high definition or burnt to DVD or Blu-ray Disc.