iPhone developer: App Store rewards "crap" apps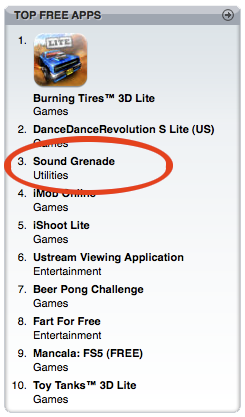 A software engineer who wrote what he calls a "terrible" and "crap" app in less time than it typically takes to eat lunch has since watched it shoot to the top of Apple's App Store, where it's now generating over $200 an hour despite being a free download.
22-year-old High Gloss has worked on more than 20 other iPhone apps for an iPhone software developer. After running out of ideas to make his own app, he looked through the Top 100 apps for inspiration. (He uses a pseudonym to keep his personal efforts separate from his work with the aforementioned iPhone software developer). In just 20 minutes, he wrote Sound Grenade (Free, App Store), which is currently listed third under the top free apps, in the wild card category of "Utilities".
"The goal of my app was to create a tool for people to annoy others," Gloss wrote in a blog entry at his website. He set a one-hour time limit to write and upload it to Apple. "The end product was Sound Grenade, which is a really terrible app, one button turns a sound on or off, period. For 20 minutes' work, I thought it would be interesting to take the ride."
The app took off quickly on its first day.
"You can imagine my shock when I checked the App Store page on the first day to see 50 glowing reviews. Two days later, another 50 reviews. Five days later, Sound Grenade is in the top ten free apps almost everywhere in the world."
In an interview with AppleInsider, Gloss said Sound Grenade is the easiest app he's worked on yet, and he didn't put as much effort into it as he does his other work. It simply plays a loud, high-pitched sound and shows an image.
"We're talking maybe 10 lines of code," he wrote. "For example, rather than generating the [sine] wave programatically, I knew it would be quicker for me to just play a looping sound. From a technical point of view, it's quite an embarrassing effort, but my goal was to do it in the hour, and I easily achieved this."
On Tuesday alone, the app was downloaded more than 100,000 times. Although Apple does not release specific demographic information to developers, Gloss has reason to believe most of the user base for Sound Grenade is young.
"From reading a number of reviews, it seems fairly obvious that the majority of people are high school, college-aged people," he wrote. "A lot of them mention wanting to play pranks on teachers (and) classmates." He cautioned against drawing any authoritative conclusions as there are only 500 reviews compared to 200,000 total downloads.
Gloss said he's troubled by how popular "crap" can be on the App Store, calling it "a sad state of where the world seems to be at."Â However, he still had high praise for the App Store concept.
"I really enjoy the App Store, I think it is amazing," the New Zealand-based programmer said. "If you know what you're looking for, you can find an app and download it either paid or free in a very minimal amount of time from almost anywhere in the world."
"The problem for the 'quality' app developers is they want to make theatrical films, and they can only premiere them at the same place as everybody else in the world," he continued. "Let's call it the YouTube of software."
So while some users may waste a few bucks on useless software, Gloss doesn't think that will turn people off to the App Store as a whole. After all, even though not all of the content on YouTube is worth viewing, enough quality does remain to keep users coming back.
"There will be a few apps that people download that put them off [from] the idea of apps, but then there are apps that they'll hear about from friends, or see and spend the money on, and they will love them," he said. "They'll enjoy using them, and it will make it worth it."
A quick and easy moneymaker
At first, Sound Grenade was completely free. Once it entered the Top 50, High said he decided to switch to an ad-supported model. Now, after processing a million ad requests in 24 hours, the app is generating upwards of $200 per hour in clickthrough revenue. In order to keep the app popular, he is looking into a few strategies.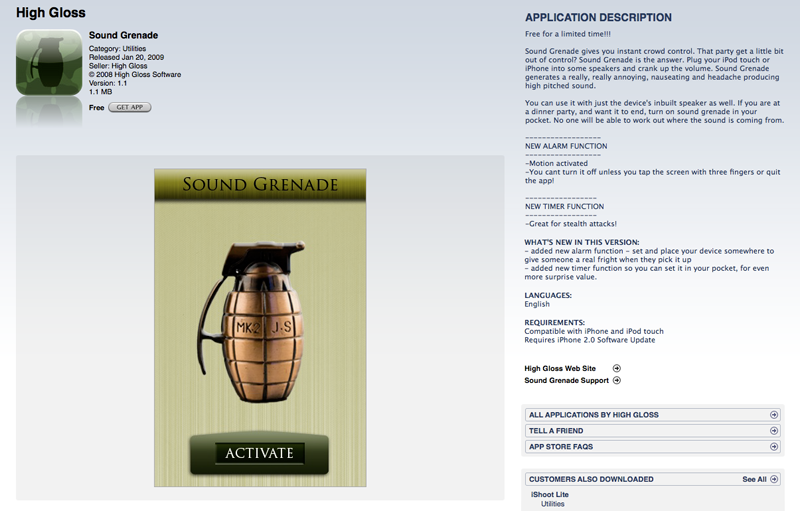 "I have an update I'm putting the finishing touches on that allows people to 'confess' what they're doing with it," he wrote. "The idea is that adding some interactivity will get people coming back. (I'm following the) standard method of getting users to open your app again and again. Might work, might not."
Appealing to the lowest common denominator?
As a developer, High says he enjoys making software that he'd like to use, just like how he enjoys playing Beethoven or Mozart's music. But sometimes, "it's good to earn some money" and "there is a time and place for everything."
In his blog entry, he expanded on that comparison:
"The App Store is not like any other software market we've ever seen. If it could be compared to any other market, it's like the Billboard Charts for Music. A good pop music producer can take someone with minimal talent, get them to sing some lyrics, and then run it through auto tune. Bam. Number one song. That's all it takes with the App Store. Do some market research, work out that most of the people that download free apps are immature and seriously uncool. Then wrap an average idea that you think will appeal to immature and uncool people with some average graphics, and boom, top 10 app. Like the pop market, it's hit or miss; sometimes it will work, sometimes it won't."
While Sound Grenade is self-admitted "crap", Gloss said he believes the App Store is a blessing for consumers. He says he is simply taking advantage of the market by trying to give customers what the numbers prove they want. As he tries to strike gold with another hit, he'll soon be releasing a private browser, decibel meter, and a angle measuring utility (as three separate apps) that are "not big on features, but they work, and they do what you'd expect and I think they look reasonable."
Regardless of the more extensively developed apps he might like to create, he knows he's leaving money on the table if he doesn't meet the demand for "crapware". It's the same demand that has pushed apps like Sound Grenade to the top of the most downloaded lists.
"I've got to make apps to be in the game," Gloss said. "Every idea that I don't do, for being too rubbish or stupid, could have been in the top 100."