Global recession catches up to Apple's retail stores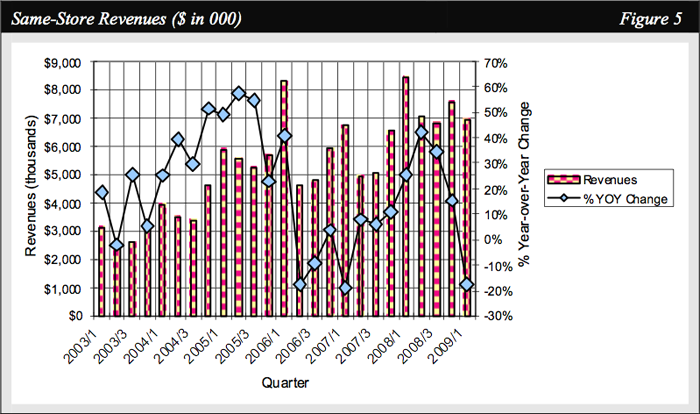 AppleInsider is supported by its audience and may earn commission as an Amazon Associate and affiliate partner on qualifying purchases. These affiliate partnerships do not influence our editorial content.
Apple's retail stores are showing signs that they're not immune to the deepening recession, but at the same time they're still serving their intended purpose of attracting more and more Windows users to the Mac platform, a new report explains.
For years, Apple's retail outlets have "dramatically outperformed" other retail chains. But this December quarter saw overall revenue increased a mere 2.3 percent, while Mac unit shipments rose 2.2 percent. At the same time, however, the declining average selling price of Macs weighed on Mac revenues, which actually fell some 6.8 percent despite shipping more units.
Overall, Apple's retail segment represented 17.1 percent of the company's total revenues for the three-month period ending December, down just 0.6 percent from the first quarter of fiscal year 2008. Non-Mac revenues (software, iPods, iPhones, accessories, service) helped offset lower Mac ASPs, rising 11.5 percent. Â
While the stores' operating margin of 20.3 percent was nearly the highest in the retail segment's history, revenues per store still declined 17.4 percent year over year, reflecting the tough economy. Visitors, Macs shipped, and non-Mac sales increased year over year for the segment as a whole, but the statistics per store declined since Apple opened more stores in 2008 than the year before.
Over the last seven years, revenues at Apple storefront locations have increased at a 15% annual rate, but Charles Wolf, an analyst at Needham & Co, said Wednesday that he believes near-term performance may "continue to be lackluster" until the recession is behind us.
Even with a 17% Y/Y decline, per-store sales still came in at an impressive $7 million | Source: Needham & Co.
Despite the present downturn affecting virtually every business, the Apple Store retail concept has been a resounding success in drawing more customers to the Mac platform.
The Genius Bars, staffed by Apple-trained experts, provide free support that is "nonexistent" in Windows PC stores, Wolf noted in a quarterly report on the retail segment obtained by AppleInsider. Â Apple's iLife suite of digital lifestyle applications (which was updated at Macworld and released this week) is also a huge draw.
"iLife represents one of the company's most visible competitive advantages over Windows PCs in the emerging digital content age," the analyst said.
He estimates more than 12 million Windows users have switched to the Mac since 2004, triggered by the iPod's release in 2001 and the Windows version of iTunes in 2003. Â According to his report, Windows users have been responding favorably to the professional post-sale support Mac owners essentially get for free through Apple retail stores.
"Apple is building its image as the most service-oriented company in the computer and consumer electronics industries," Wolf said. He estimates Windows visitors made up more than half of the 150 million total who visited an Apple Store in fiscal year 2008, be it at the company's mall shops or the higher-trafficked flagship shops in Manhattan, Los Angeles, Chicago, San Francisco, Boston, Tokyo, Osaka, Glasgow, London, Montreal, and Sydney, Australia.
Apple, which opened its first high-profile store in China just ahead of the 2008 Olympic games in a trendy neighborhood of Beijing, now operates 251 stores in 41 U.S. states and 44 other countries. Out of all those locations, almost half of the 515,000 Macs sold in stores during the December quarter went to Windows users, Wolf notes.
"Visitors per store fell a nominal 1.8%," the analyst said. Â "But shoppers were not in a spending mood. Â Same-store revenues fell 17.4%. Â Mac shipments declined 17.5% and non-Mac revenues fell 10%."
He estimates Apple incurred $5.7 million in capital expenditures and rental expenses per store in 2008, which compares to average per-store revenues of $6.99 million and net income of $1.08 million on a full cost basis ($1.28 million excluding depreciation expenses) for the December quarter.
Annualized, per-store revenues average out at around $28.0 million, meaning the Mac maker generates sales of $4,700 per square foot for a typical 6,000-square-foot store, which is "undoubtedly the highest among retail chains in the country."
Are other chains poaching sales?
Interestingly, Mac shipments increased nine percent in the Americas during the December quarter but only two percent in Apple Stores. According to Wolf, "This suggests that other retail consumer electronic chains, such as Best Buy, actually gained share at the expense of the Apple Stores.
"From Apple's perspective, this could be interpreted as a positive development, because it reflects the Mac's growing brand awareness among Windows users," he said.
For its part, Apple tends to agree. Speaking to analysts last week during the company's first quarter conference call, chief financial officer Peter Oppenheimer noted that third-party channels discounted more aggressively and bundled more aggressively than Apple stores this past holiday season to help drive profits.
"Given the retail conditions around us, our stores performed very well during the December quarter," he said, adding later that "some people choose to buy in our stores and some people may buy elsewhere. We're fine with either."
During the same call, Apple said it plans to open 25 new stores in fiscal year 2009, easing off its pace of years past but not by much.