Amazon rumored to introduce Kindle 2.0 next Monday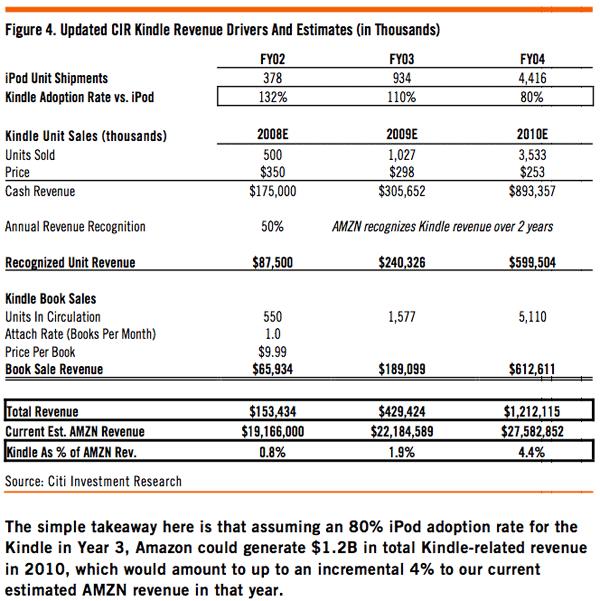 AppleInsider may earn an affiliate commission on purchases made through links on our site.
Speculation is mounting that Amazon could announce a new version of its Kindle next Monday, a move that one analyst believes will help propel the e-book reader into a $1 billion dollar business for the online retailer by next year.
Last week, Amazon sent out invitations to a Monday, Feb. 9 press event at the Morgan Library in midtown New York. The Seattle-based company's last New York event, in November 2007, was used to introduce the inaugural Kindle device, leading observers to conclude next week's event will help usher in a new product dubbed "Kindle 2.0".
In a report to clients this week, Citigroup analyst Mark Mahaney estimated approximately 500,000 Kindles were sold last year. He based the figure on a filing by Sprint, which partners with Amazon for the device's cellular wireless service.
Based on his research, Mahaney expects the Kindle (review) to become a $1.2 billion business (and generate 4% of revenues) for Amazon by 2010, assuming its adoption will follow in the footsteps of the Apple iPod, doing for e-books what the iPod did for digital music. The estimate also assumes every owner of the $359 device will buy an average of one e-book per month.
As for the future of Kindle, Mahaney expects the "new device will be longer and thinner than Kindle 1.0, with a more user-friendly keypad and device side-buttons that are less prone to accidental hits/accidental page turns.
"We don't expect the device to have touch-screen capability, nor do we expect the device to have a color screen," he said. "We also expect the device to incorporate faster page-turning functionality."
Rumors have also surfaced about an upcoming

">education model

that would feature a larger screen and be marketed to students as an alternative to textbooks. Large publishers like McGraw-Hill already publish 95% of their books electronically. However, the education version, while possible for a Monday introduction, is expected to hit the market sometime in the first half of this year, while the updated version of the base retail model is rumored to arrive in the current first quarter.
Photos leaked to the Boy Genius Report are believed to represent the new retail model, as the screen isn't noticeably larger than the one employed by the existing Kindle. According to the associated description, Kindle 2.0 will still utilize EV-DO for downloads, but sport a sleeker, wider and more elongated footprint with a metal back and speakers at the bottom. It's also said to be thinner, slightly heavier, but more robust than the model it will replace.
Kindle 1.0 (left) sits beside a Kindle 2.0 prototype (right) | Courtesy of Boy Genius Report
Other reported changes include a new joystick user-interface input, more natural keyboard layout, and a leather carrying pouch as opposed to the current binder-style protective holder.
Those claims are mostly consistent with ones published a few months earlier by BusinessWeek, which noted that Amazon is believed to have tapped renowned global innovation firm frog design to craft the enclosure and hardware interface for the new model. The business publication also spoke with a person familiar with prototypes of Kindle 2.0 who praised many of its design improvements.
"They've jumped from Generation One to Generation Four or Five," that person said. "It just looks better, and feels better."
The same report claimed that Amazon may also slash the price of the new Kindle to $299 or $249 in a bid to boost adoption.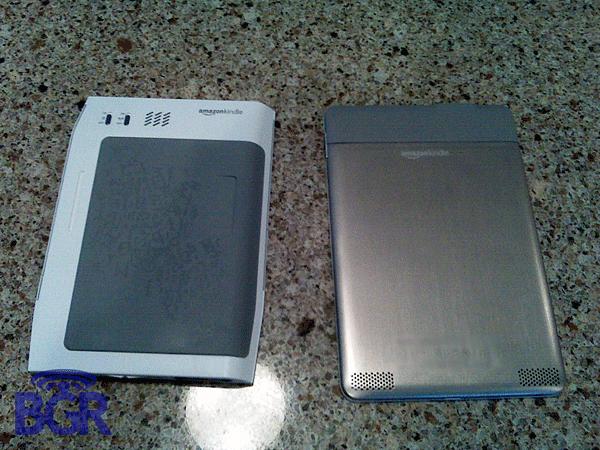 The backsides of Kindle 1.0 (left) and a Kindle 2.0 prototype (right) | Courtesy of Boy Genius Report
When asked to comment on the Kindle last year, Apple chief executive Steve Jobs downplayed the device, saying it was destined to fail because it was based from the top down on an aging concept.
"It doesn't matter how good or bad the product is, the fact is that people don't read anymore," he said. "Forty percent of the people in the U.S. read one book or less last year. The whole conception is flawed at the top because people don't read anymore."
That said, many industry watchers believe that the much-rumored Apple Newton tablet — due whenever it's deemed fit for consumption — will indirectly give the Kindle a run for its money, serving as a digital slate capable of accessing every newspaper published online and any digital books that turn up on the iTunes and App stores.