Microsoft to open new retail stores like Apple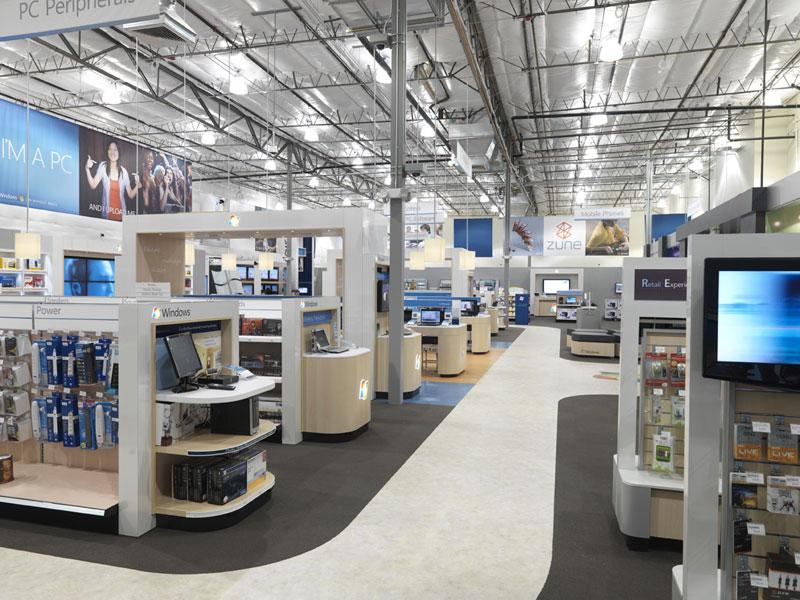 Microsoft has announced plans to dive into the challenging retail business with its own corporate-branded outlets to take on Apple's growing visibility among consumers.
A report filed by Reuters said the company had no information on what products the stores would sell, how many it planned to open, or when and where those stores might open.
Those details would be determined by David Porter, a former DreamWorks Animation executive heading up worldwide product distribution who earlier acted as a manager at Wal-Mart. Opening a new chain of stores would be a monumental task, particularly during a global recession that is literally killing retailers of all kinds.
In a press statement, Microsoft COO Kevin Turner said, "We're working hard to transform the PC and Microsoft buying experience at retail by improving the articulation and demonstration of the Microsoft innovation and value proposition so that it's clear, simple and straightforward for consumers everywhere."
Tech retail stores have a particularly poor track record, with Gateway and Palm failing in their efforts to sell their own hardware in boutique stores, and the high profile failures of CompUSA and Circuit City to operate larger stores with wider PC-related product selections.
Apple's adventures in retail
Analysts expected Apple to fail when it announced plans to begin opening stores back in 2001. Consultant David Goldstein of Channel Marketing Corp said at the time, "It makes absolutely no sense whatsoever for them to open retail stores."
Goldstein claimed Apple's retail strategy wasn't going to work because consumers "haven't indicated that they're having trouble finding outlets that sell Macs," adding, "It's another case of Apple being Jobs driven and not consumer driven."
Apple had earlier floated conceptual plans with Landmark Entertainment to open a series of posh cybercafes back in 1997, an idea which went nowhere. But in 1999, realizing Apple needed outside expertise to enter the retailing business, Steve Jobs recruited Millard 'Mickey' Drexler (who had served as CEO for the Gap and later J. Crew) to assemble a retail team.
Apple then hired Ron Johnson, a vice president of merchandising at Target, as its senior vice president of retail operations; George Blankenship from the Gap as its vice president of real estate; Kathie Calcidise as its vice president of retail operations; and Sony's Allen Moyer as its vice president of development.
Ten years later, Apple's 251 retail stores, 41 of which are outside the US, employ nearly 16,000 employees and contribute more than a quarter of the company's profits. The iconic stores give Apple a public face and serve as training centers as well as sales outlets. At the release of the iPhone, Apple's retail store locations helped to whip up a media frenzy with enthusiastic buyers camping out in long lines.
Microsoft's desire for retail stores
In contrast, Microsoft was at the mercy of independent retailers when it tried to release the Zune in competition with the iPod. It ended up embarrassed when retailers failed to promote it over the faster selling iPod, in some cases selling the iPod on top of unsold boxes of Zunes. Microsoft similarly spent millions to get retailers to promote Windows Vista, without much success.
With its own stores like Apple's, Microsoft would have greater ability to push its products exclusively, rather than seeing its Xbox 360 sit next to the newer Sony PlayStation 3 or the cheaper Nintendo Wii, for example. At the same time, if Microsoft plans to sell Windows PCs or Windows Mobile Phones, it might run into problems balancing the attentions of its hardware partners.
The Retail Experience Center is a private, 20,000-square-foot mock retail store environment located at Microsoft Corp.'s headquarters. Redmond, Wash.
Dell has attempted to open its own retail stores selling Windows PCs, and along with other PC retailers, might take offense at Microsoft muscling into its turf, just as Apple's retail partners initially expressed concern when the Mac maker first announced plans to sell its own hardware itself.
Microsoft's Metreon retail experiment
Microsoft has operated at least one retail store in the past, an 8,500 square foot development at the Metreon in San Francisco called "microsoftSF," launched during the dot com boom in 1999. In addition to rows of software boxes and demonstrations of Microsoft's ill fated WebTV Network, the store also displayed art installations, such as one involving Microsoft Mice decorated by various people, and sold microsoftSF merchandise.
In a press release introducing the store, CEO Steve Baller said, "San Francisco and the Silicon Valley are home to the world's largest and one of the most sophisticated high-tech audiences, so this was the natural place to create this site - dedicated to showing, in an interactive environment, the way technology can enhance our working, learning, living and playing." The location closed two and half years later and is now a Sony Playstation store.
After watching Apple succeed in retail and the company's profile in general rise in the consumer electronics market, Microsoft has kept a close eye on Apple's other operations as well. The company has recently revealed plans to open an online mobile marketplace patterned after the iPhone App Store called SkyMarket, and to operate a cloud syncing service similar to the iPhone's MobileMe called My Phone. It has also replicated components of Apple's iLife apps, attempted to clone Apple's integrated iPod with the Zune, announced plans to add iPhone-like touch features to Windows Mobile, and has closely monitored the development of Mac OS X, modifying its plans for Vista and Windows 7 to make them more competitive with Apple's offerings.