CBS streaming free TV programming to iPhone users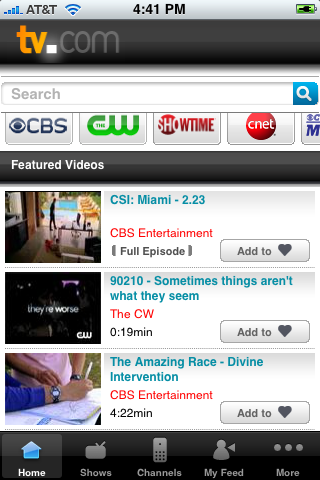 AppleInsider is supported by its audience and may earn commission as an Amazon Associate and affiliate partner on qualifying purchases. These affiliate partnerships do not influence our editorial content.
CBS Mobile has released TV.com, a free new mobile application that allows iPhone and iPod touch users to watch full episodes of select CBS shows and other programming over WiFi or 3G mobile networks.
The new app (Free, App Store link) is the first example of an iPhone application providing free TV content directly from a TV studio in the US; the BBC already streams its free content to iPhone users in the UK using its iPlayer app.
TV.com currently offers a selection of CBS shows, including CBS News and CBS Sports programming and episodes of "Late Show with David Letterman, "Star Trek: the Original Series," "CSI," and "The Young and the Restless," among many others. The mobile application also serves up a selection of shows from the CW including "Smallville" and "90210," a half dozen shows from Showtime including "The L Word" and "The Tudors," and a variety of CNET and GameSpot podcasts.
While the current programming selection is rather limited, the app can accommodate all the new content CBS serves up as it works to make more of its library of content available. The app uses the iPhone's standard QuickTime player, and delivers pretty decent quality video.
CBS is pushing TV.com in competition with the Viacom-backed Joost and Hulu, a joint effort between NBC and Fox, to reach audiences beyond the TV and deliver a "direct to users" model of web-oriented offerings. Hulu currently does not have a mobile app for the iPhone like TV.com's offering. Joost does provide a player app for its content, but it does not use the standard QuickTime player on the iPhone.
TV studios have rushed to set up their own web-based operations to create an alternative to seeing their content distributed (at no benefit to them) to web audiences via sites like YouTube. Joost, TV.com, and Hulu are supported by ads. Like YouTube, all three websites use Adobe Flash to deliver their video content on the web.
Moving beyond the web is still uncharted territory for the TV studios. Hulu recently stepped in to prevent TV appliance boxes such as Boxee from hooking into its web offerings to display on-demand content to users' TVs, a move that threatens the studios' contracts with cable TV providers, broadcast affiliates, and national advertisers. Similar licensing issues also prevent Hulu and other sites from streaming content to users outside the US.
Like the web, the iPhone provides an additional potential audience, not an alternative, competing pipe that rivals the studios' existing TV business. Making video available to iPhone users requires providing open H.264 content (at least in order to use the standard QuickTime player with its hardware acceleration), as the iPhone supports neither Adobe Flash nor Microsoft's Windows Media DRM.
Google bridged that divide by streaming YouTube content via H.264 to iPhone users, a move followed by the BBC and now CBS. It's also possible to develop a custom player as Joost did for playing back proprietary video formats.
The other alternative to direct streaming TV programming on the iPhone is of course pay per view TV programming from iTunes, which CBS and most other networks already provide. The new TV.com application provides mobile users with free content, although it requires a decent network connection, ideally WiFi but it also works over 3G mobile networks.