Psystar presses forward with another Mac clone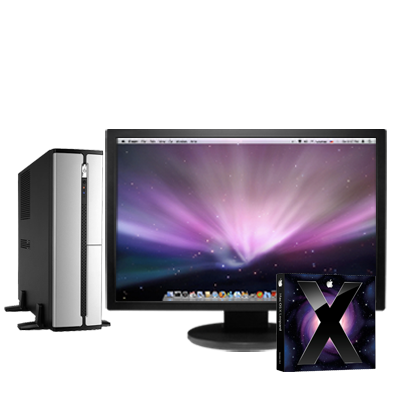 Despite ongoing litigation, Mac cloner Psystar has introduced a new slimline tower also capable of running Apple's Mac OS X 10.5 Leopard operating system, starting at $600.
With the trial months away, scheduled for November, Florida-based Psystar has unveiled the oddly-named Open(3) computer along with some updates to other products in its lineup. According to the cloner's website, the Open(3) is in stock now.
For $599.99 customers receive a slimline tower with a 2.8 GHz Core 2 Duo processor, 2GB of DDR2 memory, a 500GB hard drive, and NVIDIA's GeForce 8400 GS graphics card with 256MB of video memory. FireWire does not come standard, instead requiring $79, and 802.11n wireless is another $99. A USB Bluetooth adapter costs $40 more.
Upgrade options include a 2.53 GHz Core2Quad ($180), 4GB of memory ($50), 1TB hard drive ($100), additional hard drives ($99 to $199), and a Blu-ray burner. Graphics can be bumped up to the GeForce 9500GT 512MB for $119.
Mac OS X 10.5 Leopard, of course, comes installed. Psystar also sells an optional copy of iLife and iWork together for $59.99.
Meanwhile, the company has refreshed its Open Pro flagship to offer a rackmount version for servers ($1,155) that comes with a 3.16 GHz Core 2 Duo and 4GB of memory. The base tower (also $1,155) gets updated parts, including 8GB of RAM, a 1TB hard drive, and NVIDIA's GeForce9500 GT video card. Upgrades are available as well.
Psystar maintains Apple is misusing its copyrights by ensuring kernel panics and infinite loops on unauthorized hardware attempting to run Mac OS X. Apple contends Psystar's circumvention of its code in order to sell the machines without Apple's permission constitutes copyright violation and is seeking an order to halt Psystar's behavior.