Apple discontinues iPhone Bluetooth Headset [u]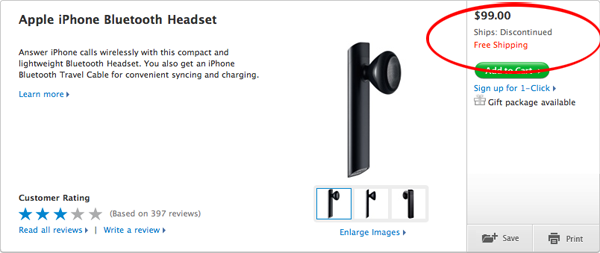 Apple this weekend appears to have discontinued its iPhone Bluetooth Headset, a possible sign that the company could be planning to introduce an updated model alongside new iPhones a bit later this year or cede the market segment to third parties.
A couple of eagle-eyed readers drew our attention to the accessory's Apple Store product page that has listed the device as "Discontinued" since Saturday. Oddly, however, shoppers could still add the product to their shopping carts as of press time.
The single-button headset was

">first introduced

in June 2007 alongside the original iPhone. It sold for $129 and was bundled with a Bluetooth Travel Cable and a Dual Dock that could charge both the iPhone and headset.
A year later, Apple dropped the price of the headset to $99 to coincide with the release of the iPhone 3G, but also stopped including Dual Dock, which was perminently discontinued to the dismay of some costomers.
The headset has drawn accolades for its easy setup and elegantly slim, lightweight design, but has also been criticized for its limited range, battery life and lack of voice dial controls.
Update: AppleInsider has received a couple of unconfirmed tips that suggest Apple may have recently recalled existing inventory of the iPhone Bluetooth Headset for undisclosed reasons.